What to eat for Hashimoto's Disease is a question I get from many of my clients. In fact, most of my weight loss clients come to me as a result of a Hashimoto's diagnosis or avascular necrosis. Interesting how these specific conditions I've struggled with are now the ones I treat the majority of my clients for.
A Hashimoto's diagnosis be overwhelming to navigate because Hashimoto's patients suffer from chronic fatigue and nutrient deficiency (primarily iron and low ferritin). And truthfully, traditional doctors and endocrinologists are clueless about treatment beyond prescribing levothyroxine and cytomel.
Hashimoto's is an autoimmune disease of the thyroid where the immune system attacks healthy thyroid tissue. It's diagnosed through simple blood work with high anti-body and TSH levels.
Many people with hypothyroidism have Hashimoto's disease and don't know it because their doctors assume the pills prescribed for both conditions are the same so they don't bother testing for Hashimoto's. However, it's very important to know if you have Hashimoto's disease because the immune system needs to be treated if you do in fact have it.
I receive many questions from people asking what to eat for Hashimoto's which I'm sharing below. Remember this is general advice and not intended to diagnose or treat individuals.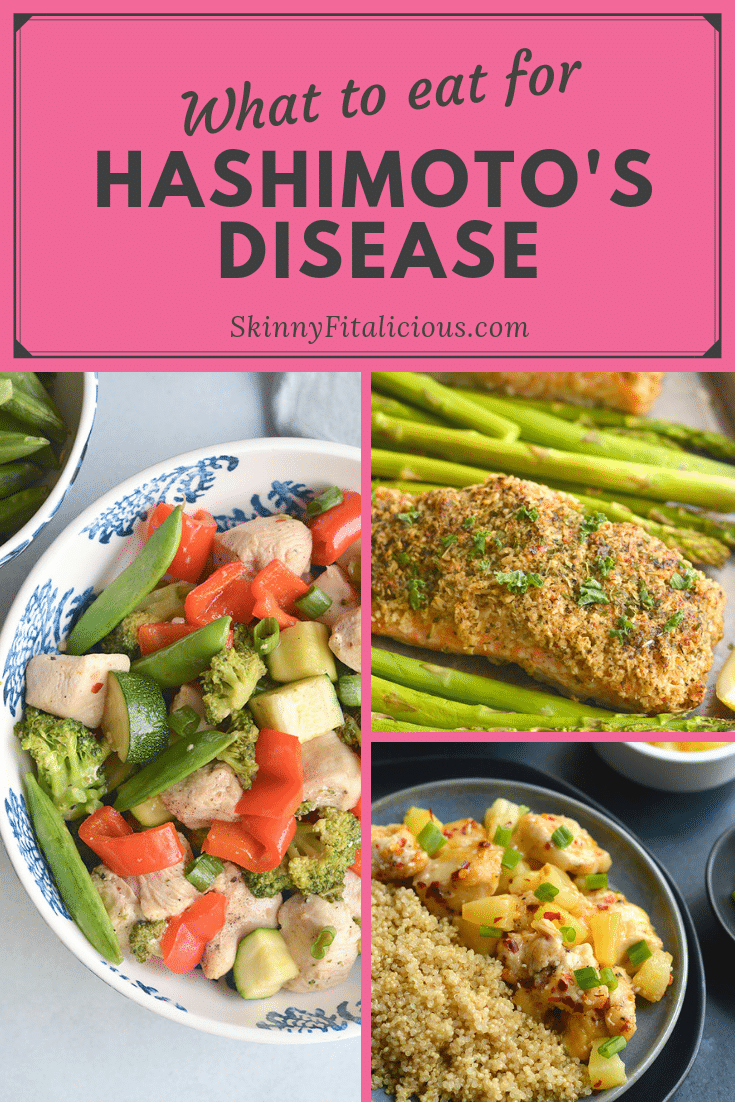 What To Eat For Hashimoto's Disease
The 4 pillars of eating for Hashimoto's Disease (and any autoimmune disease) are gluten free, sugar free, processed free and enough of the right carbohydrates.
Gluten Free
Most people by now know they should eat gluten free with Hashimoto's disease. The research on this is well established. Those with Hashimoto's thyroiditis have a greater possibility of having celiac disease and non-celiac gluten intolerance.
Gluten, a protein found in grains is found nearly in every food. It's in flour-based foods such as pasta and bread, but it is also used as a filler in medications and supplements, it's in personal care products and thanks to cross-contamination, it's in grains that are marked gluten-free. Certified gluten free is the only real gluten free you can trust.
Modern day gluten is not the same gluten our ancestors ate. In order to create fluffier pastries and hardier wheat, scientists developed new hybrid strains of wheat that contain new forms of gluten not found in the original plants. Yes, wheat has been genetically modified.
Scientists were also able to deaminase gluten which allowed it to be dissolved into liquids and other products that didn't previously contain gluten, like lunchmeat and shampoo. These two factors mean that we are not only eating a different kind of gluten than our ancestors, we are eating and being exposed to a lot more of it.
This modified protein causes problems with both your gut health and your immune system, creating a perfect storm for the development and progression of inflammatory and autoimmune diseases. Gluten is linked to more than 55 diseases. In a future post, I'll talk about why this is.
Processed Free (including gluten free foods)
Processed foods have many chemicals. Natural flavors, artificial colors, artificial flavors, artificial sweeteners, butylated hydroxyanisole, high fructose corn syrup, corn syrup, sodium nitrates to name a few.
When someone is diagnosed with Hashimoto's, they generally just replace gluten products with packaged gluten free foods. The problem is the chemicals in gluten free processed foods are just as inflammatory as the gluten containing ones.
If you're purchasing a gluten free bread, read the back of the label. If you recognize the list of ingredients then it's a good choice. If you're not sure, it's probably wiser you not put it in your body. In general, if a product has few ingredients and no added sugar it's probably a good choice.
Sugar Free
Added sugar is the number one inflammatory culprit linked to the increasing development of obesity, diabetes, heart disease, cancer and autoimmune diseases. The scary thing about sugar is it is hidden (like gluten) in everything.
When my weight loss clients cut added sugar from their diets in the first 2 weeks, they notice a huge change in inflammation, joint pain, fatigue, mental clarity in just a few days. People who struggle with weight loss suddenly stop struggling too.
Spotting added sugar can be tricky, but it's much easier now that the FDA requires food manufacturers to list added sugar as a separate line in the nutrition facts.
Does this mean fruit should be cut out? Absolutely not! Fruit is high in Vitamin C, high in antioxidants and has anti-inflammatory properties. Not to mention has a wealth of other vitamins and minerals our bodies need. Fruit should be consumed in moderation, not eliminated.
Carbohydrates
Eat enough of the right carbohydrates! This is very important with Hashimoto's to support the conversion of thyroid hormones. You need carbs and vegetables are the best kind because they are anti-inflammatory.
Adding vegetables to your diet will not only support your thyroid and reduce inflammation, it feeds healthy gut bacteria to promote a stronger gut, supports the liver in reducing waste from the body, has important vitamins and minerals, aids with weight loss and so much more!
Carbs have gotten a bad rap with trendy diets like Keto which results in people cutting out the junk carbs and the good carbs like vegetables too. If you have Hashimoto's disease, make sure you eat the right carbs!
Watch this free training class where I explain the importance of carbohydrates (the right kind) for your thyroid and taking a hormones first approach to losing weight and overall nutrition!
Hashimoto's Meal Plans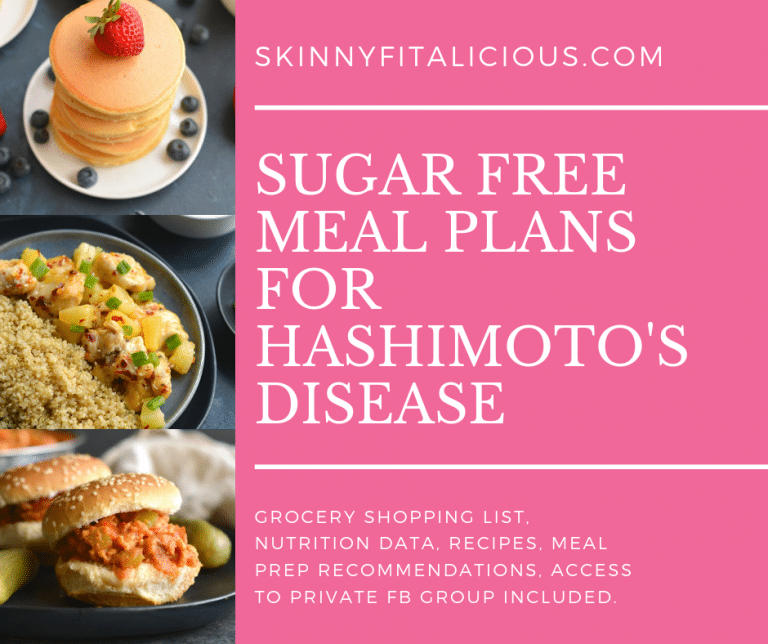 How would a meal plan with the 4 pillars for eating with Hashimoto's disease change your life? Imagine...gluten free + processed free + sugar free + right carbs + delicious and easy meals delivered to your inbox every week!
Each week you get...
5 days of healthy meals and snacks to feed 2 people
Printable grocery list
An easy-to-follow meal prep plan
Access to a private Facebook group for substitutions/questions
Don't struggle with what to eat for Hashimoto's disease any longer. Sign up for a yummy meal plan today and get started!