The January 14 Day Sugar Challenge sign ups are in full swing! I've had a few people ask what the sugar challenge is - is it a meal plan, low carb diet, no sugar diet etc. as well as what the membership program is, how it works. In the video below, I explain the 14 day sugar challenge and Skinny Fitalicious membership program.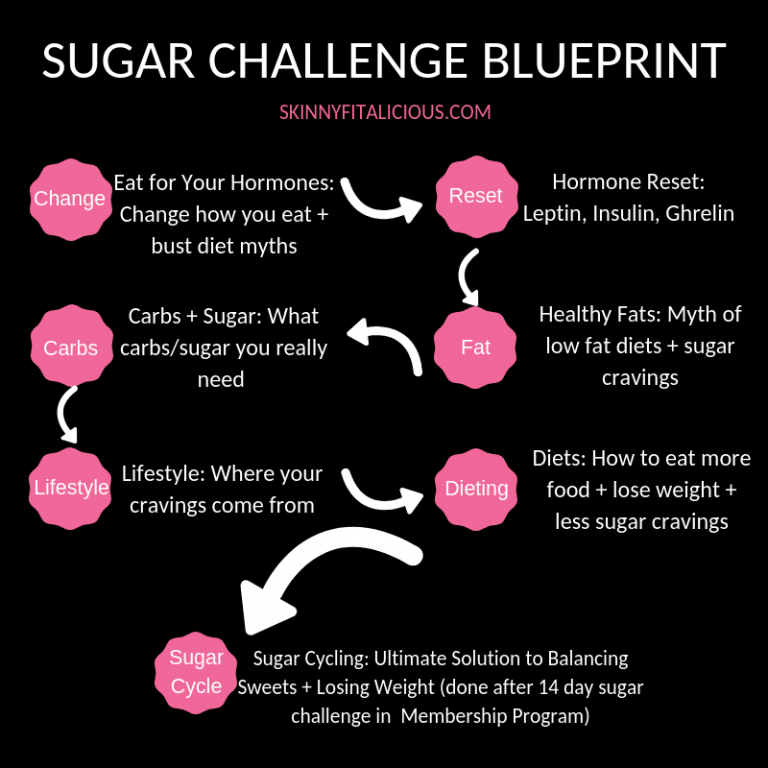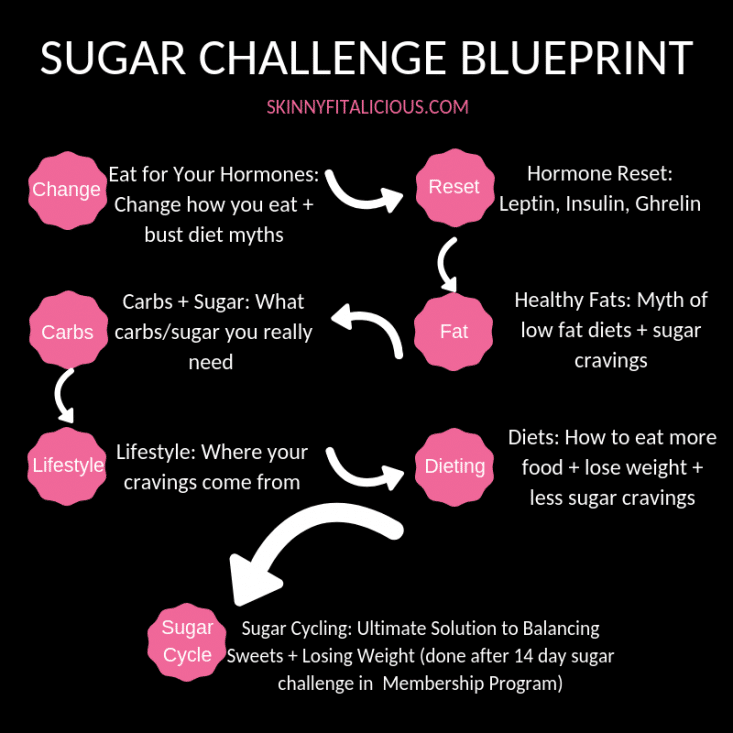 14 Day Sugar Challenge
The 14 Day Sugar Challenge is a 14 day group challenge in my private Facebook group where I provide you with a nutrition guideline you are challenged to follow for 14 days. I provide you with an example meal plan and recipes. It up to you to design your meal plan. I think it's important to LEARN how to create your own meals so you can do it yourself beyond the challenge.
Each day during the challenge, I provide a video for you to watch which helps you identify where your cravings are coming from so you can work to identify your cravings and fix them. I'm told by those who have taken the challenge that the videos provide them with the MOST VALUE.
Membership Program
After the 14 days, you work with me in the Membership Program aka my online group coaching. This is the SAME private Facebook group as the 14 Day Sugar Challenge. The first step is you scheduling a 1:1 call with me to review your health concerns and goals. After your 1:1 call, I design a custom plan for you to follow. This is custom because everyone's goals will be different. For some, this may be custom macronutrients and calories while for others it may be more lifestyle and supplement focused.
As you follow your plan, you continue to get mentorship from me in the Facebook group. You ask questions, watch trainings and videos as they are posted.
Each month the Membership Program is focused on a specific goal. For example, January is focused on Goal Planning and February is Food Tracking. That means the topics will be centered around those things.
While you are a member, you have access to my Membership site where all previous videos, documents and trainings exist. You can access and watch them anytime. There's over $3000 worth of videos and content in this platform. It really has everything you need to get you on track with your goal.
Sneak Peak the Membership Platform
Bonuses When You Sign Up
BONUS 1: Customized Health Blueprint (valued at $189)
BONUS 2: 3 Months FREE Membership group coaching (valued at $549)
BONUS 3: 40 Minute one-on-one Call with me (valued at $179)
Bonus 4: Nutrition Guide + Cravings Program (valued at $299)
How To Sign Up
Sign up here before Sunday January 13th! Spaces are are first come, first serve and are limited.