Eating out while losing weight can be easy and I know how because I did it traveling every week while I was a consultant while I lost weight.
With how busy we are these days, eating out has not only become a way to socialize with friends, co-workers and family, but also a survival mechanism.
If you're trying to lose weight, eating out and losing weight can be scary because you can't control the food, the quality, the quantity, or the temptations. Many of my weight loss clients struggle with eating out while losing weight.
When I was losing weight, I never found eating out that difficult because I was traveling weekly as a consultant. Reaching my weight loss goal was important to me so it forced me to figure out what I could and count not eat.
After awhile, I learned what healthier foods, restaurants and menu items I could eat and it became routine. Much like getting into a routine with what you eat at home, I did the same while eating out.
Eating out while losing weight is easier to do than most think which is why I've rounded up 7 Tips for Eating Out While Losing Weight to help you!
Eating Out While Losing Weight
Plan Ahead
Most restaurants have online menus and many of their menus have nutritional data listed. Before you go, analyze the restaurant's online menu. Select two meals so you have a backup in case one doesn't work out. Both should fit into your calorie or macronutrient allotment and most importantly, be something you want to eat so you don't feel deprived.
When you make your selections, pay close attention to the serving sizes and whether or not the sides are included. Keep in mind, what you select may not be perfect.
Look for a healthy protein like baked or grilled chicken, fish or a lean red meat then think about the healthy swaps you can ask for at the restaurant.
Steamed veggies for fries or a small side salad instead of bread are some of my favorites. Restaurants are very accommodating to these type of requests. Don't be scared to ask!
When you get to the restaurant, make your final decision and keep yourself accountable by tracking what you eat in a food app.
Related: Why You Need To Plan Ahead To Lose Weight
Limit Alcoholic Beverages
Most alcoholic beverages are calorie bombs. Stick to lower calorie options like vodka soda and ask for mixed drinks with diet soda or club soda to reduce the calories. Drink moderately by limiting yourself to 1 or 2 drinks when you go out, and track what you do drink to keep yourself accountable.
Beware of Salads
When eating out, salads are generally one of the worse selections you can make. They're loaded with cheese, croutons and smothered with a fatty dressing. They're rarely paired with a lean protein or rainbow of vegetables like they should be.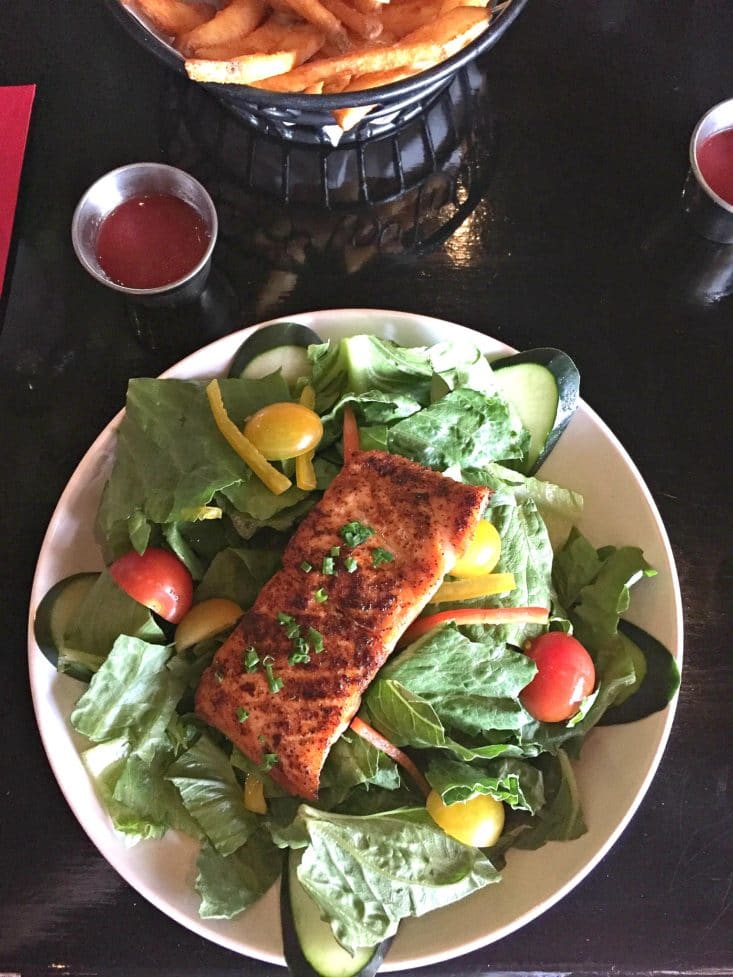 Overall, they're lacking the nutritional definition of what a salad should be, which is why I advise my clients to avoid them, and chose a lean protein with a healthy side instead.
If you really want a salad, ask for the cheese, nuts, bacon, dressing, etc. on the side. Ask for double the veggies, a low calorie dressing (I like balsamic vinegar), and a lean protein.
Caution the Light Menu
Take caution with the light menu. While these dishes may be lower in calories, they may not be the healthiest choice.
They tend to be higher in sodium and sugar. Pay attention to the ingredients in the dish and don't assume it's always the best choice. Most often they are not.
Watch Portions
Most restaurant portions are 2-3 times what a healthy portion size should be.
If you know you have a tendency to overeat when eating out and trying to lose weight, then ask for a to-go box when your food arrives and portion half the meal out to take home. Another option is asking them to pre-portion the meal before bringing it the table.
We feast with our eyes so having it pre-portioned can prevent you from overeating. It's a mind game, but one that works well! Some restaurants also offer smaller, half portions which you can opt to order instead.
Related: 8 Portion Control Tips to Stop Eating Out of Control
Lean Protein
Always look for a healthy lean protein on the menu to order. Examples include grilled or baked proteins like fish, chicken, tenderloin, flank steak or strip steak.
A good rule of thumb is the protein should be about the size of the palm of your hand or 4-5 ounces.
Request Menu Swaps
Never be afraid to ask for healthier swaps when eating out and losing weight - i.e. brown rice instead of white rice, steamed vegetables instead of french fries, grilled protein instead of fried, dressing on the side, etc.
Restaurants are very accommodating these days. Don't be afraid to re-arrange the menu a little to get what you want and stay on track with your weight loss goals!
In my coaching programs, I teach more weight loss tips like these with example weight loss meal plans, food cheat sheets, an implementation plan and virtual email coaching to help my clients successfully make the changes they need to meet their goals.