An ice-cold creaminess, this Skinny Strawberry Frappuccino is made with just 3 wholesome ingredients. A Starbucks knock-off with half the calories. Gluten Free + Low Calorie + Vegetarian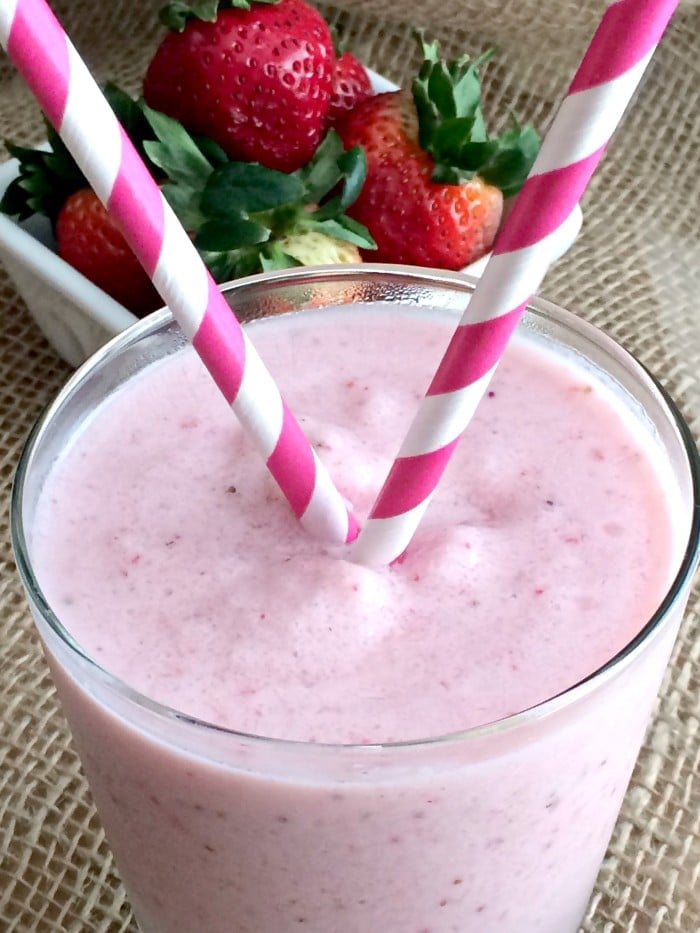 Well last week ended up being a good week to be away from the office for me. The car accident made me really sick. It didn't happen right away though. The morning after the accident I felt fine. Got up, went to the gym, swam, lifted weights then over lunch brought my car to an auto body for an estimate.
While I was there, I started feeling woozy. Dizzy, headache, stiff neck & shoulders, nauseous. It came out of no where. I texted my doctor who thankfully is a friend and told her about the accident. She said she wanted to see me right away.
She checked me over and said I had whip lash, gave me pain meds and told me to rest as much as possible. The next morning (Saturday) I felt better, but by the afternoon all the symptoms were back. The same day I began having excruciating pain in my tibia near the knee.
When I was hit, I remember squeezing the brake really tight as I watched him coming at me so I wouldn't hit the person in front of me. So I didn't end up traveling to L.A. for Blogfest last week as planned.
The day I was supposed to leave I wasn't feeling that bad. I got myself packed, to the airport but by the time I made it to the terminal the pain was just too much. I knew I had to stay home. I didn't want to be away from home in that much pain.
It made me beyond words sad that I couldn't go and that I wasted a week of vacation when I had planned to be on the beach.
The good news is since the accident my foot pain is almost gone. It's still a sore and I have to be careful not to walk too fast and stretch a lot, but it's feeling so much better. I can even walk without the boot now which wasn't possible a week ago.
That's probably a good thing because I need crutches for my other leg. Oh yeah and remember my MAC issue? My work PC died the day after the accident. I swear my life should be a sitcom it's so unbelievable.
Speaking of unbelievable, this Skinny Strawberry Frappuccino is unbelievable. I've been drinking it on repeat all summer long. It's so delicious and perfect that you wouldn't believe it's low calorie.
Here's the skinny. The Starbucks version will cost you 370 calories with 15 grams of fat, 9 of which are saturated and 54 grams of sugar. My version is just 163 calories, 1.7 grams of fat and 19 grams of sugar (you can lower the sugar more with a low sugar yogurt).
See full nutritional details here. It's great for breakfast or an afternoon or late night snack. Hope you love it!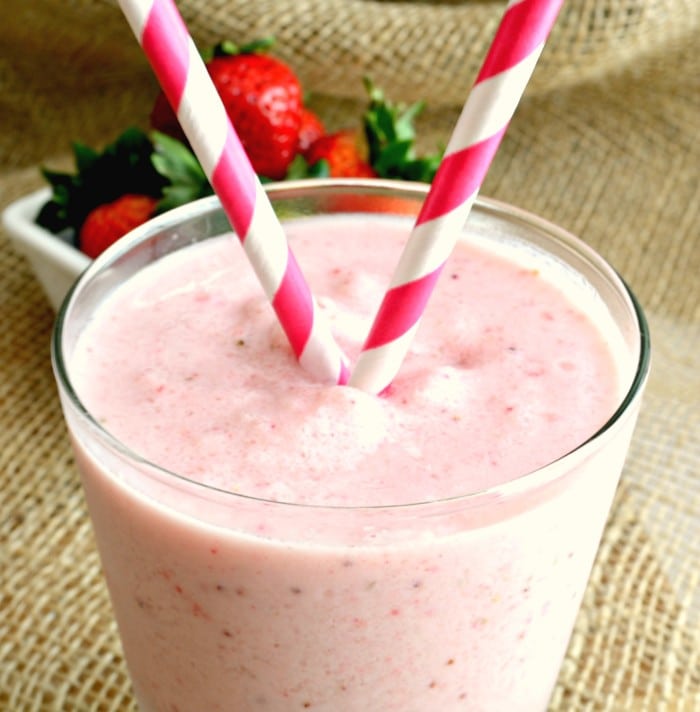 More Strawberry Treats
Mango Tango Strawberry Smoothie
Strawberry Greek Yogurt Muffins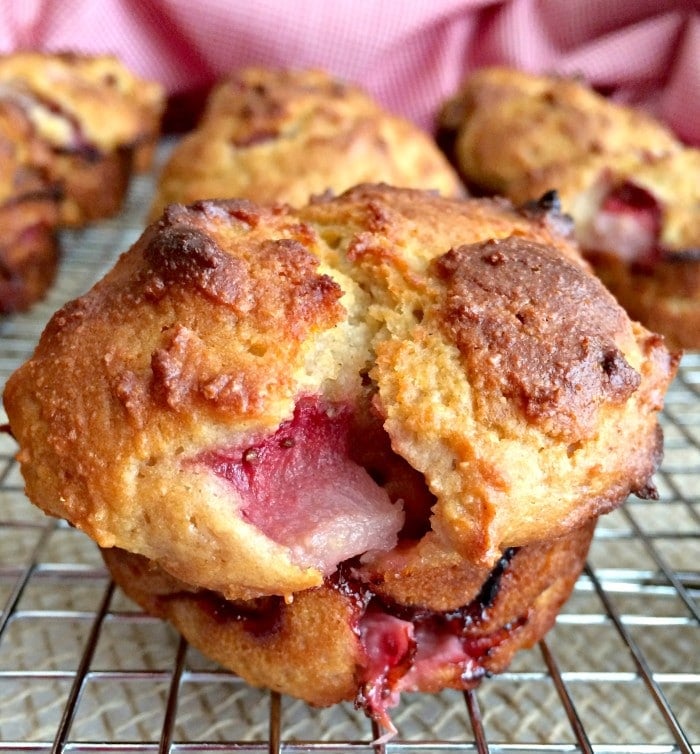 Skinny Strawberry Frappuccino
An ice-cold creaminess, this Skinny Strawberry Frappuccino is made with just 3 wholesome ingredients. A Starbucks knock-off with half the calories.
Prep Time 5 minutes
Servings 1 serving
Calories 100 kcal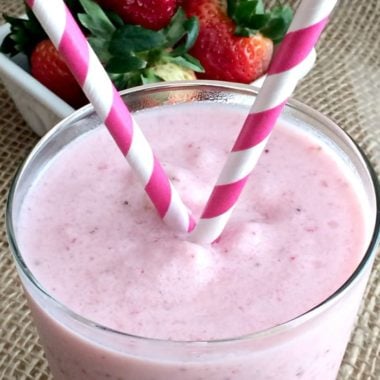 Instructions
Add all ingredients to a blender. Transfer to a glass and drink!
Course Breakfast, Drink, Snack
Cuisine American
Keyword drink, easy, frappuccino, gluten free, greek yogurt, healthy, high protein, low calorie, skinny, smoothie, strawberry, vegetarian
Nutrition facts per serving (1serving)
Calories 100 kcal
Fat 2 g
Saturated Fat 1 g
Cholesterol 5 mg
Sodium 199 mg
Potassium 251 mg
Carbohydrates 10 g
Fiber 2 g
Sugar 7 g
Protein 11 g
Vitamin A 0 %
Vitamin C 42.3 %
Calcium 271 %
Iron 0.3 %
Meal Plans
Get a meal plan designed to meet your weight loss goals.
Learn More