This post contains affiliate links. As an Amazon associate I earn qualifying purchases. Click here for more about this policy.
Healthy Cranberry Coconut Bread is made low calorie, grain free with coconut flour. A lightened up bread recipe! Gluten Free + Low Calorie + Paleo
You guys Thanksgiving is only a few days away and Christmas a few weeks! It almost seems impossible.
This time of year is always interesting to see how many people fall off the wagon right before the holidays. At my gym, I've basically had the whole place to myself. It's like my own personal training palace.
Even my spin classes haven't been as full as usual. One class I subbed for only had five people. It was really hard getting the energy up with such few participants. I kept praising those who did show up for being holiday rockstars.
Even though everyone's fallen off working out, I had a ton of new meal plan subscribers and 1:1 coaching clients sign up over the weekend. Apparently everything I've been saying on Instagram and Facebook about sticking with your habits during the holidays has been paying off. Excited to help those of you who signed up jumpstart your goals before January!
I understand it's not easy to juggle the stress of life and making time to exercise much less with the added stress of the holidays. But honestly I can never imagine my life going a week not doing something active. I took a week and a half off after surgery and that made me crazy.
For me, working out is so much more than exercise though. It's peace, serenity, mental relaxation with a boost of emotional wellness. It's like a temporary escape from reality. The world is so loud and busy these days, and I'm better dealing with all that when I workout.
It got me thinking though. What is it that drives people's willpower? What makes working out less of a priority over parties, shopping or wrapping presents? What drives me to do it every day, but not someone else?
While each person has a different why, I think the difference lies in the mentality that we always have to be perfect before we can do something. That's why so many people say to themselves "next year will be different" or "I'll be better."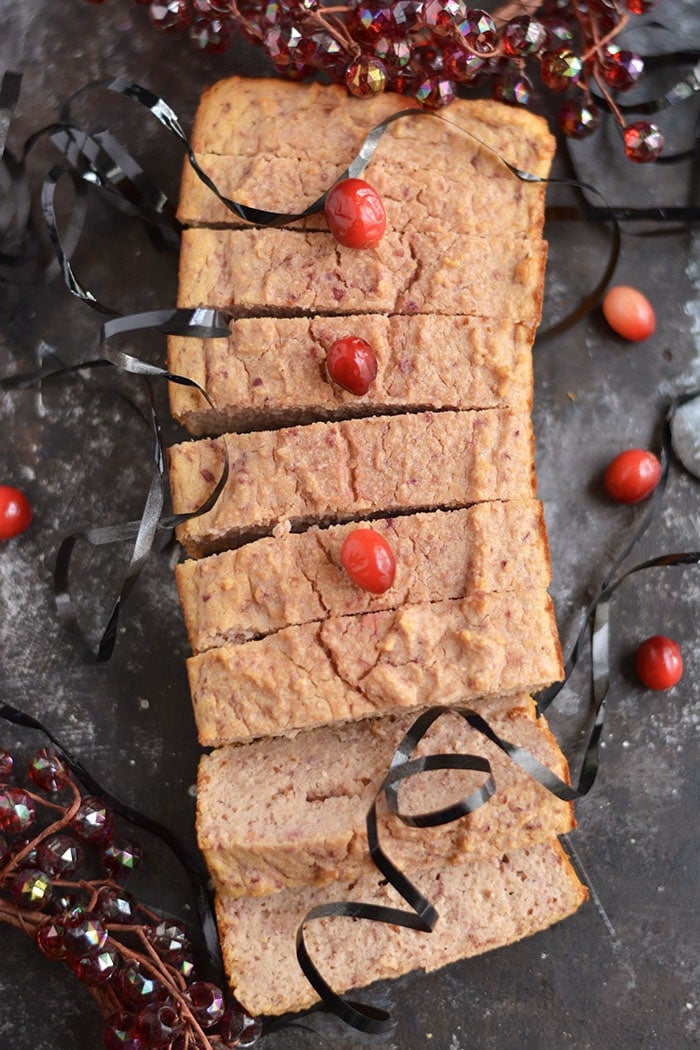 If there's anything I've learned in life it's that there's no perfect timing for anything. Things happen in a complicated ugly mess and the more you put things off waiting for the perfect timing to do the things you want to do, the more they will never happen.
Whether it's exercising or healthy eating, don't wait. Just start. Start small, start now. Heck, start with this Skinny Cranberry Coconut Bread. After all, if there's anything that will inspire you to do more, be more, it's baking. Healthy baking is no exception! 
What better than a tasty, low sugar holiday inspired bread that's secretly healthy to motivate you to rock your non-perfect goals?
And if you're already rocking your health this holiday season, inspire someone in your life to join you. Gift them some healthy cookies or bread like this Cranberry Coconut Bread so they get a peak at just how delicious healthy can be!
Cranberry Coconut Bread
Cranberry Coconut Bread made low in sugar with healthy, wholesome ingredients. The perfect thick & chewy bread to celebrate the holidays, and makes a great gift! Gluten Free + Low Calorie + Paleo
Instructions
In a larger bowl, whisk together eggs, egg whites and honey.

To the liquid ingredients, fold in half the flour mixture. Then stir in coconut oil. Fold in remaining flour ingredients and stir to combine.

Next fold cranberries into the batter.

Transfer the dough into the prepared bread pan and smooth into an even layer.

Bake 30-40 minutes until a toothpick can be inserted in the center clean.

Remove from the oven and cool in the pan 60-90 minutes prior to transferring to a wire cooling rack. Slice into 10 pieces and serve!
Nutrition
Serving: 1sliceCalories: 151kcalCarbohydrates: 12gProtein: 4.1gFat: 8.1gSaturated Fat: 5.1gCholesterol: 55.9mgSodium: 86.4mgFiber: 0.6gSugar: 4.7g
What I Used For The Recipe