Just letting you know this delicious Mason Jar Eggs post is sponsored by my friends over at Eggland's Best! All opinions are of course my own.
Mason Jar Eggs are the perfect on-the-go protein packed breakfast! These make ahead eggs are super easy, store fresh in the fridge for days and are completely customizable to your taste buds!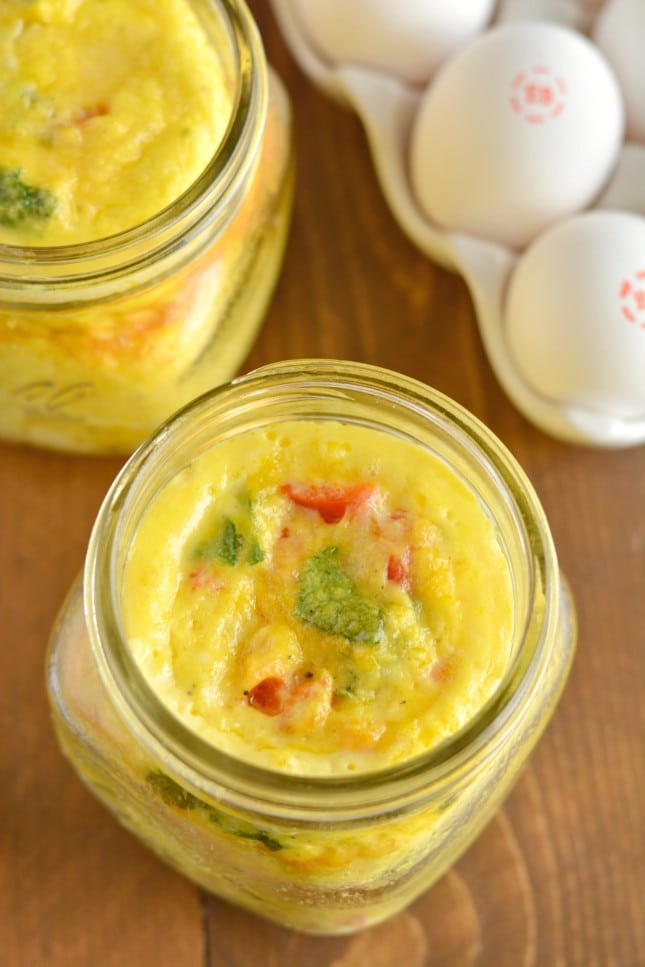 If you've been a long time reader of Skinny Fitalicious, then you know eggs are a huge part of my diet. I must have them every. single. morning. I just love starting my day with a protein packed breakfast that fills me up and keeps me satisfied until lunch.
But when I was working a full-time job, breakfast was always a challenge. I was lucky if I could get out the door with a granola bar in one hand and hard boiled egg in the other. I don't know anyone who has time to make a full on breakfast during the week except maybe my parents who are retired. Must be nice!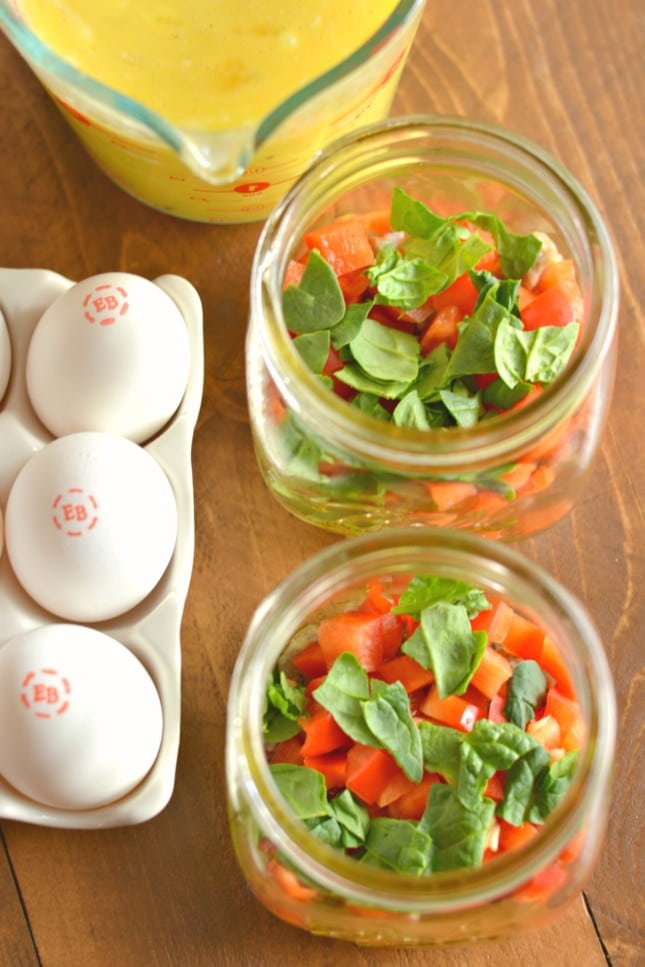 Eventually I realized I wasn't getting the nutrition I needed and was grazing on too much office food to get me through until lunchtime so I got creative in the kitchen and started making egg muffins. Those little muffins sure made breakfast on-the-go a lot easier and made my belly happy because I was filling it with my beloved eggs.
Now that I'm in school for nutrition, I still find it challenging to find time to make a big 'ole breakfast every morning.  There's nothing worse than coming home from the gym in the morning and having to wait 30 minutes for breakfast. Can we say hangry? So I've gone back to meal prepping my breakfasts to make my mornings less stressful.
And these Mason Jar Eggs could not be more perfect for a make ahead breakfast! While egg muffins will always remain a staple in my household, I wanted something heartier than a muffin that resembled an omelette. Something I could pack more veggies into, yet would be easy to make and portable for on-the-go. Obviously I like a challenge!
Of course, I'm making my Mason Jar Eggs with the one and only Eggland's Best. The only eggs I buy for their superior nutrition! They have double the amount of omega-3 than ordinary eggs. Omega-3's are excellent for the heart, help reduce inflammation which is linked to the development of a number of diseases. Most people, myself included, are deficient in omega-3.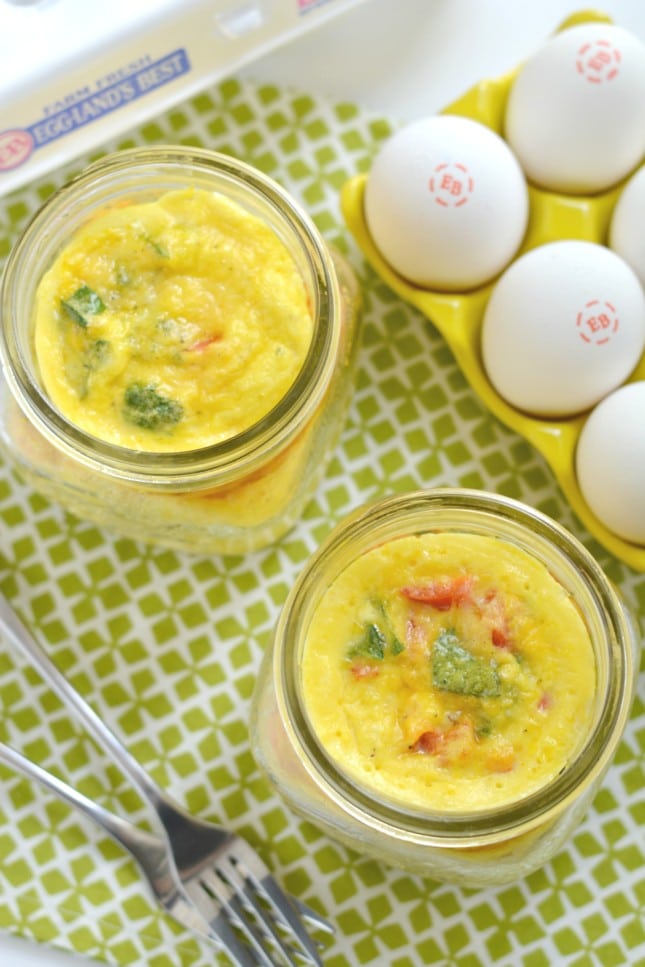 Eggland's Best also has 5 times more Vitamin D and 3 times more Vitamin B12! Two vitamins I am regularly deficient in and I'd much rather get them from food than supplements. Making these Mason Jar Eggs with Eggland's Best will not only yield you superior nutrition, but they've also been shown to stay fresher long than ordinary eggs which means you don't have to worry about making them ahead of time!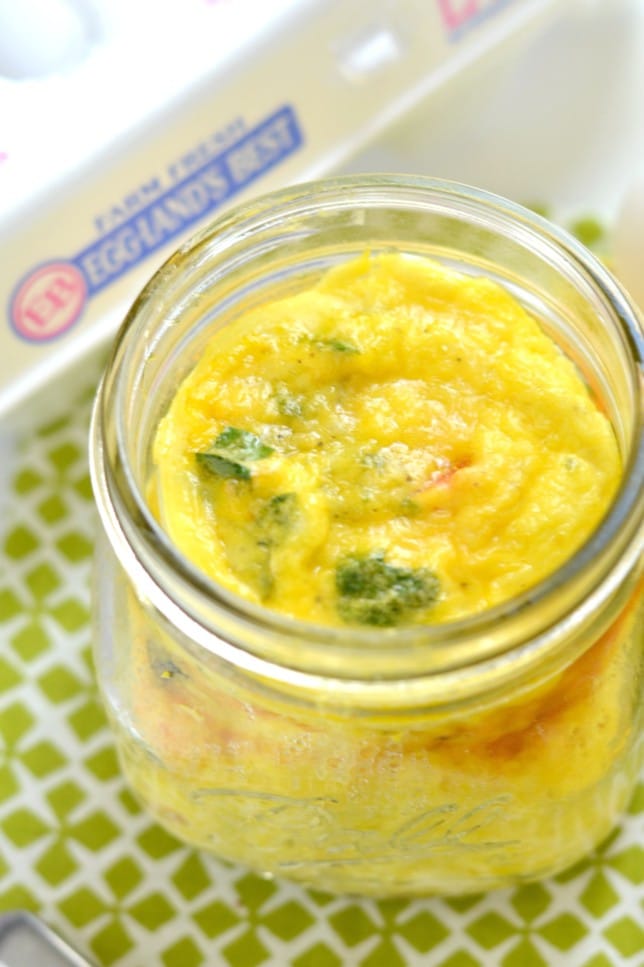 It only takes 30 minutes to make these Mason Jar Eggs. Just toss your Eggland's Best eggs and your favorite vegetables into mason jars, bake for 30 minutes, store with the lid on in the fridge and you've got breakfast for the week! See how 30 minutes can set you up for a good week of eating? Make them now with Eggland's Best and setup yourself up for a successful and nutritious week!
Join 10k subscribers & get insider health tips!
Get my FREE eBOOK Achieve Your New Healthy Life + A BONUS discount when you join!
Mason Jar Eggs
Mason Jar Eggs are the perfect on-the-go protein packed breakfast! These make ahead eggs are super easy, store fresh in the fridge for days and are completely customizable to your taste buds!
Ingredients
4 large Eggland's Best eggs
4 large Eggland's Best egg whites
½ cup plain Greek yogurt
½ cup spinach, packed & shredded into ½ inch pieces
1 cup red bell pepper, diced
2 sausage links, precooked with casings removed & diced (ham works too)
½ tbsp garlic powder
salt & pepper to taste
Instructions
Preheat oven to 350 degrees F.
In a medium mixing bowl, add eggs, egg whites and Greek yogurt. Whip by hand until the mixer become thick and fluffy.
Spray the inside of two ½ inch mason jars liberally with nonstick cooking spray then layer the sausage, bell pepper and spinach dividing it between the two mason jars.
Add the egg mixture to the jars, filling them ¾ of the way full. They will rise so do not fill to the top or they will overflow.
Place the mason jars on a small baking sheet and bake 25-30 minutes until the eggs are firm.
Remove jars from the oven, cool 5-10 minutes before devouring or storing in the refrigerator with a lid.
Notes
Makes 2 mason jars, 276 calories each
Nutrition Information
Serving size:
1
Calories:
276
What I Used For The Recipe
How do you make breakfast on-the-go easy?