This post contains affiliate links. As an Amazon associate I earn qualifying purchases. Click here for more about this policy.
It's no secret I love plantains! They're a staple in my weekend breakfasts and something I look forward to all week long. I've received many questions here and on Instagram asking how I fry my plantains so I thought I'd give you a tutorial today on plantain frying. My only disclaimer is that I am in no way a plantain making expert (not sure you really have to be), but I will tell you everything I know about How To Make Perfect Plantains!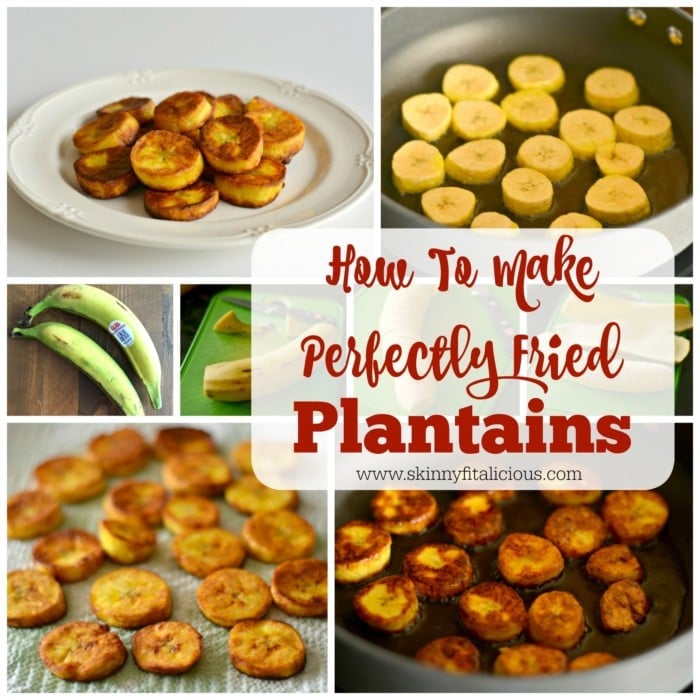 The first step is buying plantains. I buy mine at Sprouts or Walmart. Look for smooth ones that aren't bruised. Plantains are similar to bananas. If they're green, they are not ripe, but will eventually (or should) ripen and turn yellow. I buy mine green or with a hint of yellow that aren't fully ripened. Also, look for smooth ones that aren't bruised. From time to time, I get weird plantains that don't turn yellow. When this happens I either throw them out or wrestle getting the skin off because I'm in desperate need of my plantains!
You can cook them either green or yellow. The more ripe they are, they sweeter they will be. The greener they are, the crispier they will be. For breakfast, I like plantains ripe and sweet. For dinner, I like them a bit green which means they will be crispy like hearty fries! Ripe or unripe, the process for frying them is the same.
Step 1: Remove both ends of the plantains with a knife.
Step 2: Using a knife, make a gentle slit in the skin lengthwise on the plantain then run your finger under the skin to pull it off the plantain.
Step 3: Slice your plantain into quarter size pieces.
Step 4: Add one tablespoon of coconut oil to a frying pan set to medium high heat. Once the oil is hot and sizzling, lower the heat to medium low and add the plantains.
Step 5: Cook plantains 3-4 minutes then flip them using a tongs and cook another 3 minutes until both sides are light brown.
Step 6: Remove plantains from the frying pan and place on a paper towel. Pat the plantains dry, sprinkle with sea salt.
Step 7: Transfer to a plate and devour!
[Tweet "Want to Make Perfect Plantains? Learn how with @skinyfitlicious easy step by step!"]
Do you make plantains? How do you make them?
[AdSense-A]