Healthy White Chocolate Macadamia Cookies! Made gluten free with applesauce for a lower sugar cookie recipe, that's lighter and healthier! Great for holiday baking or anytime of year when you want a cookie. Gluten Free + Low Calorie
It's less than a week from Christmas. I don't have anything wrapped. I'm scrambling to get my grocery list together and clean the house. Thankfully my friends at Jennie-O sent me a free turkey so at least I've got that going for me.
I tried recruiting the guy to wrap a large gift I knew I would have a hard time wrangling. He agreed, then fell asleep on the couch. Boo.
The good news is I have a lot of holiday cookies baked and ready to go. At least I'm winning at baking these days! This is real life people and the struggle is REAL!
Healthy White Chocolate Macadamia Cookies are in the freezer just waiting to be shared. I had to put them there so I wouldn't eat them all.

So, let me tell you. I wasn't planning on creating another cookie recipe for you this week. But when I went to find a healthy, gluten free version of my all time favorite cookies, I couldn't find one.
All the gluten free versions were loaded with sugar, butter and oil. Stuff my cholesterol can't afford to have. Then I searched for healthy versions and even those were far from healthy.
I'm telling ya. You need to watch recipe ingredients closely! Many of them say "healthy," but they may not be healthy for you. Have no idea what I'm talking about? Read this post!
For this While Chocolate Macadamia Cookies recipe, I lightened it up by using applesauce and coconut sugar (for a lower glycemic response) and used white yogurt chips instead of traditional chocolate chips.
I used Bob's Red Mill Baking Flour and it worked perfect. Truth be told, I tried two other gluten free flours. While the cookies turned out, these were by far my favorites and well, they looked prettier for the camera too!
Now you have another healthier, lighter cookie to add to your baking arsenal this week! As a side note, due to the holiday this will be my last post until next Tuesday. I hope you have a very Merry and Healthy Christmas!
Healthy White Chocolate Macadamia Cookies
Healthy White Chocolate Macadamia Cookies! Made gluten free with applesauce for a lower sugar cookie recipe, that's lighter & healthier! Great for holiday baking or anytime of year. Gluten Free + Low Calorie
Prep Time 10 minutes
Cook Time 10 minutes
Resting Time 5 minutes
Total Time 20 minutes
Servings 12 cookies
Calories 160 kcal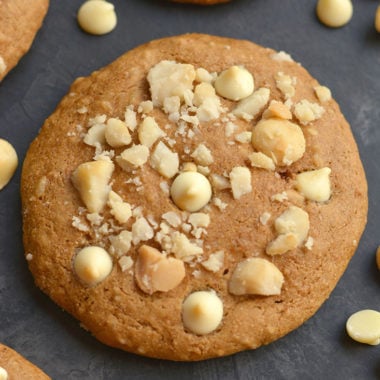 Instructions
Preheat oven to 350 F. Prepare a baking sheet with parchment paper.

Next place the egg, applesauce, coconut sugar and vanilla extract in a standing mixer. Process until smooth.

Fold in the flour, baking soda and blended macadamia nuts to combine with the wet ingredients.

Scoop a heaping teaspoon onto the prepared baking sheet to make 12 cookies.

Roughly chop the 4 tablespoons of macadamia nuts and place the on top of each cookie. Divide the white chocolate chips evenly among the cookies and place in each cookie. Press the nuts and chips gently into the cookies with your fingers. 

Bake at 350 F for 10-12 minutes until slightly golden around the edges.

Remove from the oven and transfer to a wire baking rack to cool a few minutes before digging in.
Recipe Notes
The cookies are low in sugar and subtly sweet. You can add liquid stevia without affecting the nutritional data to add more sweetness or add more coconut sugar, however that will change the nutrition.
My Amazon shop has more products similar to those used for this recipe and that I recommend to my nutrition clients.
Course Cookies, Dessert
Cuisine American
Keyword cookie, dairy free, gluten free, low calorie, low sugar, macadamia
Nutrition facts per serving (1cookie)
Calories 160 kcal
Fat 8 g
Saturated Fat 1 g
Cholesterol 16 mg
Sodium 74 mg
Potassium 53 mg
Carbohydrates 20 g
Fiber 2 g
Sugar 7 g
Protein 2 g
Vitamin A 25 %
Vitamin C 0.1 %
Calcium 25 %
Iron 1 %
Meal Plans
Get a meal plan designed to meet your weight loss goals.
Learn More
What I Used For The Recipe