This post contains affiliate links. As an Amazon associate I earn qualifying purchases. Click here for more about this policy.
This Healthy Chop Suey recipe is a low-calorie meal that's lighter than traditional Asian Chop Suey recipes and it is gluten free! An easy and filling meal! Gluten Free + Low Calorie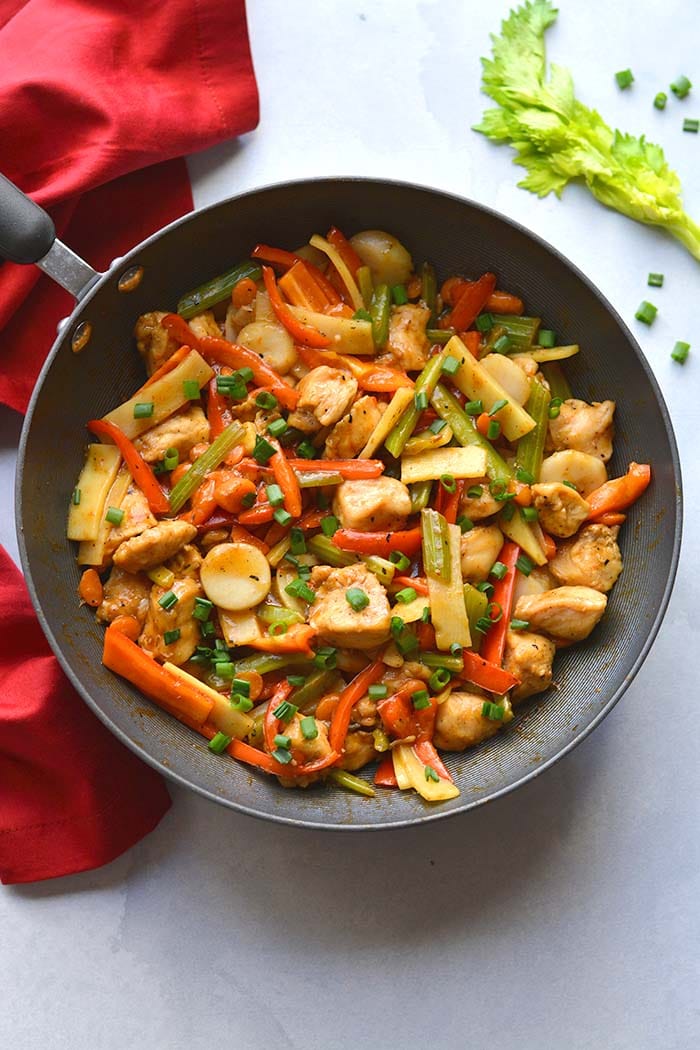 Chop Suey is an Asian stir-fry with veggies, protein and served with rice. My Mom made chop suey growing up and it's one of my absolute favorite recipes.
This healthier version of chop suey is easy to make, filling and so delicious! It's also made gluten free and lower in calories.
What Makes This Chop Suey Better For You?
Here's a few reasons why this chop suey recipe is healthy and better for you.
Lower Calories - Traditional Asian meals use a significant amount of oil to stir fry. This recipe uses broth in place of the oil to reduce the calories. Also, the recipe has the right amount of fat, protein and carbs to keep weight loss hormones balanced.
Lower Fat - By swapping chicken broth for oil, the total fat content is significantly reduced. We always want some fat in recipes, but the amount you see in recipes online is usually way more than you need.
High Fiber - There are 5 grams of fiber per serving bringing the total carbs to 34 per serving. Fiber is important weight loss food.
High Protein - This recipe has 29 grams of protein per serving which is the perfect amount for keeping blood sugar balanced.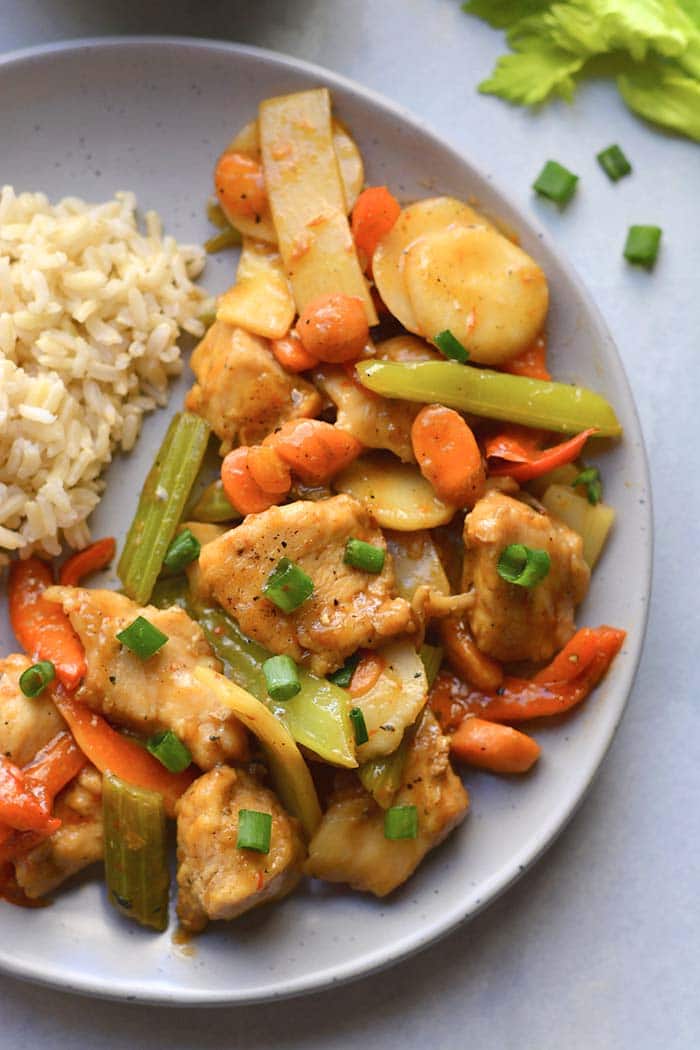 Ingredients For Gluten Free Chop Suey
Here's what you need to make your chop suey healthier and gluten free!
Chicken Breast (I get mine from ButcherBox)
Celery
Carrots
Red Bell Pepper
Garlic
Oyster Sauce, gluten free
Shaoxing cooking wine
Chicken broth, low sodium
Ground ginger
Baking soda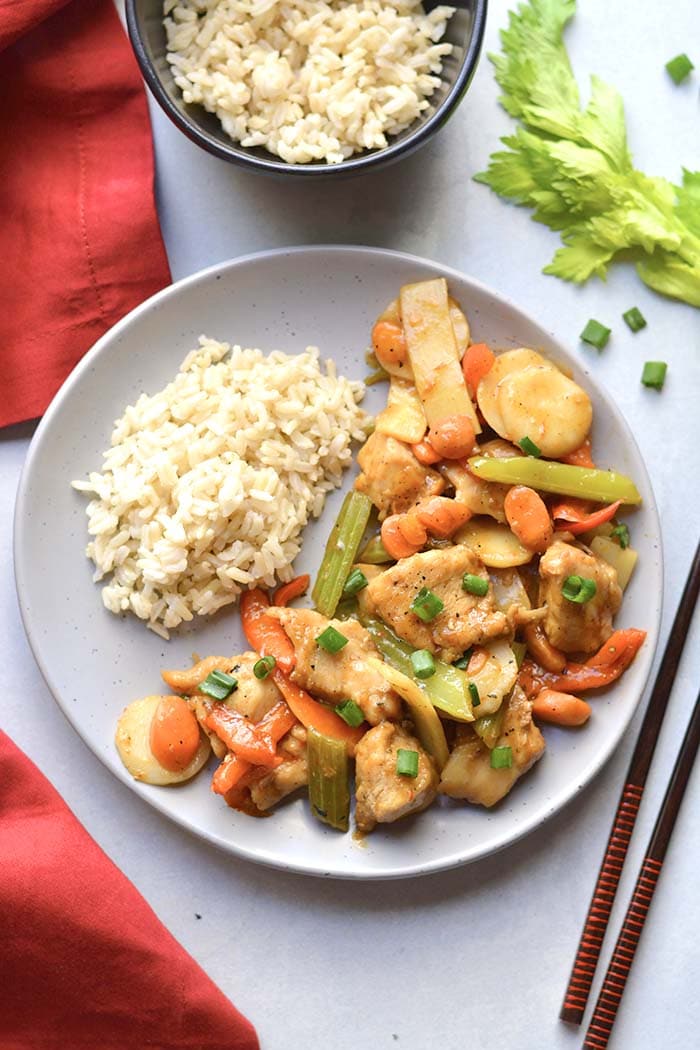 How To Make the BEST Chop Suey
What makes this recipe the BEST chop suey recipe? Tenderizing the chicken! This is the biggest secret most restaurants use to make their proteins taste delicious and now you can do it at home too!
The easiest way to tenderize chicken is to use baking soda. In this recipe, simply cut the chicken breast into 1-inch slices then mix the baking soda with the chicken in a bowl. Let it sit at room temperature about 20 minutes. Then rinse and pat dry before cooking!
I recommend NOT skipping this step because it makes the chicken so tender and tasty!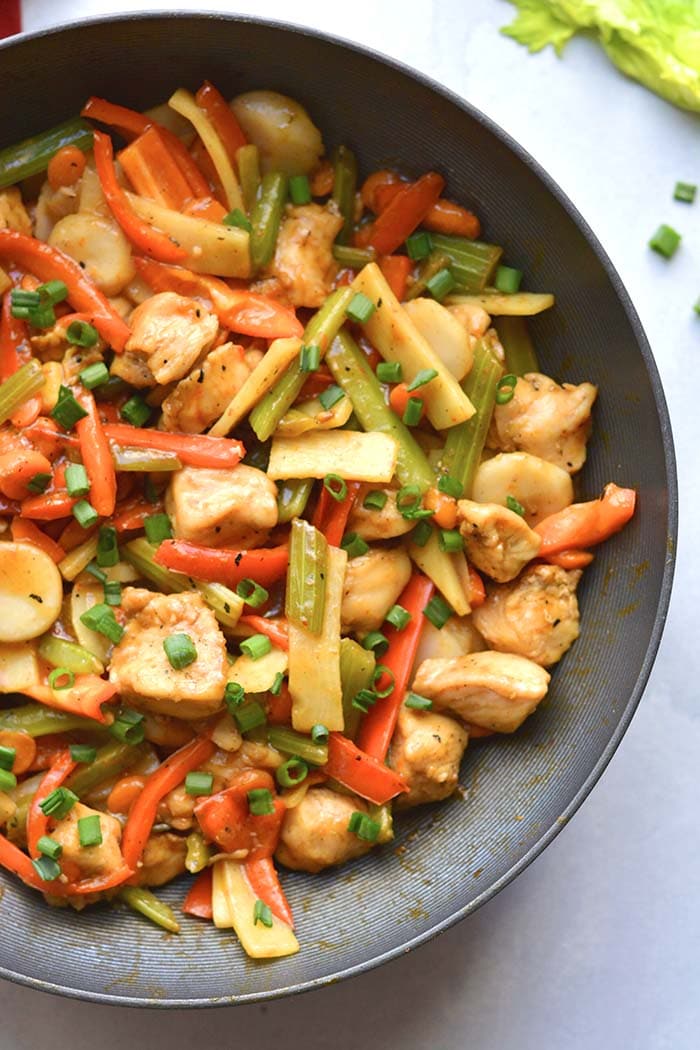 How To Cook Healthy Chop Suey
Heat a wok (this is the one I use) with low sodium chicken broth then add the veggies. Cook until the veggies are just about tender, then add the chicken breast to the wok.
While the chicken cooks, cook the rice according to package instructions and mix the ingredients for the sauce together in a mixing bowl. I recommend taking the cool sauces out of the fridge about 20 minutes before doing this so that the arrowroot powder (or whatever thickening agent you use) does not freeze from the cold of the liquids.
Stir in the drained water chestnuts and bamboo shoots. Cook a few minutes to heat then serve with rice!
How To Store and Reheat Chop Suey
Store chop suey in a container separate from the right. You can also portion the leftovers into even servings in separate containers so that it's ready to serve. I do this with many of my recipes.
To reheat chop suey, you can heat it in the microwave on high for 1 1/2 minutes or you can reheat it on the stovetop on a medium-low heat for 7-10 minutes.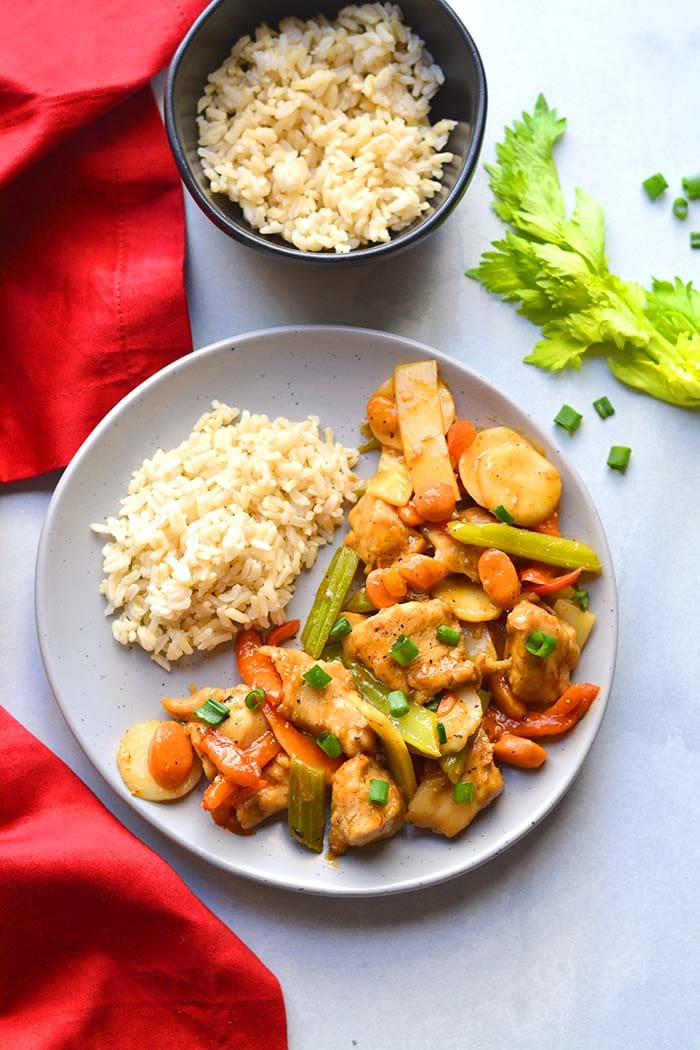 Substitutions For Chop Suey Recipe
Here are a few recommendations on substitutions you can make for this chop suey recipe. Keep in mind that when you swap ingredients, it can change the nutritional values shown in the recipe.
Chicken - Any protein will work with this. Turkey breast, fish, shrimp, scallops, tempeh or tofu.
Vegetables - Most veggies can be substituted in this recipe. Zucchini, snap peas, green beans, broccoli, cauliflower or onion are what I suggest.
Water Chestnuts / Bamboo Shoots - You can omit these if you like and swap more veggies like celery and carrots. They do not have a lot of taste, but add volume and crunch to the recipe without adding a lot of calories.
Coconut Aminos - Swap gluten free soy sauce, low sodium soy sauce (if not gluten free) or tamari sauce.
Shaoxing Cooking Wine - Rice wine vinegar can be used instead.
Oyster Sauce - Fish sauce can be subbed or this can be omitted.
Arrowroot Powder - Tapioca powder or cornstarch can be used in its place.
Brown Rice - Use cauliflower rice for a Paleo / grain-free option. Quinoa or jasmine rice would be yummy with this too!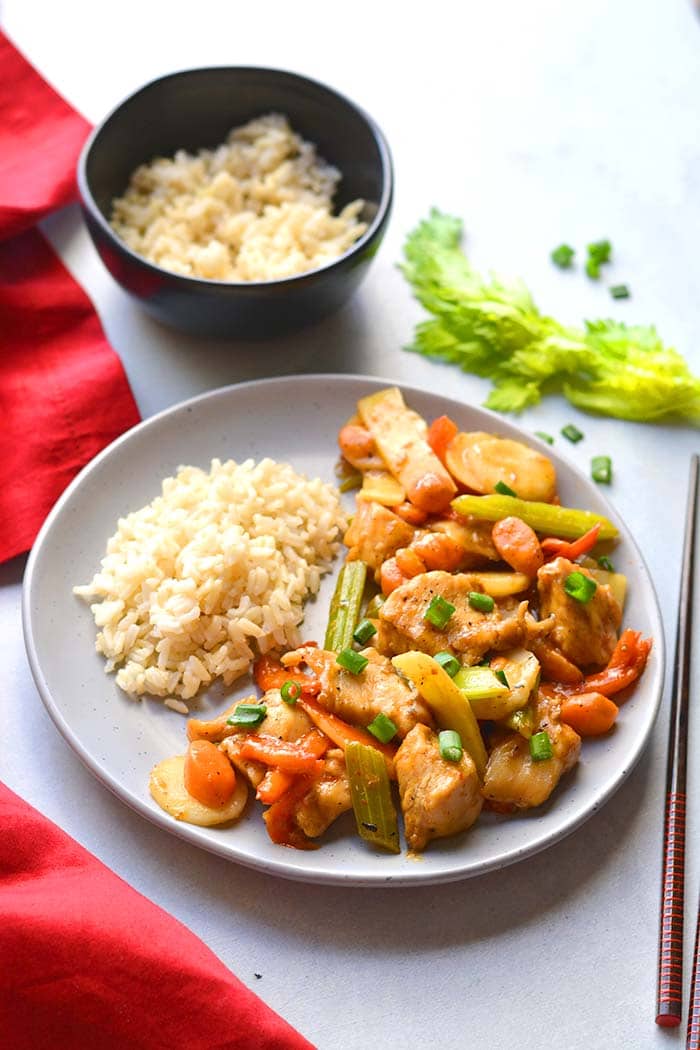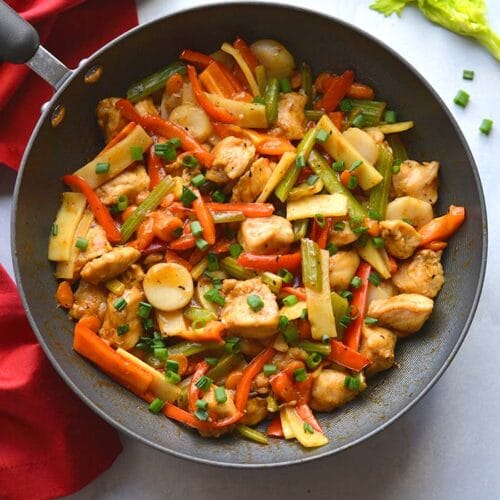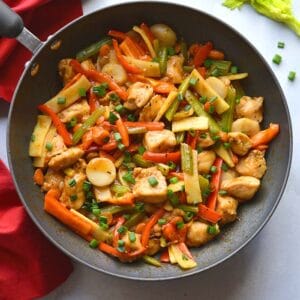 Healthy Chop Suey
This Healthy Chop Suey recipe is low calorie meal that is lighter than traditional Asian chop suey and it is gluten free!
Instructions
Cut the chicken into 1-inch pieces and place in a bowl. Add the baking soda and using your fingers, mix the baking soda with the chicken. Set aside for the meat to tenderize at room temperature.

Heat a large wok or skillet to medium-high heat. Add the vegetable broth with olive oil, garlic, celery, carrots and red bell peppers. Cook 5-6 minutes then stirring frequently. Watch the veggies to ensure they do not stick. Add more broth as needed to keep them moist and cooking.

Rinse the chicken and pat it dry with papertowels then add it to the wok with the veggies adding the black pepper. Stir, reduce heat to medium and cook another 7 minutes or until cooked through.

While the chicken cooks, prepare the brown rice according to the package instructions and prepare the sauce in a small bowl.

Once the chicken is cooked, add the sauce to the pan with the drained bamboo shoots and sliced water chestnuts. Stir to combine and reduce the heat to medium-low cooking another 3-4 minutes.

Serve immediately with brown rice. Store in the refrigerator up to 5 days.
Notes
Each serving is about 1 1/2 to 2 cups. You could easily extend this to 5 or 6 servings.
My Amazon shop has more products similar to those used for this recipe and that I recommend to my weight loss clients.
If you enjoy this recipe, then check out my cookbook for more delicious recipes.
Nutrition
Serving: 1servingCalories: 344kcalCarbohydrates: 39gProtein: 29gFat: 8gSaturated Fat: 1gCholesterol: 73mgSodium: 892mgPotassium: 872mgFiber: 5gSugar: 5gVitamin A: 3898IUVitamin C: 48mgCalcium: 52mgIron: 2mg