This post contains affiliate links. As an Amazon associate I earn qualifying purchases. Click here for more about this policy.
There are a number of supplements I take regularly, but only a handful of health supplements I can't live without. I want to preface this by saying, I don't take supplements just to take them. I use these health supplements to maintain a healthy balance of hormones, keep my digestion in track and to support my fitness and bone health. While I do take many supplements, these are ones I feel can apply to most people and are ones that can be easily adopted too.
As always, if you have a question about whether or not to include one of these supplements or something else, check with a medical professional. I'm also a nutrition practitioner. If you're a woman over 35 with 20 to 50 pounds to lose, I offer free consults to discuss your goals.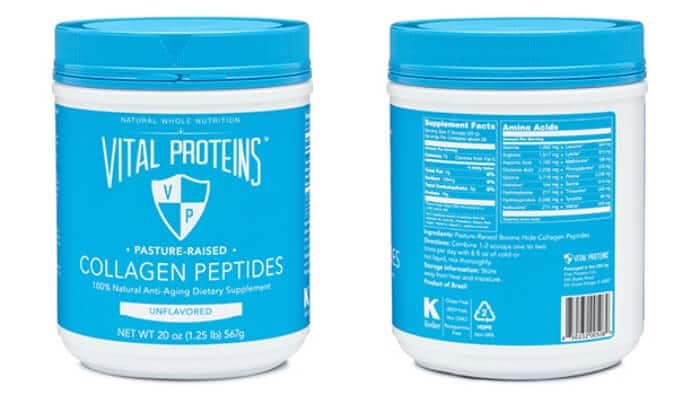 Vital Proteins is a collagen supplement. What's collagen? A protein found in animal tissue that supports joint and bone health. Supplementing with collagen has been shown to improve bone and joint health. I started using it last year because of my avascular necrosis and previous injuries.
I add mine to my morning coffee, but you can add it to almost anything. The unflavored collagen peptides is my favorite because there's zero taste. I also love the marine collagen. Since I started using Vital Proteins, I can say I've noticed a huge improvement in my overall joint stiffness and my nails are the longest they've been in years.
I've mentioned my love for Vega so many times. When it comes to plant-based protein powder, Vega is my #1 favorite. Not only are the ingredients clean and high quality, the taste is amazing and I can say first hand, the people at the company are amazing. Vega's the first brand I worked with when I started blogging and I don't expect that to change anytime soon.
Three Vega flavors in particular I love are: Sport Performance Protein, Essentials Shake & Clean Protein. I rotate according to my workouts.
DIM is great for naturally balancing estrogen. It's plant-based, naturally found in cruciferous vegetables and helpful in removing excess estrogen from the body.
I started taking DIM last year for my estrogen problems. It's one of many supplements I started taking when I went off birth control to support my body's natural cycle. After a year, I can say I'm finally not fighting estrogen anymore.
I like DIM-Evail because it's made for higher absorption. General DIM supplements have low absorption rates, but this one is much higher because of the way it's manufactured.
Since last year my liver and kidneys have been sluggish. No one has been able to tell me specifically why, but I suspect the spike of estrogen has a lot to do with this. Liver G.I. detox gives them a little extra support with its natural detoxifying and anti-inflammatory ingredients.
Getting enough fiber has always been a problem for me so I take a daily fiber cleanse to help my body naturally detox and excrete waste. Since I started taking this last year, I've noticed a huge improvement in my bowel movements. I'm no longer bloated or constipated and my digestion is a lot faster.
This particular fiber cleanse I really like because it's gentle, has plant derived antioxidants and doesn't have additives or chemicals like mainstream brands you find at Target or Walmart.
I know probiotics aren't a new concept, but for years I took a probiotic thinking they were all created equal and they really are not. This probiotic is one I really love. Not only does it have probiotics, but it also has specific enzymes for breaking down protein, carbohydrates and fats and vitamins and minerals. It's vegetarian and there's no binders or fillers either like you find with other brands. My GI track would not be the same without this.
Natural Calm magnesium has been life changing for me. It's a magnesium supplement. Magnesium promotes serotonin production and helps you naturally relax.

Since I started taking this, I now fall asleep as soon as my head hits the pillow and I sleep through the night like a baby. I don't remember a time ever in my adult life sleeping this well. I have a lot more energy too. On a side note, it's estimated that 75% of Americans are deficient in magnesium. If you're feeling low on energy, magnesium deficiency could be part of the equation.