One of the hardest things about being sick and injured these last few years has been accepting the friends who leave you when you're sick. I'm certain those of you who have been chronically sick know exactly what I mean. Until you get sick, you don't realize how valuable your health is beyond your body. People not only judge you beyond your character, knowledge and physical appearance, they judge you based on your health too.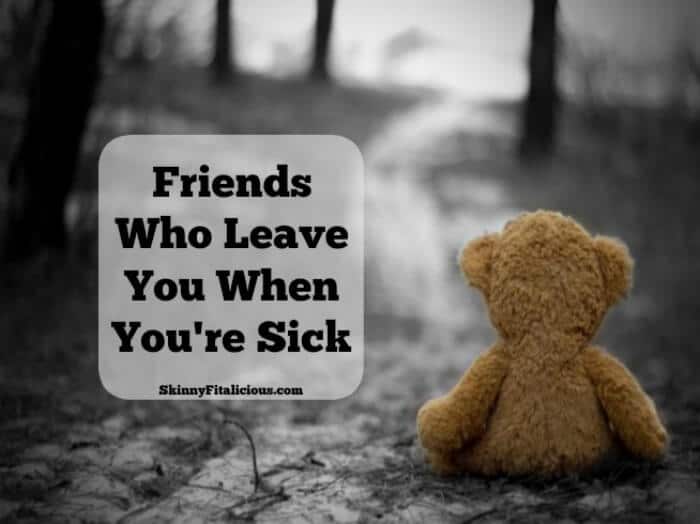 If you've followed my story, then you know what I been through. In case you haven't, here's a quick rundown of what's happened.
January 2014 - Right heal fracture
October 2014 - Right ankle stress fracture
May 2015 - Left torn plantar fascia
July 2015 - Right tibia fracture
Surrounding those events I suffered from chronic stress, adrenal fatigue and was diagnosed with HA. I stopped getting periods in 2009 for reasons no one could explain. Prior to 2009, I had iron deficiency anemia and B12 deficiency. Those problems began 2005-ish. No one has ever been able to confirm that these things are connected, but I 100% know they are.
As a result, I spent most of 2015 trying to get my hormones working because I knew it was the key to everything. I felt horrible. I couldn't think straight. I was exhausted. The simplest tasks wore me out and anything unexpected caused me major anxiety.
I knew something was very wrong with my body, and finding a doctor who would help was nearly impossible. But I was determined to find someone who would and eventually I did. That doctor diagnosed me with an auto-immune disease, which I have not talked about yet.
[AdSense-A]
Beyond the doctors not listening though, the hardest part was dealing with friends who leave you when you're sick. When people began to realize I was sick and not just the I have a cold kind of sick, they began distancing themselves from me.
One friend in particular, one day started giving me the cold shoulder and acting as though we had never been friends. She stopped texting me, broke off all communication with me. To this day, I haven't heard from her. I guess a sick friend was something she wasn't willing to deal with.
It wasn't friends who left either, it was co-workers too. Once people began to notice how often I was missing for doctors appointment, they started distancing themselves from me. They would give me looks of pity in meetings or in the hallway. Getting those looks was a horrible, awful feeling.
I went from being the most highly regarded employee to someone no one wanted to be around. They jokingly called me "the shit magnet." Suddenly, I knew what the disabled kid on the playground I grew up with felt like. Isolated and alone. I felt ashamed going to the office. There came a point when I didn't even want to be there because of how I was made to feel.
Now I can handle a lot, but all of this. I couldn't handle all of this. Not alone. Not ever. And having friends leave me on top of it was an extra stab in the wound. This was one time in my life that I was really suffering and needed friends.
I guess maybe people are scared of people who are sick. They think it's contagious or maybe they just don't want to be around the sadness of it. Either that or they don't know how to deal with it. They don't know what to say or do so they just leave.
[AdSense-A]
Losing friends to illness was a painful process, but it allowed me to see the world with a new perspective. It allowed to see there were people in my life who did not need to be in my life. They were not adding value to me or to the person I wanted to be.
Instead of them leaving me, I tried looking at it as me leaving them. I realized I had chosen friendships with people who ultimately, let me down. Yes, I was the one sick and suffering but I didn't need people in my life who weren't capable of sticking by me through that.
Realizing that I had a decision in forming those relationships made it easier to come to terms with friends who leave when you're sick. I may not be able to control my auto-immune disease, but I can control the people I allow in my life.
Have you dealt with friends leaving you during hard times?
[Tweet "When Friends Leave You When You're Sick #health"]