Every day my fear of gaining weight consumes me. After losing 80 pounds, I've finally figured out how to be live beyond the scale & stop obsessing over my weight.
Six years ago I lost 80 pounds and to this day I worry about my weight. Looking back on my 80 pound weight loss, I realize now losing weight was the easy part. Being in maintenance is a thousand times harder. Even after six years, I still have a fear of gaining weight, and that's a fear I struggle with to this day.
I know it's not realistic to think I'll gain 80 pounds back overnight. But when you lose that much weight it's hard to see yourself in a new way. I'm a size 2, sometimes a size 4 and yet, I look in the mirror and see the size 14 girl with ginormous thighs.
It's not because my thighs are big. It's because my body imagine is distorted. I still envision myself as that size 14 girl with big hips and thighs.
During my weight-loss, I meticulously counted calories, tracked what I ate and exercised daily. Today I still track calories but it's for different reasons than when I was losing weight. When I was losing weight, I wouldn't eat unless I had the nutritional facts in front of me.
In part, that was because I didn't know how much the nutritional value was of certain foods or what the right portion sizes were. Tracking food helped me stop overeating by teaching me to eat the right amounts.
The other reason I tracked my food was because I didn't trust myself to eat in control on my own. I rarely allowed myself to deviate from meal plans because I feared I would binge and when I did, it caused me anxiety because I didn't believe I would choose to eat the right things in the right amounts.
Battling multiple injuries the last two years, I finally learned how to be more lenient with my eating and to listen to my body. That transition wasn't easy, but I knew I didn't want to live my life counting calories and having no flexibility in what I ate.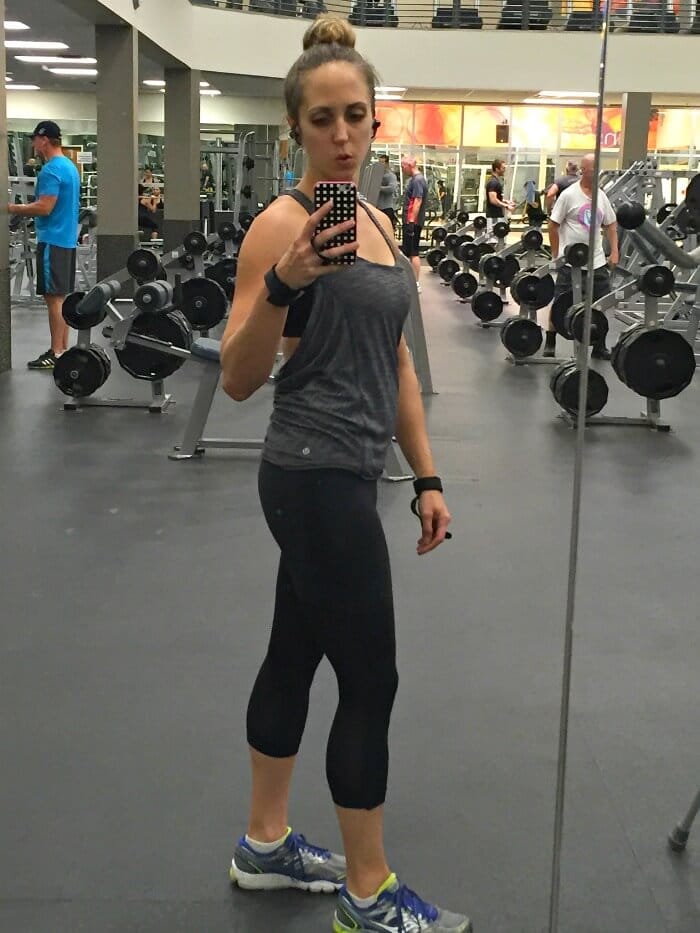 Things also changed for me after losing weight. I fell in love with fitness and started training more seriously. I realized that in order to support my high level of activity I had to let go of my fear of gaining weight and view food as fuel for my workouts. I also came to realize that I was also putting myself at risk for nutritional deficiencies if I didn't allow more variety in my diet. Food is not the enemy. It's survival!
I won't lie. Letting go of my fear of gaining weight took years. If it hadn't been for those injuries, I'm not sure I would've let it go. Those injuries were a blessing in disguise. It forced me to slow down and listen to my body, and I'm much happier now because of it. I still track my food to ensure my macronutrients are balanced because getting enough protein is an issue for me. Otherwise, I can track my calories in my head.
What I no longer do is get on a scale every day and obsess over the number. I've built a lot of muscle lifting weights and the scale will only mess with that achievement. My focus now is how I feel, and I don't need a scale to tell me that.
I know I'm strong and that's all that matters. Most women my age can't bench the weight I'm benching and most women my age don't have the endurance I have, and I know how I'm doing just by putting on my clothes. If things are snug, I know I need to increase my vegetables and protein and cut out the sugar. I don't need a scale to tell me those things anymore.
I still have those moments though where I fear gaining weight, but when that happens I remind myself how strong I am. I've recovered from multiple injuries and even had a hip replacement. Through that I didn't gain weight because the healthy habits I developed during my weight loss are now a normal part of my life.
Even though it's been years since my weight loss, I'm still learning to accept my body. I'm not sure I will ever get used to people saying things to me like "you're so small." I'm at the point in life where I recognize I will always going to hate my thighs and I'm not going to starve myself or cut calories to a dangerous level to change that. What I will commit to doing, is learning to love myself and my body. Everyone has insecurities even the person you idolize most.
My advice to you is to think about all the things you love about yourself. Write them down and read them every day as a reminder that you are more than your weight. Getting over your fear of gaining weight will take time. Give yourself permission to live and love yourself for all the wonderful things you are. Remember, you're not alone in this!
Do you have an unhealthy relationship with food? Are you constantly fearing weight gain and obsessing over what you eat? Does food control you? My book, Living Beyond The Scale is for you!
This book teaches you 7 steps to release weight gain fear and develop a healthy relationship with food and your body. Buy it today & set yourself free!