Hi Guys!
How's Monday? Hopefully your week is off to a great start!
I'm starting my morning with an early cardio sesh at the gym followed by quick lifting, stretching and core work. Maybe some pool action too. I love starting my week with a good sweat sesh. It gets me mentally prepped for the week and helps me focus better.
Today I especially need a workout because I'm seeing the sports specialist this morning for exertional compartment syndrome. I'm nervous and working out always calms my nerves. I also want to be in my best mental state when I see him. That way if the news is bad I won't completely lose it. I'm hoping I finally get answers once and for all about this nagging fullness and cramping in my calf. I expect it will be a sit down & chat kind of appointment and come back another day for tests. Why do doctors do that by the way? I already saw my orthopedic and had the chat. I will never understand the health industry.
With all the nerves zinging me, yesterday my kitchen was a baking factory. I was trying to keep my mind busy and haven't baked in awhile. My taste testers at work have been itching for some goodies and boy do I have a treat in store for them today!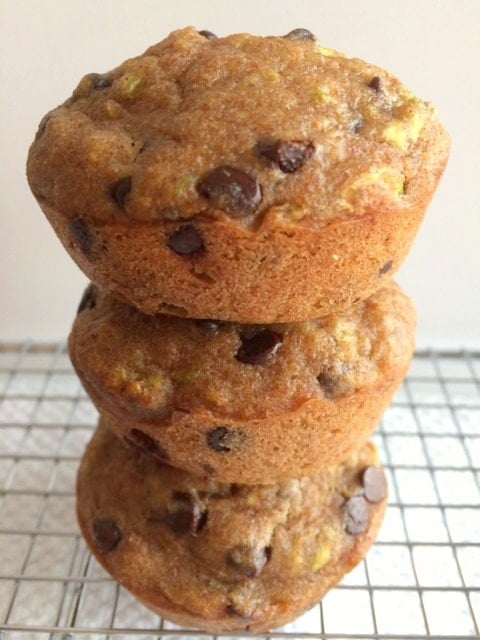 I've had a lot going theses last few weekends and it's still so so hot in Arizona. Anything that comes out of the oven, melts in minutes. I made this a few weeks ago and it melted everywhere before I snapped a single photo. I've learned the hard way I have to be fast when it comes to taking pictures. The key is having everything staged, prepped and ready to go for when the food is done. Once you put it near a window, the clock is ticking. Unfortunately, natural light takes the best pics but it also melts the food. #bloggerproblems
I don't know anyone who doesn't love a good chocolate chip muffin. The sneaky thing about this muffin is that it's packed with vegetables so you can have a treat and your vegetables too without even noticing. 🙂
My office peeps better be cheering for me after they devour these beauties because I had the will power to eat just one and save the rest for them. I'm being very strict right now with my diet so I can stay on track with my foot injury recovery.
I'm trying to keep all my nutrients balanced and eating weird things to control inflammation (aka loads of turmeric). Nutrition plays a big role in how quickly the body responds to treatment, surgery, therapy and whatever my prognosis turns out to be. If I had my choice though, these babies would have been mine. ALL mine. Even though my freezer is exploding with food, I'm sure it would have happily made room for these chocolate zucchini muffins.
Are you drooling and wishing you worked with me? Enjoy your day! I will let you know how things turn out at the doctor later in the week.
Zucchini Espresso Brownies
GF Chocolate Walnut Zutwinkies