Honey Oats Chocolate Chip Granola Bars! Chewy granola bars made with recognizable ingredients and gluten free. An easy homemade snack or lunchbox treat! Gluten Free + Low Calorie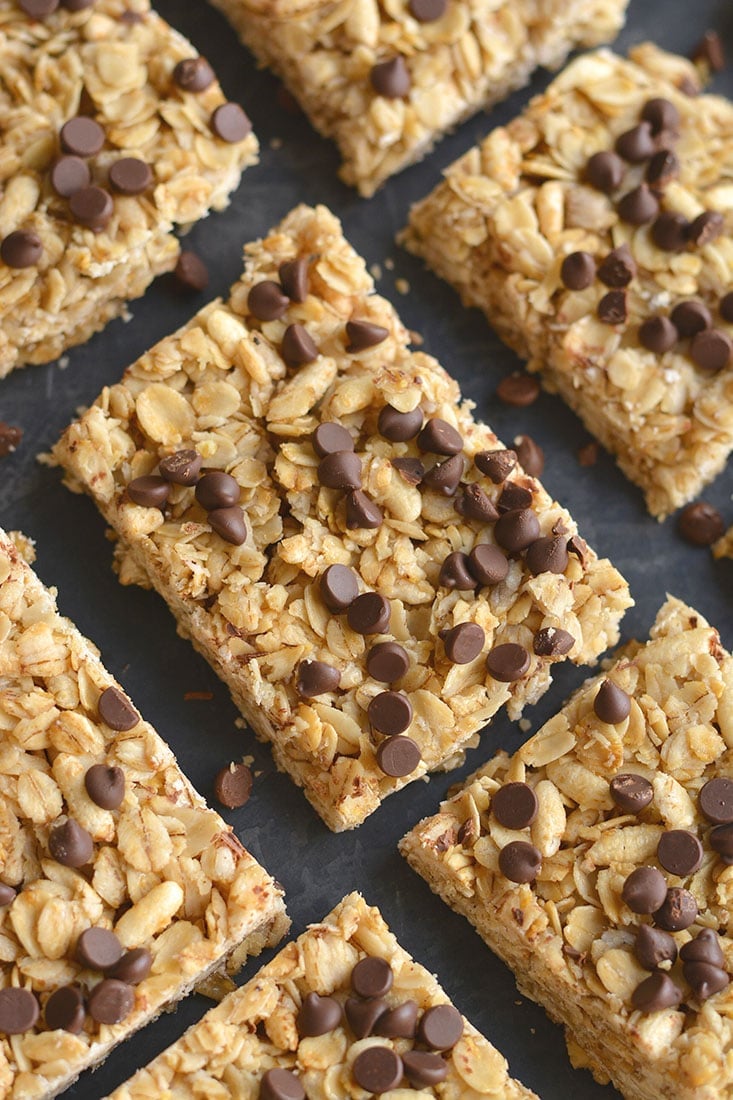 I'm always asked what type of "diet" I follow. This is hard for me to answer because I don't follow a diet. I loosely track my macros in an app, but nothing specific. After years of calorie and macro counting, I pretty much know how to balance everything in my head.
As for what I eat, a lot of veggies, lean protein with carbs sprinkled in here and there. I call it being "carb responsible." Something I'm learning is very important now that I'm 40. My carbs include vegetables as well as grains and legumes here and there.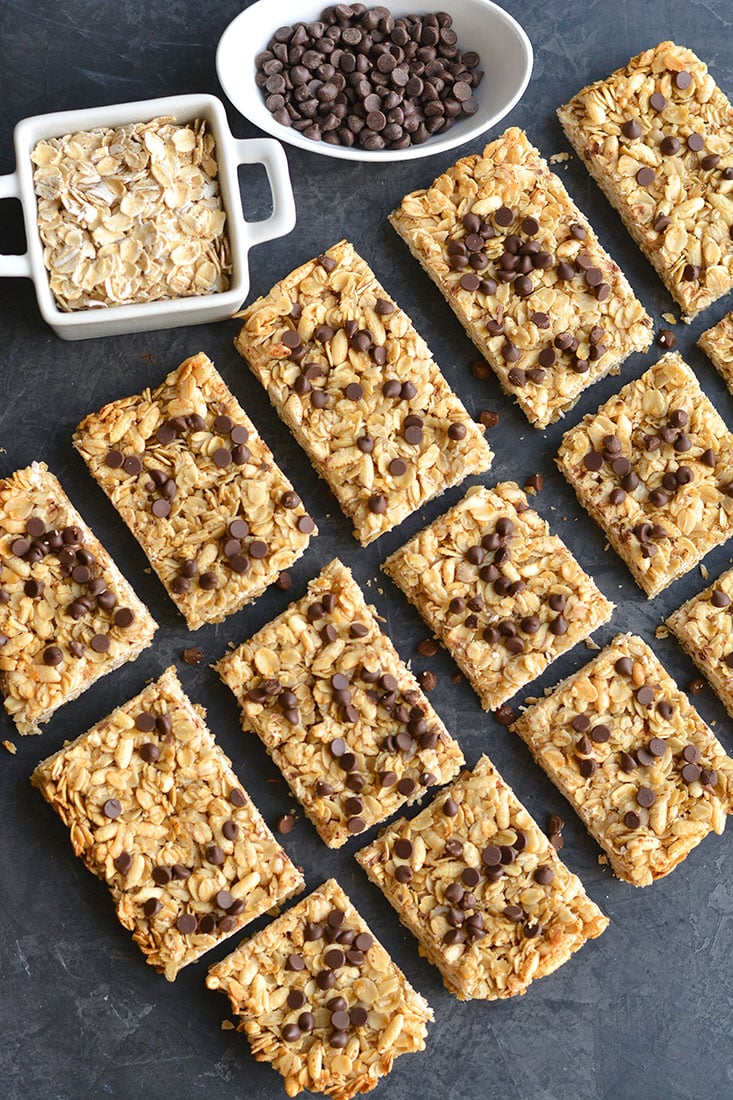 I eat gluten free for my autoimmune disease and I would say my diet tends to be more Paleo-ish. However, I could never give up grains. I love a good bowl of oatmeal or granola bar. It can be tricky finding cleaner granola bars though with recognizable ingredients and now that I eat gluten free, I've found it even MORE difficult to find ones I really love.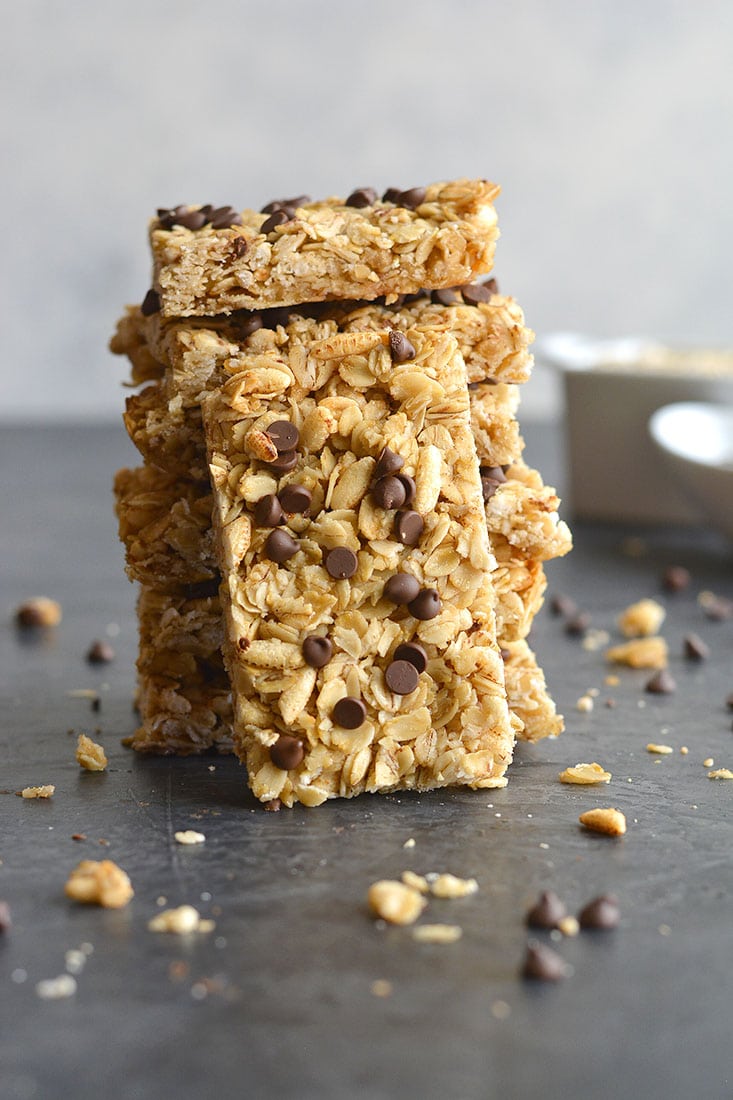 I've made these Honey Oats Chocolate Chip Granola Bars four times this month and truth be told, they did not last long. They're quick to make, with simple and recognizable ingredients – honey, coconut oil, brown rice cereal, oats, vanilla extract. You can't go wrong with that!
Since I made them four times, I tried several variations but this is the one I liked best. Another variation I made was with peanut butter. I subbed half the coconut oil with creamy peanut butter (I love the organic Target brand).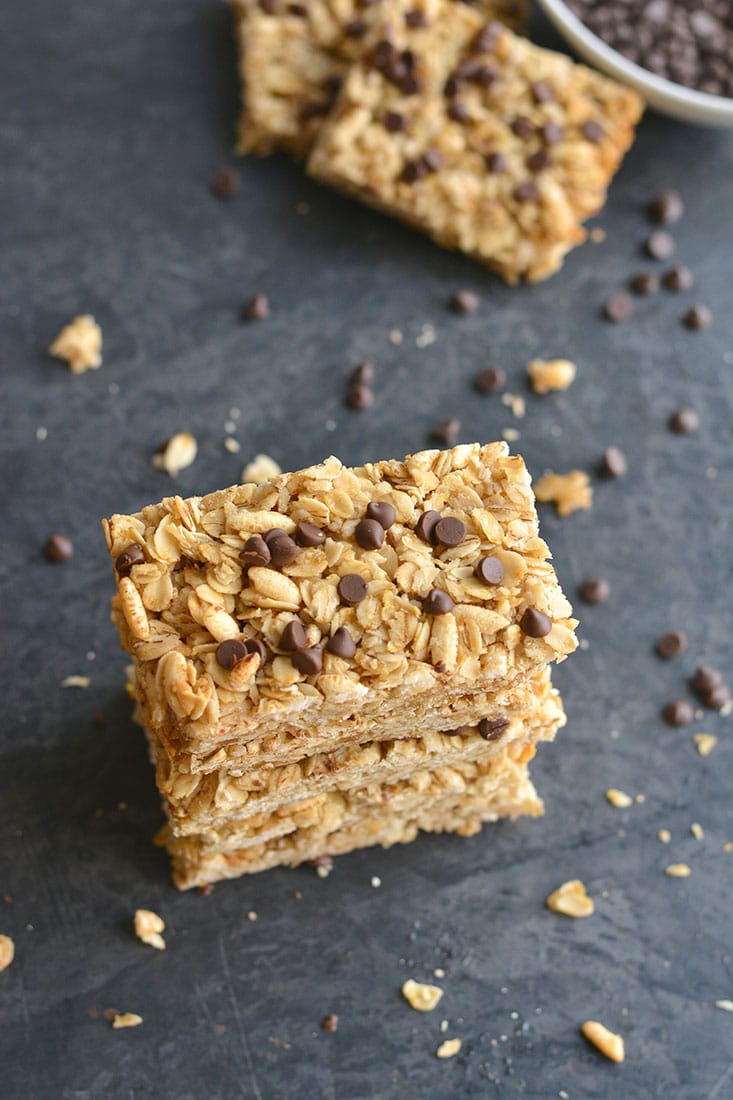 They were also very good, but I already have a peanut butter granola bar on the site otherwise I would have posted those as well. These Honey Oats Chocolate Chip Granola Bars make the best lunchbox snacks. Perfect for back to school!
Have you signed up for my free video series? I'll be telling you in that series how you can get into the 14 day sugar reset challenge free.
More Granola Bar Goodness!
Receive a Sugar Free Meal Plan
When you join the Skinny Fitalicious Email List
Honey Oats Chocolate Chip Granola Bars
Honey Oats Chocolate Chip Granola Bars! Chewy granola bars made with recognizable ingredients and gluten free. An easy homemade snack or lunchbox treat! Gluten Free + Low Calorie
Prep Time 15 minutes
Cook Time 15 minutes
Resting Time 2 hours
Total Time 30 minutes
Servings 18 bars
Calories 175 kcal
Instructions
Heat a small sauce pan to medium heat. Add the coconut oil, honey, salt and vanilla extract. Cook 2 minutes until smooth. Remove from the burner and cool 5 minutes in the saucepan.

While the mixture cools, add the oats and cereal to a large mixing bowl. Stir to combine.

Pour the ingredients from the sauce pan into the mixing bowl. Stir to combine. You need to get the oats and cereal thoroughly covered with the mixture.

Transfer the ingredients to the prepared baking sheet. Smooth into an even layer into the corners. Use another piece of parchment paper to push the mixture into the pan. This will help it stick together.

Sprinkle the chocolate chips on top then again use the parchment paper to push it into the bars.

Bake at 350 F 15 minutes. Remove from the oven and cool at room temperature 20 minutes then place in the refrigerator a minimum of 2 hours to harden. I like to let mine set overnight to ensure they are fully set.

Remove from the refrigerator and lift the bars from the pan using the parchment paper. Place on a cutting board and slice into 18 bars.

Keep bars stored in the refrigerator. They will stay good up to 30 days.
Course Snacks
Cuisine American
Keyword bars, chocolate chip, dairy free, gluten free, granola bar, honey, low calorie, oats, puffed rice, rice cereal, snack
Nutrition facts per serving (1bar)
Calories 175 kcal
Fat 7 g
Saturated Fat 5 g
Cholesterol 0 mg
Sodium 35 mg
Potassium 74 mg
Carbohydrates 25 g
Fiber 1 g
Sugar 12 g
Protein 2 g
Vitamin A 0.1 %
Vitamin C 0.1 %
Calcium 1.3 %
Iron 4.8 %
Custom Meal Plans
Work with Megan to develop a custom macro or standard meal plan to reach your goals.
Learn More
What I Used For The Recipe