This post contains affiliate links. As an Amazon associate I earn qualifying purchases. Click here for more about this policy.
High Protein Oatmeal! Start your day with oatmeal made healthier with protein and omega-3's. Balanced oatmeal for balancing fat loss hormones and losing weight. Prep as instant oats or overnight oats. Gluten Free + Low Calorie + Vegan Option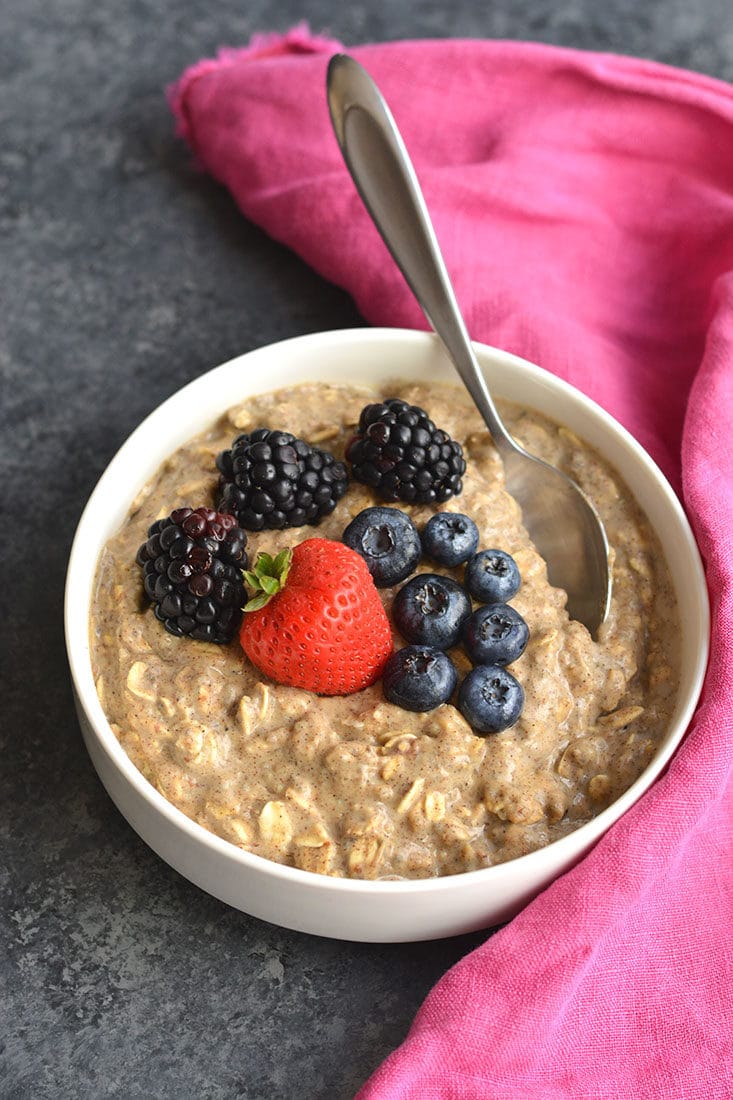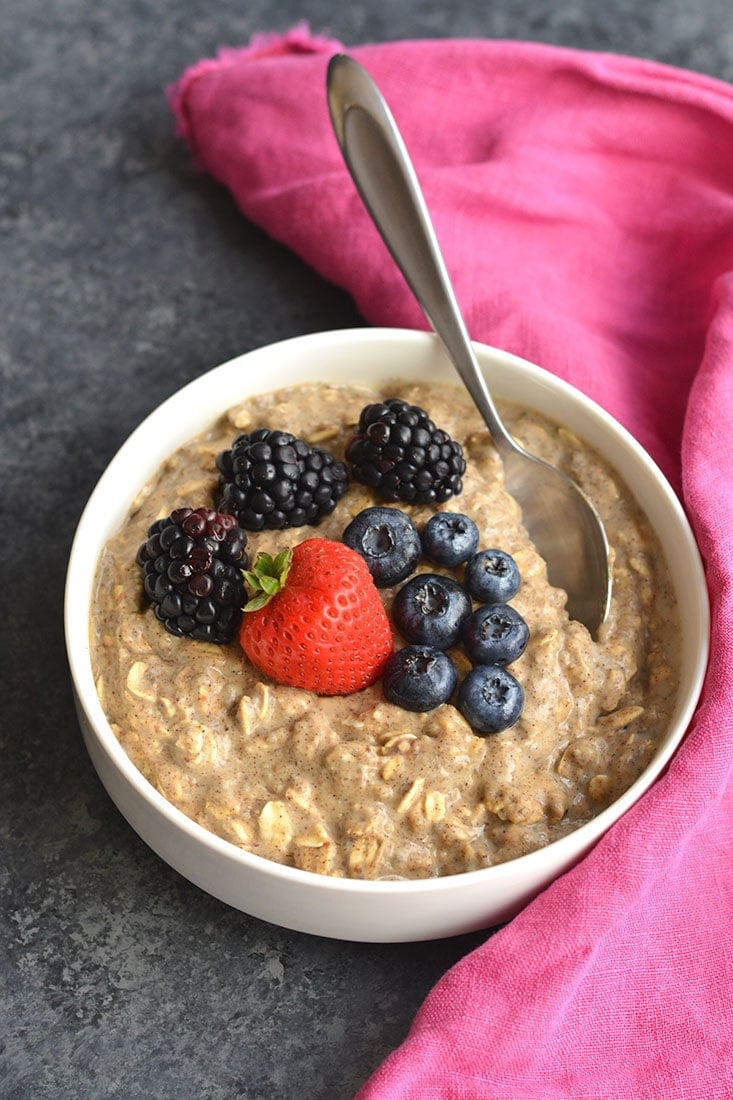 Losing weight isn't easy. Eating healthy isn't eating. Eating healthy and losing weight? Is incredibly hard!
I think that's why so many people give up. They don't have the time or energy to navigate the maze of confusing food labels and on top of it, try to figure out the right balance of macronutrients, calories and amount of working out.
Exactly why I started Skinny Fitalicious Meal Plans so I can do all the work for you!
Seriously, if there is one thing I wish I had known when I was losing weight is to check the ingredients on food labels. I used to buy instant oatmeal all the time and eat it without inspecting what the ingredients in it. I thought just because it was low in calories that was all I needed.
When in fact,  I never realized how much added sugar and additives are added to instant oatmeal packs. These types of instant oatmeal cause inflammation, increase sugar cravings, cause hormone disruption and weight gain.
Click here to pin this recipe!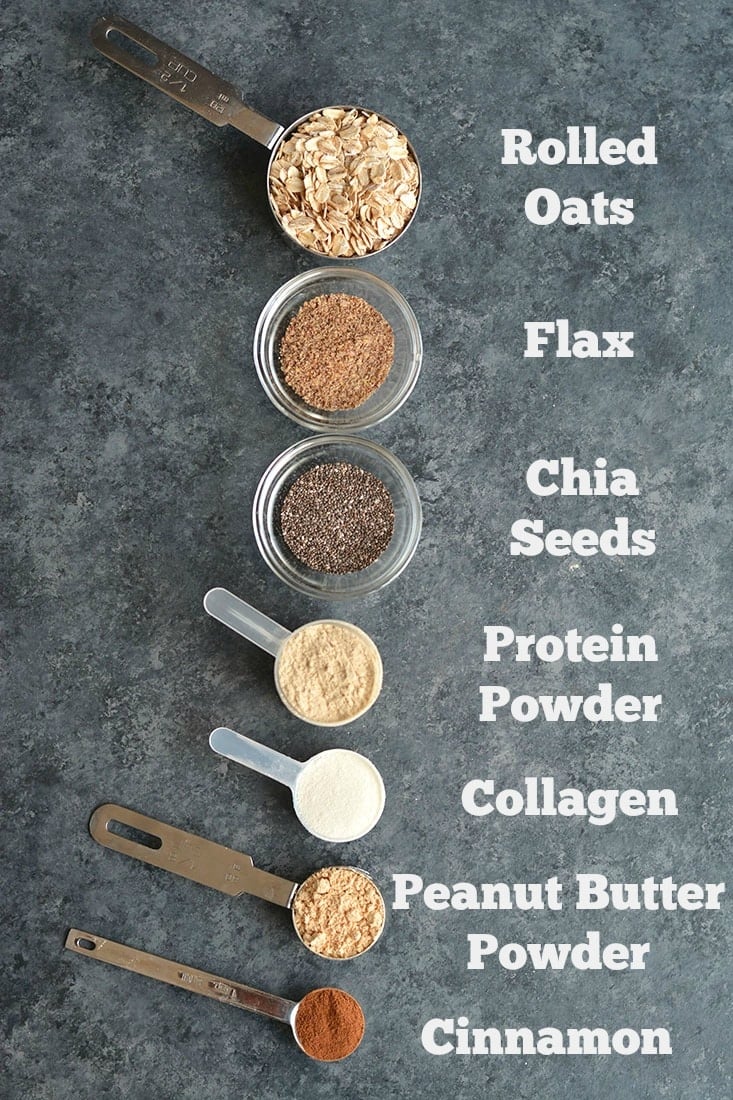 Another thing I didn't know when I was losing weight? How to balance my macronutrients (the protein, fat and carbohydrates)! Often, I ate a bowl of oatmeal with fruit then an hour later I was hungry. This was because there was no protein or fat to balance the insulin response from the carbs.
Oatmeal has fiber so the carbs are slower digesting, but it's still like eating a bowl of sugar unless which is why putting the right type of toppings on top is so important. That's why I created this High Protein Oatmeal recipe to show you exactly how it's done!
High Protein Oatmeal
Eating a high protein oatmeal like this one will keep you fuller longer because of the ratio of carbohydrates to protein to fat. It's also high in fiber (an important nutrient that keeps you full) and is naturally low in sugar.
This high protein oatmeal may be slightly higher in calories, but that doesn't bother me. These are the good calories that will keep you full and satisfied!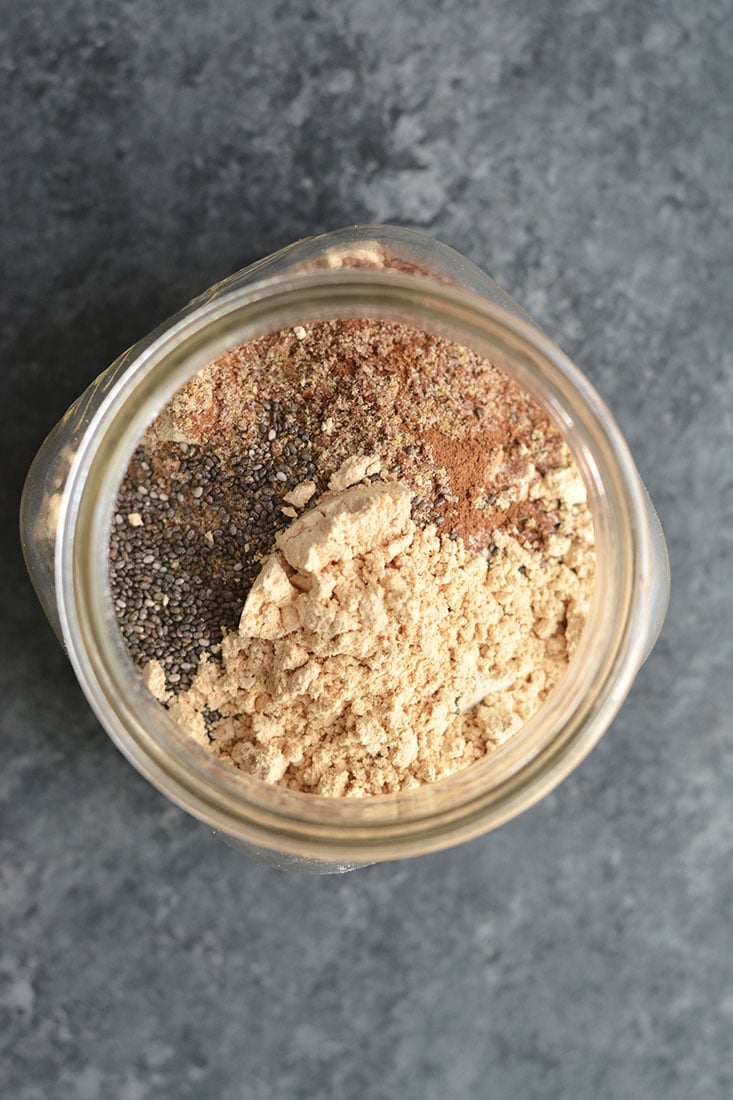 What You Need
This high protein oatmeal is filled with omega-3's to fight inflammation and balance hormones (both important for weight loss!) and is higher in protein to build lean muscle tissue. More muscle means higher metabolism. We all could use a little more of that. Am I right?
My challenge to you is to eat oatmeal alone then eat this high protein oatmeal, and pay attention to the difference in your level of fullness and blood sugar.
All you need to make your high protein oatmeal is gluten free oats, cinnamon, flax, powdered peanut butter (with nothing added), collagen, chia seeds, protein powder and milk. That's it!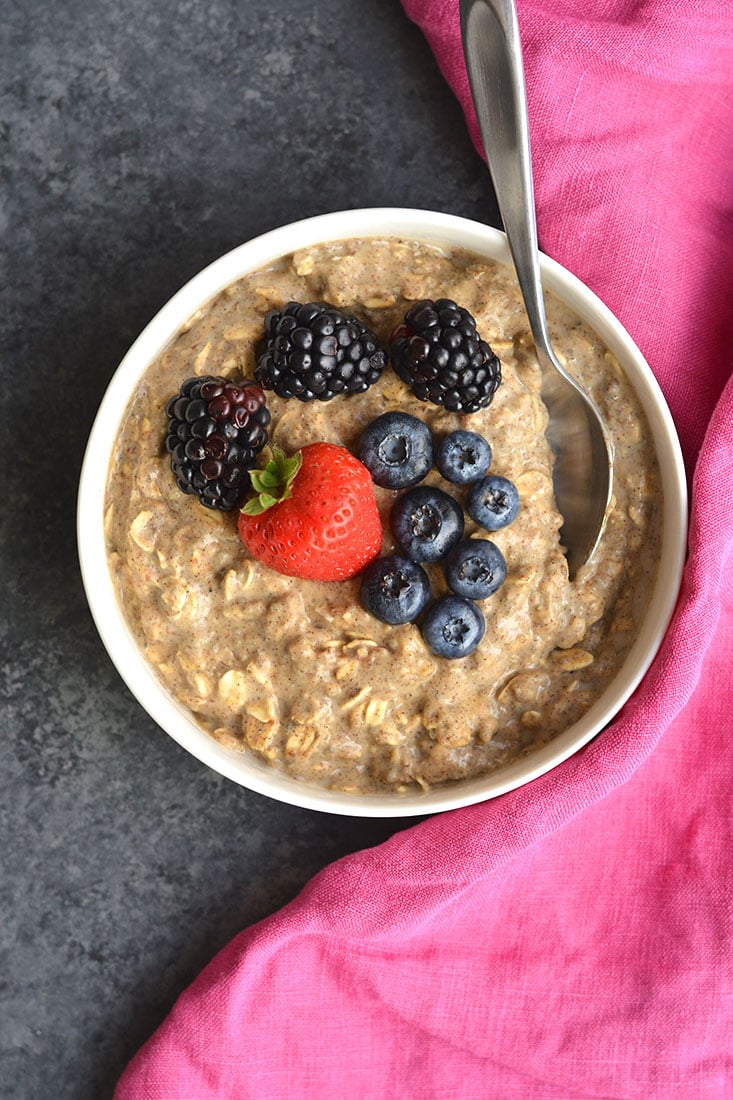 Helpful Tips
You can make this high protein oatmeal either as instant oatmeal packs or overnight oats. I do it both ways depending on how I'm feeing. With either method, I store mine in mason jars but a plastic bag works too.
Pin the recipe so you have it in your healthy eating arsenal!
Watch the video in the recipe card to see what store bought brands I buy that are gluten free and processed free.
For more yummy, low calorie recipes, check out my new cookbook!
Click here to pin this recipe!
High Protein Oatmeal
High Protein Oatmeal! Start your day with oatmeal made healthier with protein and omega-3's. Great for balancing hormones, fighting inflammation and high fiber for losing weight. Prep as instant oats or overnight oats. Gluten Free + Low Calorie + Vegan
Prep Time 2 minutes
Cook Time 2 minutes
Total Time 4 minutes
Servings 1 serving
Calories 408 kcal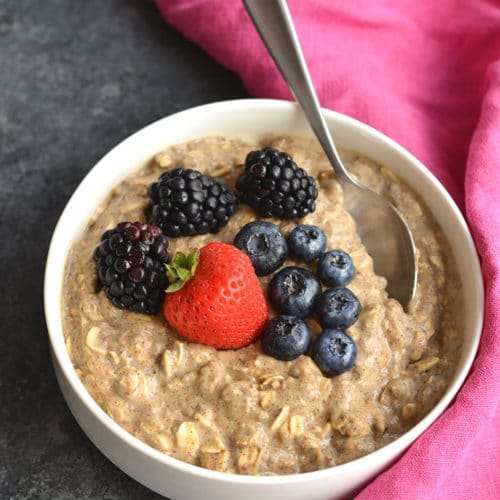 Instructions
For Instant Oats:
Place all ingredients except milk in a mason jar or plastic bag. When ready to eat, add milk, stir, and heat for 1:30 to 2:00 minutes in the microwave. Top with fruit. For high protein chocolate oatmeal, see this post.
For Overnight Oats:
Place all ingredients in a mason jar. Stir the ingredients together, cover and place in the refrigerator overnight. Eat the next day. Fruit can be added the night before or day of.
Course Breakfast, Meal Prep
Cuisine American
Keyword breakfast, collagen, dairy free, gluten free, healthy, high protein, low calorie, oatmeal, oats, overnight oats, protein, refined sugar free, vegan
Recipe Video
Nutrition facts per serving (1serving)
Calories 408 kcal
Fat 13 g
Saturated Fat 2 g
Cholesterol 55 mg
Sodium 415 mg
Potassium 314 mg
Carbohydrates 46 g
Fiber 13 g
Sugar 3 g
Protein 32 g
Vitamin A 0 %
Vitamin C 0 %
Calcium 480 %
Iron 3 %
What I Used For The Recipe