Is Eating For Weight Loss The Same As Eating For Fitness? Most would answer yes not realizing eating for weight loss is different from eating for fitness.
During my 80 pound weight-loss, I spent a lot of time educating myself on diet and exercise. I read health and fitness magazines, researched websites and did a lot of experimenting. Quite often I found myself scratching my head in confusion trying to discern the wealth of conflicting information and even now, I spend a lot of time interpreting how things apply to me.
If I'm confused, then the average person who's removed from the world of health and nutrition must be confused about what, when, why or how to apply (or not apply) things to their personal goals.
I know this for a fact from the questions I get from readers. So today I'm going to try to make this less confusing by breaking down the difference between eating for weight loss and fitness.
What does weight loss, fitness training and healthy mean?
Weight-Loss – Reducing overall body mass weight by decreasing body fat.
Fitness Training – High intensity, endurance or strength training, often to prepare for races, competitions or to gain a physical physique.
Healthy – Living a balanced lifestyle while moderately exercising regularly and eating nutrient dense foods containing vitamins and minerals. Getting plenty of sleep, maintaining positive social relationships and a physical environment. Balancing overall physical, mental and psychological needs.
Think about healthy as overarching weight loss and fitness.
Whether your goal is to train for a race, a body building competition or to lose weight, you need to maintain a healthy, balanced lifestyle to meet those goals. But when it comes to eating, there are key differences and it's important to understand those differences so you know when to apply them.
Eating for Endurance Training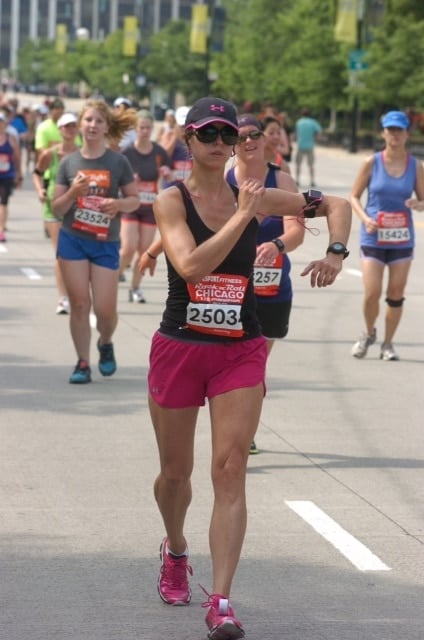 If you're training for an endurance event such a half marathon, marathon, triathlon, etc., your diet must include a balance of lean protein, carbohydrates and healthy fats appropriate for your body weight activity level with an emphasis on carbohydrates. Carbohydrates are necessary for replenishing glucose to fuel long, intense training sessions and prepare the body for race day. Timing carbs before and after training is important as well.
With endurance training, there is a need to consume more calories. This is why many people run a marathon and don't see a weight loss, or experience a weight gain. The extra caloric intake is necessary for the increased energy expenditure.
Eating for Strength Training
With strength training, or training to build lean muscle mass you still need the proper balance of lean protein, carbohydrates and healthy fats in your diet. The main difference lies in the macronutrient distribution with a higher focus on protein and less carbohydrates as protein is required to build lean body tissue. The timing of eating protein right after a workout is important to support this process.
With strength training, more or less calories may be consumed depending on whether the goal is to bulk up or lean out.
Eating for Weight Loss
There's a lot of myths when it comes to eating for weight loss. Eat more protein, eat low carb, eat gluten free, eat Paleo, eat vegetarian, are all examples of false claims. While you may lose weight doing any one of these, that's a result of changing your eat habits and will be short lived if you're not eating at a caloric deficit.
This is where the difference lies between eating for weight loss and fitness. Scientifically, you must consume less calories to lose weight.
Example: If the number of calories you need maintain your current weight are 2000, then you need to eat less than 2000 calories a day to lose weight. One pound of fat equals 3,000 calories so divide by 7 and you need to eat 428 calories less each day to lose 1 pound per week. 
As a side note, going too low with calories is extremely dangerous. While calorie counting is a tool for losing weight, it's important to eat enough calories and not to restrict beyond one pound per week.
While weight loss is math, not all calories are created equal.
It's important to eat quality, nutrient dense calories and to vary the type of food you eat. Eating poor quality foods or the same foods day after day will lead to nutritional deficiencies and other health issues.
How eating for weight loss and fitness are the same
While eating for weight loss and fitness are different, they're similar in that you're training your body to do something specific. In the case of weight loss, it's to burn stored fat as fuel. For endurance training, it's to become efficient at burning calories for a sustained cardiovascular event. With strength training, it's to break down and build bigger, leaner muscle tissue while burning stored fat.
Is eating for weight loss and fitness different?
While they are different, in either case the type and quality of food you put in your body matters. A clean diet, free of processed foods is advantageous to getting the optimal performance out of your body. Think of it this way, would you put cheap gas in your car if you owned a luxury vehicle? Probably not.
Whether your goal is to lose weight, run a marathon or become the world's next body building champion, don't treat your body like a cheap car and be mindful of the difference in eating for weight loss and fitness.
What are your thoughts on the difference between eating for losing weight and fitness training? What is one thing that has worked for you?
[Tweet "Is Eating For Weight Loss The Same As Eating For Fitness? #health #fitness"]