This post contains affiliate links. As an Amazon associate I earn qualifying purchases. Click here for more about this policy.
Cranberry Cocoa Pancakes! These pancakes taste like hot cocoa without the calories! High in antioxidants and packed with protein, these crepe-like pancakes are bursting with natural sweetness. A breakfast crowd pleaser for pancake lovers! Gluten Free + Low Calorie
If you've been here awhile, you know I'm a sucker for a good pancake. But they have to be good. I mean. Really good. Like strawberry chocolate chip good, butternut squash good, gingerbread good or even high protein good. 
To say I'm picky about pancakes would be an understatement and honestly, you should be too. Pancakes are a slippery slope if weight loss is your goal because most are loaded with white flour and sugar. Two ingredients not ideal for fat loss.
In order to lose fat on your body, you have to balance the three fat loss hormones. White flour and sugar do not balance these hormones. In fact, it causes a blood sugar spike creating a storm for craving more sugar and carbs throughout the day.
If you haven't picked up my guide yet on how to balance the three fat loss hormones, do it. Lots of helpful information for you in there!
The point of me telling you that was to educate you to know not all pancakes are created equal when it comes to nutrition. Got it? Good!
Now let's talk about these delicious gluten free hot chocolate like pancakes. Yes?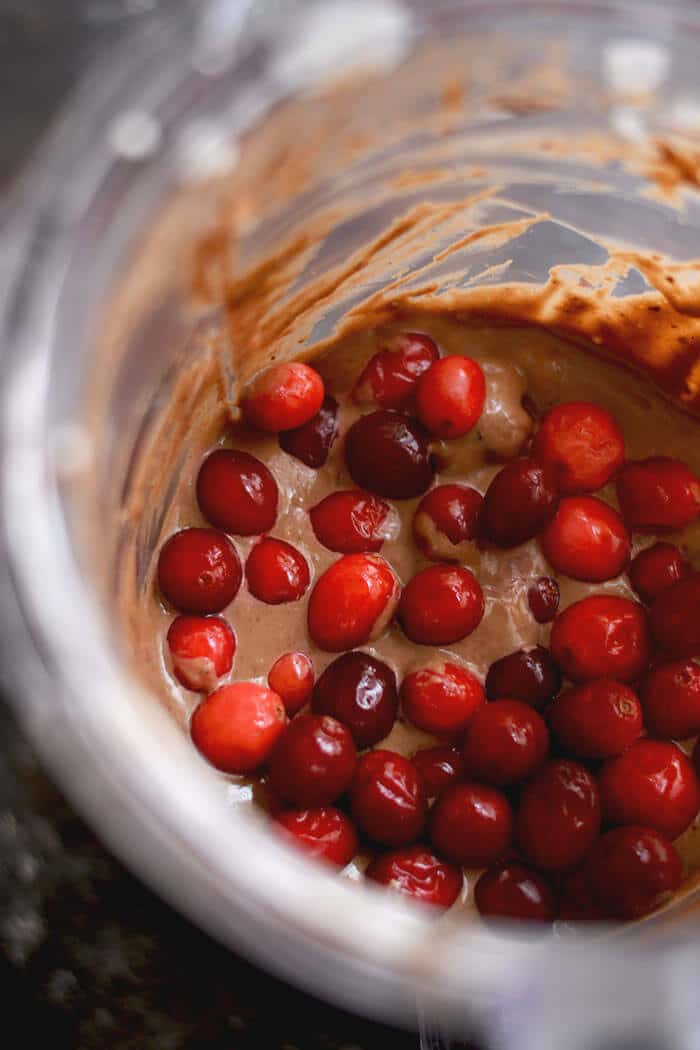 Cranberry Cocoa Pancakes
Made with a Greek yogurt and cocoa powder base, these crepe-like pancakes are bursting with chunks of cranberries. There's something mysterious about a creamy pancake with tart cranberries and cocoa powder. A little tart, a little sweet and pure bites of food goodness. 
They remind me of a hot cocoa dessert swimming in warm cranberries topped with a touch of cream. Only these come in pancake form. But hey, they could totally pass as a dessert too.
What You Need
Gluten Free 1 to 1 Baking Flour
Cranberries (frozen)
Egg white
Baking soda
Baking powder
How to make your cocoa pancakes
These aren't fussy pancakes, but before starting you do want to ensure your cranberries are thawed and patted dry. The extra moisture can weigh the batter down. I set mine in a colander for an hour then pat them with a paper towel.
From there, you mix the dry ingredients in a separate bowl from the wet ingredients. They add the wet to the dry ingredients and stir in the cranberries. 
My favorite way to make pancakes is always an electric skillet. Hands down the best and easiest method. They're easy to flip and cook up perfect every time with an electric skillet. No cooking spray required, no sticking pancakes. 
My Mom has always made her pancakes that way and I will never do it any other way myself. Gotta love family traditions!
Speaking of sticking, you better hold onto this recipe because these Cranberry Cocoa Pancakes are guaranteed to not stick around for long!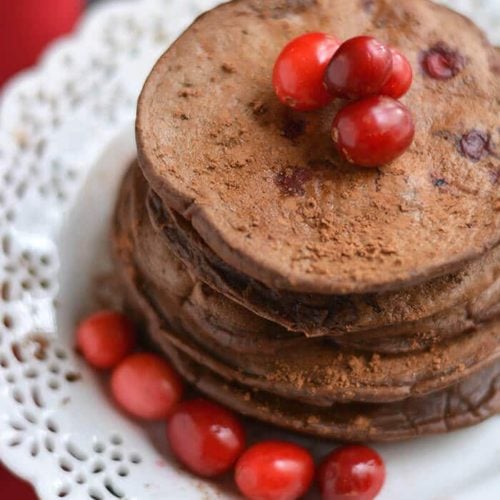 Cranberry Hot Cocoa Pancakes
Creamy Cranberry Cocoa Pancakes that taste like hot cocoa! High in antioxidants and packed with protein, this crepe-like stack is bursting with sweetness. A guaranteed crowd pleaser! Gluten Free + Low Calorie
Instructions
Add cranberries and gently pulse until chunky. Do not over mix unless you want the batter to be smooth.

Scoop 1/4 cup of the batter onto the preheated skillet. Ensure each pancake gets some of the cranberries. Cook 4-5 minutes until pancakes begin to bubble then flip and cook on the other side 2-3 minutes until brown.
Nutrition
Serving: 1pancakeCalories: 100kcalCarbohydrates: 18gProtein: 4gFat: 3gSaturated Fat: 2gCholesterol: 1mgSodium: 94mgPotassium: 144mgFiber: 2gSugar: 8gVitamin C: 6mgCalcium: 48mgIron: 1mg
What I Used For The Recipe