Someone I know recently opened up to me about coping with weight gain fear. She lost significant weight and was very worried about gaining it back to the point that it was taking over her life. Her email was one of desperation and anxiety. A cry for help.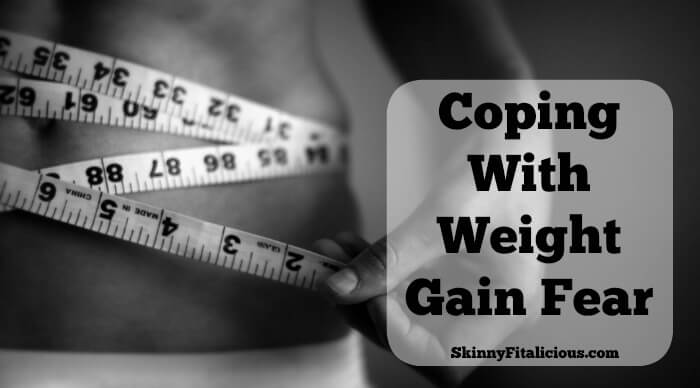 This is a feeling I know all too well after losing 80 pounds. For years post my weight loss, I had constant fears of gaining the weight back. Honestly, I wish there were a magic pill to remove that fear but unfortunately there isn't.
What most people don't realize, is how easy losing weight once you commit to it. The hard part is learning to have a positive body image and healthy relationship with food, which means coping with weight gain fear.
[Tweet "After Weight Loss: Coping With Weight Gain Fear #weightloss"]
Coping With Weight Gain Fear, 4 Tips To Manage Fear
Realize Weight Fluctuation Is Normal
As your body settles into its new weight, you may fluctuate especially if you're a woman. Hormones get can disrupted during weight loss especially if you have been a chronic dieter or under chronic stress. The body is VERY sensitive to stress.
Weight loss is a stress on the body and the body doesn't know the difference between good and bad stress either. That means too much working out can contribute to that stress. Stress disrupts the body systems that produce hormones.
Everyone's hormones have a different way of reacting to stress, but women can be particularly vulnerable to it. Understand it's normal to fluctuate especially after a major weight loss. You're body is settling into its new normal.
Put Your Big Bra On
It's easy not to recognize your body after losing a lot of weight. This allows irrational fears to creep in that you'll gain weight back overnight. What I've done to combat my irrational fears of gaining weight is putting on an old bra I kept from before my weight loss. It's a reminder of where I started and how far I've come.
Whether it's a pair of jeans or a bra, keep one thing around that you can do this physical comparison with. It's a good reality check.
Trust Yourself
Trusting yourself is the most challenging thing to do post weight loss. The good news is if you're still following healthy eating and exercise habits as you did during your weight loss then you have nothing to worry about. Reminding yourself of the unhealthy habits you had before your weight loss keeps things in perspective like a virtual measurement of how much you've changed. Part of trusting yourself is accepting the new version of you. That's a hard thing to do.
[AdSense-A]
People who've lost significant weight struggle to see their new self. They still see the fat person in the mirror who made poor, unhealthy choices. That vision of your old self will not go away over night, but as you work on seeing your new self you will eventually come to a place of trust.
Know When To Seek Help
Weight loss is a good thing, but even a good thing can be taken too far. When your mind becomes overly preoccupied with weight, food and exercise that you can no longer live your life day to day life and it's controlling everything you do, it's time to seek professional help.
Signs of needing help are counting every bit of food that goes into your mouth, exercising excessively, feeling anxious going out to eat or to social events, restricting foods or food groups, drastically reducing caloric intake, taking laxatives, binging, or not eating altogether. These are negative signs that things have gone too far, and you should work with a professional.
[AdSense-A]
If this is you, I urge you to get help. This is not a healthy place. As someone who struggled with this two years post weight loss, I know too well how this feels. How it suffocates you making you feel isolated and ashamed.
Working with someone is not a sign of weakness, it's a sign of strength.
People often think reaching out for help is a sign of failure. It's not. If you're physically sick, you go to a professional like a doctor, right? If you're relationship with food is unhealthy, then why wouldn't you do the same?
You need someone like me who knows what it's like being in your shoes. Someone who can support you in a nonjudgemental way. I wish I had someone like me to turn to when I was going through this.
Sign up now and let's work on this together!
Do you have an unhealthy relationship with food? Are you constantly fearing weight gain and obsessing over what you eat? Does food control you? My book, Living Beyond The Scale is for you! 
This book teaches you 7 steps to release weight gain fear and develop a healthy relationship with food and your body. Buy it today & set yourself free!