Brussels Sprouts Sweet Potato Salad is a warm and hearty salad. Made with roasted butternut squash, sweet potatoes and shredded brussels sprouts this salad is packed with nutrition and sweet and savory flavors! Gluten Free + Low Calorie + Paleo + Vegan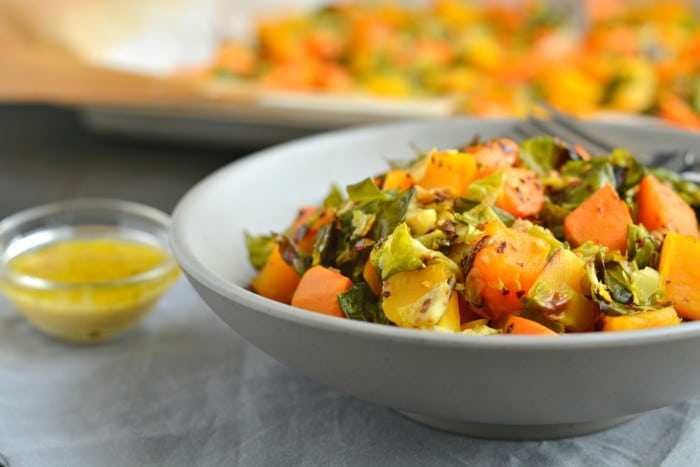 I'm not sure what's going on, but I haven't slept through the night in weeks. I'm wide awake every night at 2 a.m and I NEVER have issues sleeping. My Mom jokes that I was the best baby ever because I would sleep all the time and they would have to wake me up to force me to eat. In adulthood, I'm the same. I need 8-10 hours of sleep or a nap otherwise I'm just a big cranky wreck.
This whole insomnia thing started after Mom left and I hate to admit this, but I think I'm scared of being alone. Why? Who knows! I've lived alone for longer than I'd like to admit. It dawned on me this weekend it's because I'm sleeping with the upstairs windows open.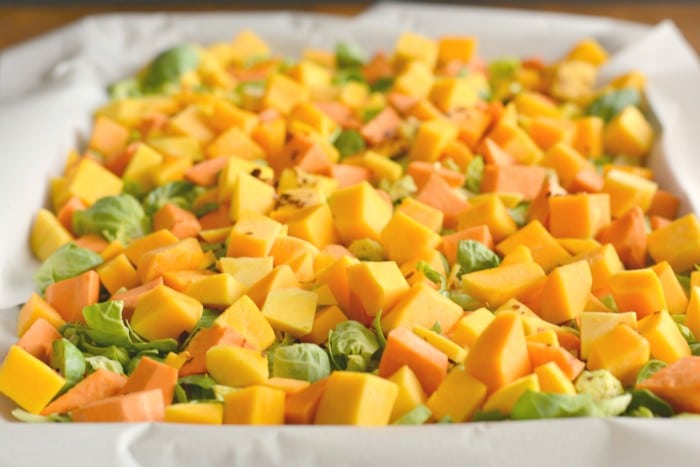 You see it's been a balmy 90 degrees in Phoenix (20 degrees above normal, thanks el Nino!) but it's in the 50's at night so it's that in between weather where you don't need a/c, but without the windows open it would be stifling. Over the weekend, I caught myself imagining someone climbing into the second story of my house which is just obnoxious. My imagination really is a freak.
So anywho…I'm not sure what else could be the cause of my insomnia other than maybe the unknown of everything I'm doing in 2016. Despite that, I'm the least stressed I've been in more than a decade. An amazing feeling by the way! But this not sleeping thing needs to stop like pronto!
It's hurting my brain and I'm kind of tired of this silly game. Literally and figuratively. Thanks to my obnoxious imagination I can come up with delicious recipes so at least I have that going for me. Right? Ha!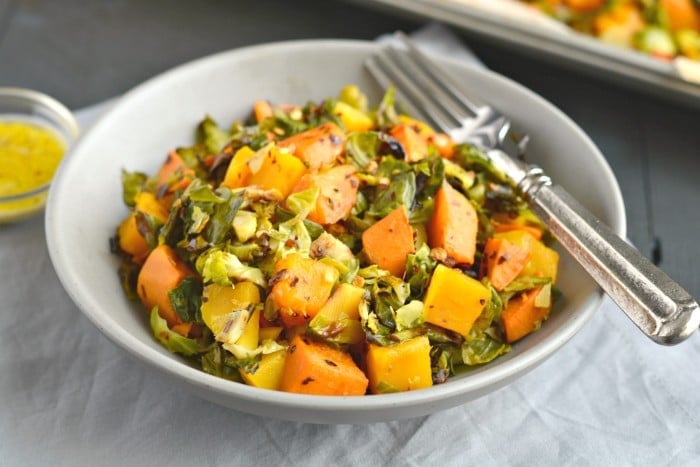 Speaking of recipes, do I have a good one for you today. You know I like simple and this Brussels Sprouts Sweet Potato Salad could not be simpler. The hardest part is prepping the veggies, but remember if you do that one time, on the weekend then your work is done all week long and you have lunch or dinner ready to go for the whole week. P.S. you can always put the kiddos to work on the prepping, it's good for them to learn about food and helps you. A win-win!
I have to tell you, I've been really enjoying this Brussels Sprouts Sweet Potato Salad for lunch. I was getting tired of regular old lettuce and kale so I decided to mix things up with shaved brussels sprouts which I will definitely be doing more of (you can buy them pre-shredded at Trader Joe's)!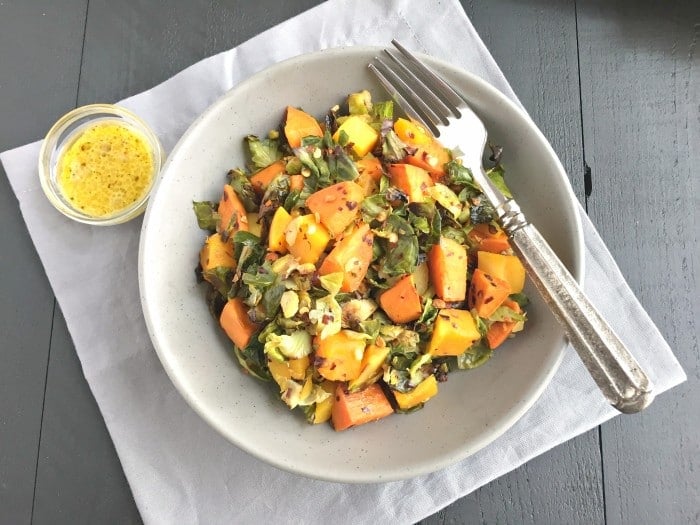 Adding starchy butternut squash and sweet potato into the mix really made everything pop. This salad is sweet and savory with a tiny hint of spice and the tangy dressing brings the whole entourage together in perfect harmony. Now there goes that imagination of mine again. Soon the food will be singing!
Join 10k subscribers & get insider health tips!
Get my FREE eBOOK Achieve Your New Healthy Life + A BONUS discount when you join!
Brussels Sprouts Sweet Potato Salad
Brussels Sprouts Sweet Potato Salad is a warm and hearty salad. Made with roasted butternut squash, sweet potatoes and shredded brussels sprouts this nutrition packed salad is full of sweet and savory flavors!
Author:
Megan @ Skinny Fitalicious
Recipe type:
Salad, Dinner
Ingredients
1 cup sweet potatoes, peeled & diced into 1 inch pieces
2 cups butternut squash, peeled & diced into 1 inch pieces
8 ounces brussels sprouts, shredded
2 tbsp extra virgin olive oil
2 tsp dijon mustard
½ tsp crushed red pepper flakes
salt & pepper to taste
Instructions
Preheat oven to 400 degrees F and line a large baking sheet with parchment paper.
Place butternut squash, sweet potato and brussels sprouts on baking sheet and spray with a little cooking spray then sprinkle crushed red pepper flakes over vegetables and salt and pepper as desired.
Roast vegetables 30 minutes stirring once every 10 minutes.
While vegetables are roasting, whisk together mustard and oil in a small bowl.
Remove vegetables from oven, toss in the dressing and serve immediately.
Keep leftovers in the refrigerator up to a week.
Nutrition Information
Serving size:
1
Calories:
142
Fat:
5.9g
Saturated fat:
0.6g
Unsaturated fat:
4.9g
Carbohydrates:
11.2g
Sugar:
2.7g
Sodium:
70.1g
Fiber:
3.4g
Protein:
2g
What I Used For The Recipe
How do you deal with insomnia? What is the weirdest thing you've ever imagined?