The best Almond Flour Chocolate Chip Cookies you'll ever eat! Made lighter and balanced in nutrition, this cookie recipe is easy to make and butter free. Soft, pillowy cookies! Paleo + Gluten Free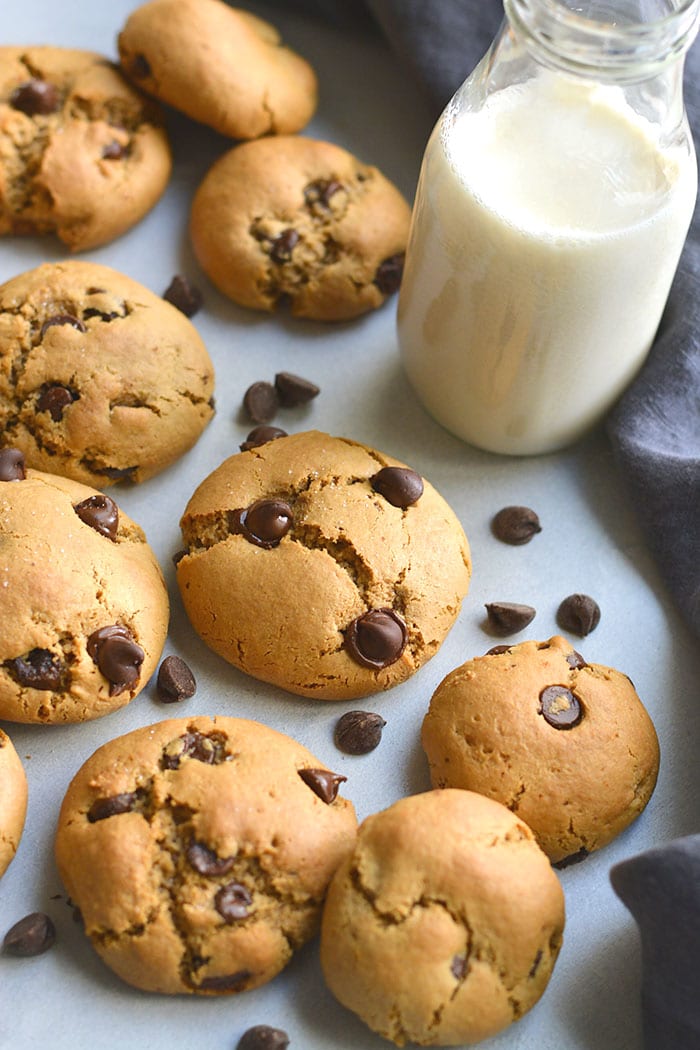 Every holiday season I make chocolate chip cookies. It reminds me of growing up and eating my Grandma's famous cookies. She always had them in the freezer waiting for when we got there. I love my chocolate chip cookies chilled. So good!
Except Grandma's weren't all that healthy. Crisco, butter, white flour and white sugar. Oh my! A little too unhealthy for my style and quite frankly those ingredients are outdated. Tasty, but we can do better friends!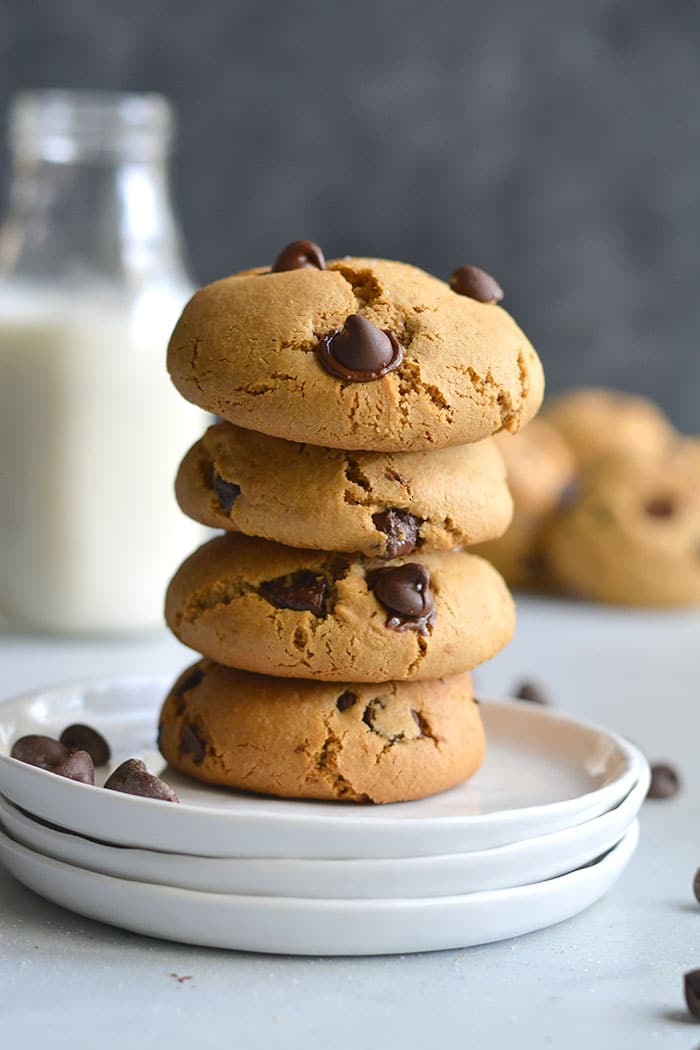 Almond Flour Chocolate Chips Cookies
These almond flour chocolate chip cookies are healthier than Grandma's! Made with almond flour so they're higher in fat and will keep you full. They also have less sugar so your blood sugar won't spike over and over again making you feel like you want to go back for seconds, thirds, fourths and well… you know it goes downhill from there.
I love making healthier versions of Grandma's cookies and this one is definitely one you need to make along with Low Calorie Gluten Free Chocolate Chip Cookies, Vegan Skinny Chocolate Chip Cookies and Low Carb Chocolate Chip Cookies.
What You Need
Almond Flour
Eggs
Vanilla Extract
Coconut Sugar
Coconut Oil
Baking Soda, Salt
Chocolate Chips (dairy-free if needed)
Helpful Tips
It's very important to chill this batter before baking. Don't skip this step! It's key to preventing the batter from spreading while baking. Butter free cookies like this one, spread easily from the lack of fat. Chilling ensures they will turn out soft, fluffy and perfect!
I haven't test other versions of this recipe, but I do have many other chocolate chip cookie recipes on the blog so if this one doesn't work for you check those out. I mentioned them above. If you do, make these please tag @skinnyfitalicious on Instagram or Facebook so I can share your work!
Now….who's ready to bake? Or better yet…EAT COOKIES!
Get the SKINNY on the latest recipes & weight loss tips!
Sign up to receive a FREE eBOOK & weekly email tips!
Almond Flour Chocolate Chip Cookies
The best Almond Flour Chocolate Chip Cookies you'll ever eat! Made lighter and balanced in nutrition, this cookie recipe is easy to make and butter free. Soft, pillowy cookies! Paleo + Gluten Free + Low Calorie
Prep Time 10 minutes
Cook Time 10 minutes
Total Time 20 minutes
Servings 16 cookies
Calories 211 kcal
Instructions
Preheat the oven to 350 F. Prepare a baking sheet with parchment paper.

In a standing mixture, add the sugar, eggs and vanilla. Mixture until smooth.

In a separate bowl, mix together the almond flour, baking soda and salt.

Add half the dry mixture to the wet mixture then add the 2 tbsp of coconut oil and mix to combine

Add the remaining 1/3 cup of coconut oil and dry mixture to the batter and mix. Next fold in the chocolate chips.

Place the batter in the refrigerator 15 minutes to set. This prevents the cookies from spreading too much.

Remove the batter from the refrigerator then use a medium ice cream scoop, to scoop the batter. Roll the batter into a ball using your hands and place on the prepared baking sheet.

Bake at 350 F 12-13 minutes or until the edges are slightly browned. Remove from the oven and immediately transfer to a wire baking rack to cool.

Serve immediately or store leftovers in the refrigerator.
Recipe Notes
Be sure to properly measure the flour for baking.
My shop has more products similar to those used for this recipe and that I recommend to my nutrition clients.
Course Cookies
Cuisine Cookies
Keyword almond flour, butter free, chocolate chip, cookie, dairy free, gluten free, healthy, low calorie, Paleo
Nutrition facts per serving (1cookie)
Calories 211 kcal
Fat 18 g
Saturated Fat 6 g
Cholesterol 21 mg
Sodium 168 mg
Potassium 7 mg
Carbohydrates 10 g
Fiber 2 g
Sugar 5 g
Protein 5 g
Vitamin A 0.8 %
Vitamin C 0 %
Calcium 5.2 %
Iron 5.2 %
Custom Meal Plans
Work with Megan to develop a custom macro or standard meal plan to reach your goals.
Learn More
What I Used For The Recipe