Boost your health with an antioxidant and Vitamin C rich Strawberry Green Tea! This fruit sweetened tea is cool, refreshing, and nourishing. Perfect for a hot day. Vegan + Paleo + Gluten Free + Low Calorie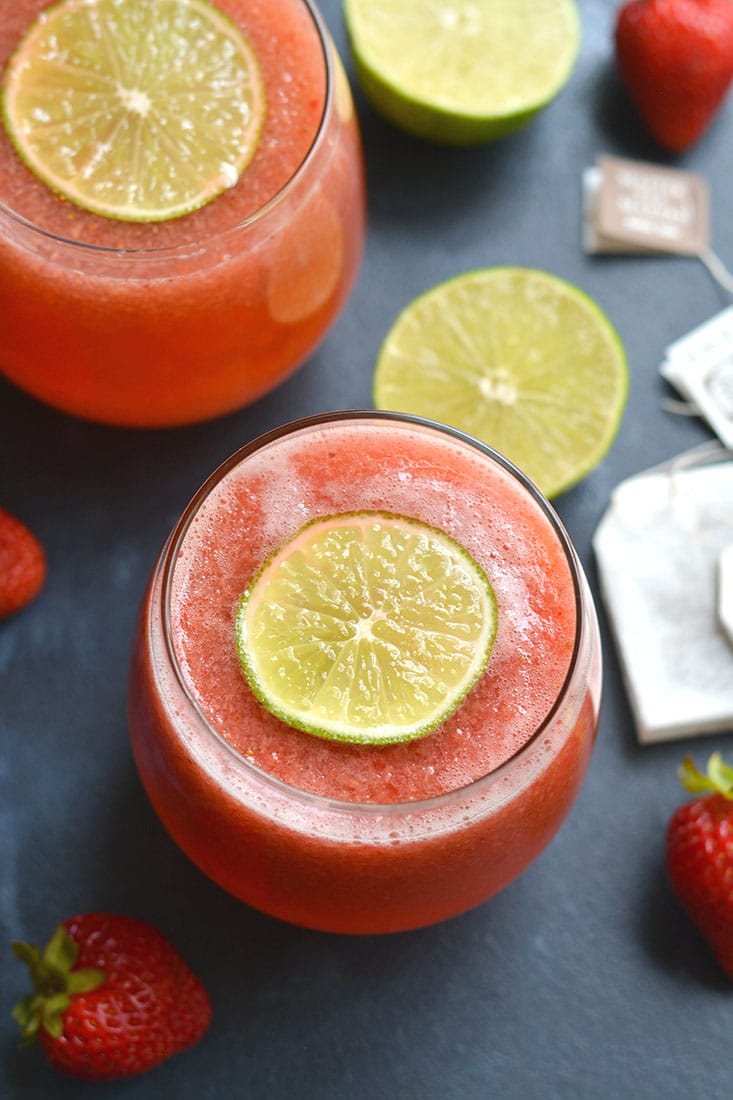 Hello hello! The weekend was so relaxing, I don't even mind it's Monday. I did zero work and it was glorious. Hung out with the guy like a lazy bum. Something you need a weekend like that, right?
He treated by making me dinner Friday night. Saturday morning I worked out then we literally laid around doing laundry and playing games until we went out for dinner and a movie. We saw Baby Driver. Not the best movie, but a lot of action.
Yesterday I taught spin then we tackled the broken fan in one of the bedrooms which ended up being a fiasco because the lock on the electrical box outside rusted shut.
As I was trying to pry it open, it was literally melting in my hands. Oh, did I mention it was 114 out? Yeah, that and I had gooey black plastic stuck all over my hands. The guy put Goo Be Gone on my hands to get it off. That stuff is amazing!
So we made an emergency trip to Home Depot to get a lock cutter. The lock was so big though he could hardly break it. After finally breaking it, we still couldn't get the fan to work. We gave up and decided eating was a better idea.
After all that, I went to turn on the gas for the grill and a black widow was sitting on the gas tank. This is after we discovered one in the garage just days before. Ugh…time for more pest control.
Between the heat, nothing working and scary spiders, we were dead. But we ate grilled chicken, green beans and sweet potato tots, and it was delicious! I had my food with Strawberry Green Tea.
I've been making it for a couple months, and I don't know why I haven't posted it until now?
Then a few weeks ago, I was working at Starbucks and saw they had strawberry infused green tea. I was like they stole my idea! Of course, I had to get one and compare.
I liked it, but I like mine better. I think the lime adds a citrusy punch that's missing from the Starbucks version. I haven't researched this so don't hold me to it!
This Strawberry Green Tea recipe makes 2 servings. I like to double mine and store in a large mason jar in the refrigerator so I have a few days worth on hand. The longer it chills, the better it gets!
Cheers to Monday and no scary spiders!
Strawberry Green Tea
Boost your healthy with an antioxidant and Vitamin C rich Strawberry Green Tea! This fruit sweetened tea is cool, refreshing, and nourishing. Perfect for a hot day. Vegan + Paleo + Gluten Free + Low Calorie
Prep Time 5 minutes
Cook Time 3 minutes
Total Time 8 minutes
Servings 2 servings
Calories 38 kcal
Ingredients
1 1/2 cups strawberries fresh, diced
3 green tea bags
16 ounces hot water for steeping
2 tbsp lime juice
optional: liquid stevia *
Instructions
Place 3 tea bags in 16 ounces of hot water and steep 20 minutes.

Meanwhile place strawberries in a food processor or blender

, blend on high until strawberries are broken down into a liquid.

Transfer the strawberries to a small saucepan and bring to low heat. Add fresh lime juice, optional liquid stevia. Simmer 2-3 minutes at a low heat.

Let the strawberry mixture cool then transfer to a

large mason jar

and combine with the green tea. Shake well.

Drink immediately, or keep in the refrigerator up to 4 days.
Recipe Notes
I did not add sweetener to my tea. The fruit was enough for me. You can add liquid stevia or any other sweetener of choice, just note this will change the nutritional values.
My Amazon shop has more products similar to those used for this recipe and that I recommend to my nutrition clients.
Course Breakfast, Dinner, Drinks, Lunch
Cuisine American
Keyword drink, gluten free, green tea, healthy, low calorie, Paleo, strawberry, vegan
Nutrition facts per serving (1serving)
Calories 38 kcal
Fat 0 g
Saturated Fat 0 g
Cholesterol 0 mg
Sodium 1 mg
Potassium 165 mg
Carbohydrates 9 g
Fiber 2 g
Sugar 5 g
Protein 0 g
Vitamin A 0 %
Vitamin C 68 %
Calcium 17 %
Iron 0.5 %
Meal Plans
Get a meal plan designed to meet your weight loss goals.
Learn More
What I Used For The Recipe