Pumpkin Spice Coffee Cake with Cashew Cream Frosting! Made on a sheet pan, this lightly sweetened cake is filled with warm spices and topped with a cashew coconut "cream" frosting. A healthier dessert recipe! Paleo + Gluten Free  
Have you ever looked at the ingredients on the back of a cake box? You know the ones where you add an egg or two, maybe some oil, mix together and bake. Admittedly, I never used to look at the back of the boxes. I'd either look for a favorite brand that I'd used for years (usually something my Mom would buy) or I'd grab something with a health claim on the front generally "low fat" or "low calories."Now I inspect food labels like it's no one's business.
It's scary how complex food has become. I mean we all need to eat, but come on. It shouldn't be complicated. It's just food. It should have simple ingredients. Ingredients we recognize, can pronounce and feel confident about putting in our bodies.
As much as I love taking shortcuts, when it comes to sweet things like desserts I like to make my own. That way, I control the ingredients and the amount of sugar. And I have to admit, there's probably no boxed version of this Pumpkin Spice Coffee Cake!
Pumpkin Spice Coffee Cake!
The cake is made with a combination of eggs, almond and coconut flours and lightly sweetened with maple syrup. That cake is topped with a lightly sweetened crumb topping that honestly, you may just want to eat that part on it's own.
The best part of this cake though? The Vegan cashew "cream" frosting drizzle on top! The frosting is the same one I used for my most popular recipe – Raw Vegan Carrot Cake and it's totally edible on its own.
Each layer is easily prepped in just a few minutes and baked together on a sheet pan. I love using sheet pans not only for easy clean up, but particularly for making cakes because it's easier to cut and control the portion sizes. Very important when you're watching what you eat.
Helpful Tips
Make the frosting ahead of time and store in the refrigerator to cut back on the amount of prep time for making the cake. Having the frost chilled, actually makes it easier to drizzle over the cake.
Do soak the cashews 2 hours before making the frosting. Do not skip this step. This is important for making the frosting and it also aids in digesting and absorbing their nutrients.
The almond and coconut make the perfect spongy texture that you would expect in a coffee cake. I have not tested other flours or combinations. If you do, please leave a comment below so I can update the recipe for others. Other questions, please ask them in the comments. This helps others who want to make the recipe as well!
Receive a Sugar Free Meal Plan
When you join the Skinny Fitalicious Email List
Pumpkin Spice Coffee Cake with Cashew Cream Frosting
Pumpkin Spice Coffee Cake with Cashew Cream Frosting! Made on a sheet pan, this lightly sweetened cake is filled with warm spices and topped with a cashew coconut "cream" frosting. A healthier dessert recipe! Paleo + Gluten Free
Prep Time 30 minutes
Cook Time 45 minutes
Total Time 1 hour 15 minutes
Servings 16 slices
Calories 343 kcal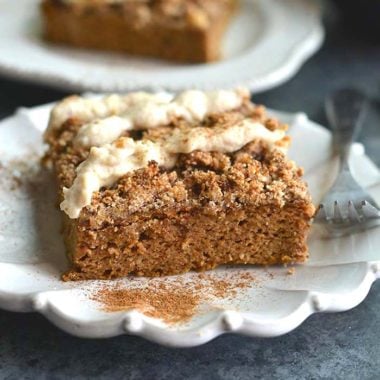 Ingredients
For the Cashew "Cream" Frosting:
Instructions
Preheat the oven to 350 F. Prepare a small baking sheet 13"x9.5" by greasing liberally with coconut oil or cooking spray.

To a standing mixer (or you can do this by hand), add the eggs, pumpkin and maple syrup. Mix 2 minutes until smooth and frothy.

To a separate mixing bowl, combine the almond flour, coconut flour, baking soda and salt.

Add half the flour mixture to the liquid mixture and combine. Next add the melted coconut oil and the remaining flour mixture. Combine until smooth.

Transfer the batter to the prepared baking sheet. Spread into an even layer. Set aside.

In another bowl, combine the ingredients for the crumble. Mix everything together well to combine.

Sprinkle the crumble over the top of the cake the press them lightly into the cake to stick.

Bake at 350 F 45 minutes or until a toothpick can be removed clean. Remove from the oven and cool 10 minutes at room temperature.

While the cake cools, prepare the frosting by combing the ingredients in a blender until smooth. Adjust the thickness of the frosting by adding more milk as desired.

Transfer the frosting to a plastic bag, cut the corner off of the plastic bag so you can squeeze the frosting over the top of the cake.

Squeeze the frosting over the top of the cake in a zig zag fashion or whatever design you like. Slice the cake and enjoy immediately.

Store cake in the refrigerator in a container up to 7 days.
Recipe Notes
Very important the eggs are room temperature for this recipe or it will stiffen the coconut oil.
My shop has more products similar to those used for this recipe and that recommend to my nutrition clients.
Be sure to measure properly for baking.
Course Dessert
Keyword almond flour, cake, cashew, cashew cream cheese, dairy free dessert, frosting, pumpkin, pumpkin spice, sheet pan
Nutrition facts per serving (1slice)
Calories 343 kcal
Fat 25 g
Saturated Fat 12 g
Cholesterol 69 mg
Sodium 202 mg
Potassium 162 mg
Carbohydrates 22 g
Fiber 4 g
Sugar 11 g
Protein 8 g
Vitamin A 20.5 %
Vitamin C 1.3 %
Calcium 6.6 %
Iron 10.8 %
Custom Meal Plans
Work with Megan to develop a custom macro or standard meal plan to reach your goals.
Learn More
What I Used For The Recipe