Paleo Breakfast Meatballs! Meatballs for breakfast! These protein and veggie packed balls are great for prepping in advance. Serve with eggs and take with you on the go. Easily customizable, simple to make and delicious! Gluten Free + Low Calorie + Paleo + Low Carb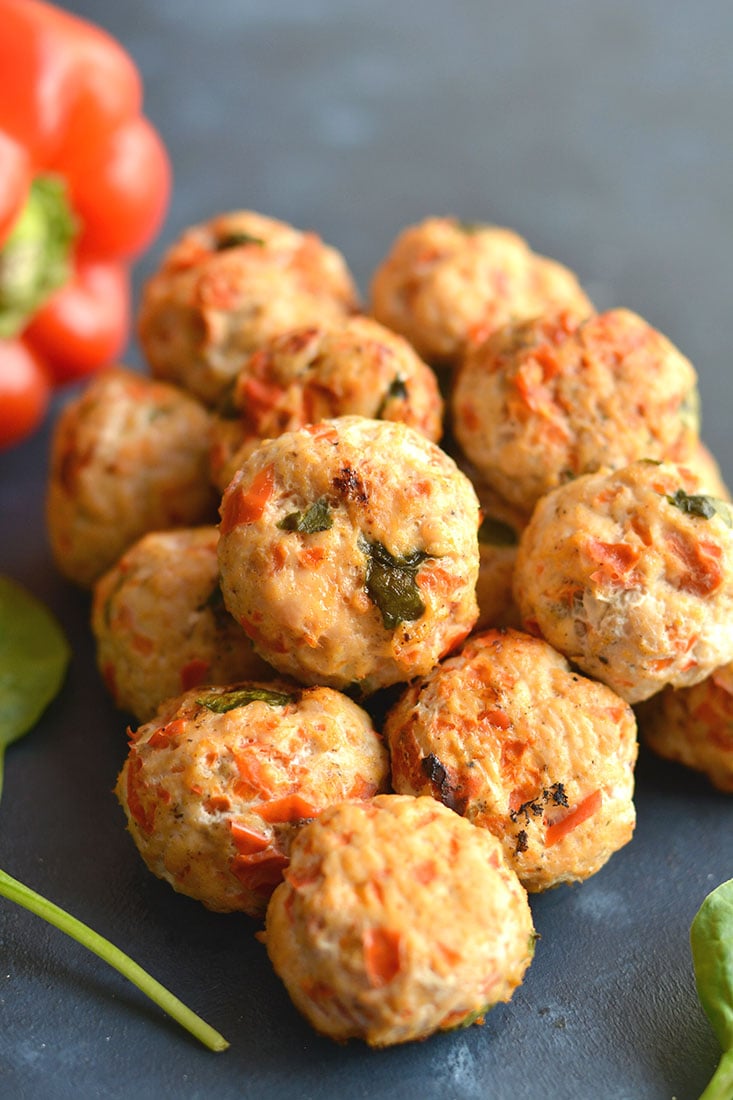 I'm breaking the standard American breakfast with these Paleo Breakfast Meatballs. In fact, my hope is to revamp the way Americans think about and eat breakfast with every breakfast recipe I post here.
You see the traditional American breakfast usually consists of carb overload – cereal, pancakes, french toast, waffles, English muffins, bagels. Bah….the list goes on and on!
Now there's a time and place for these foods, but as far as I'm concerned unless you're running a marathon and need these carbs for muscle glycogen then starting your day with them is the worse thing you can do for your body. Over consuming them makes you more insulin resistant.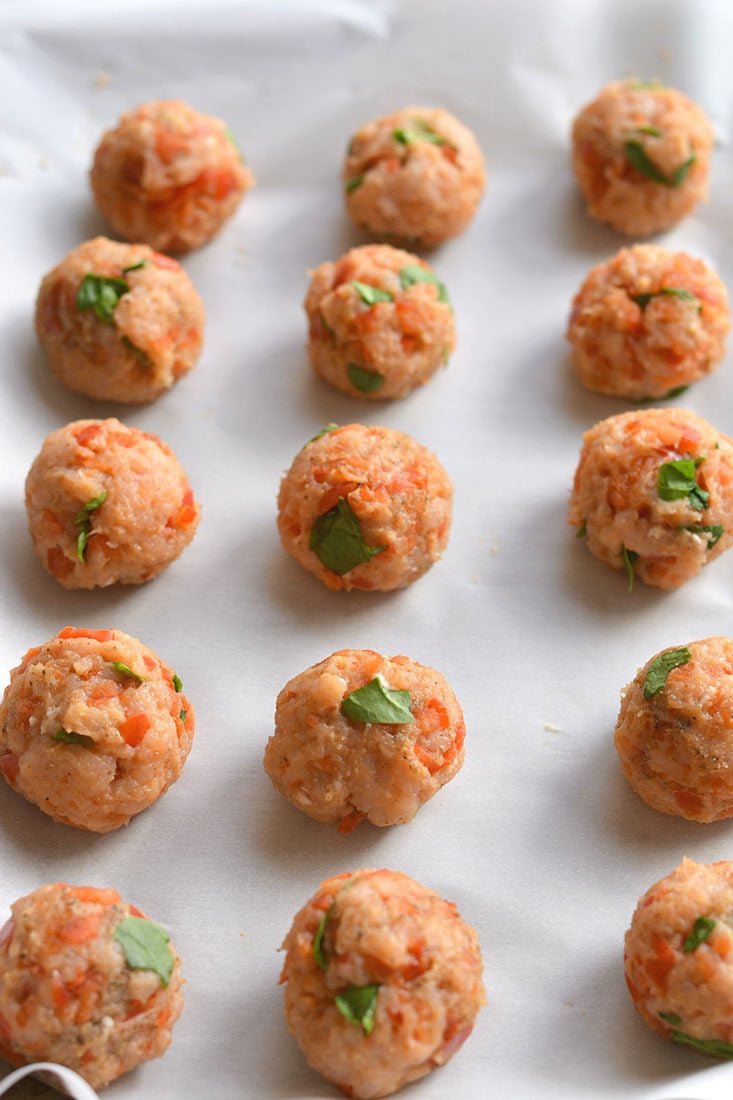 Why is this important? Because insulin is so important for fat loss. When your body is balanced and you're not insulin resistant, insulin assists with building muscle and burning fat. But when you become insulin resistant, your body stores extra carbs as fat instead of using them as fuel and muscle glycogen. It's a double edge sword.
Some of my clients are insulin resistant which makes it impossible for them to lose weight. Exactly why I encourage them to rethink what they eat for breakfast by switching them form high carbs to high protein.
But I can't tell you how many times I hear the phrase "I don't know what to eat." So, why not meatballs? Who says you can't eat meatballs for breakfast? Last I checked the breakfast police are still recovering from the morning carb high so I'm sure they won't care if you eat meatballs for breakfast.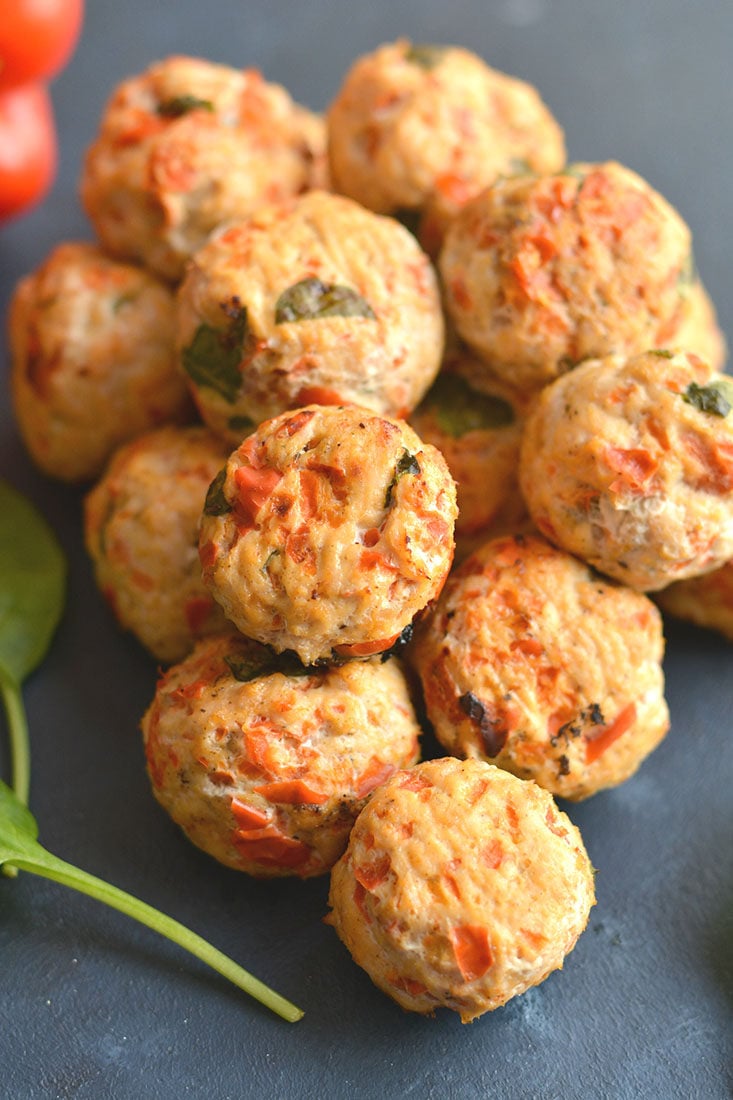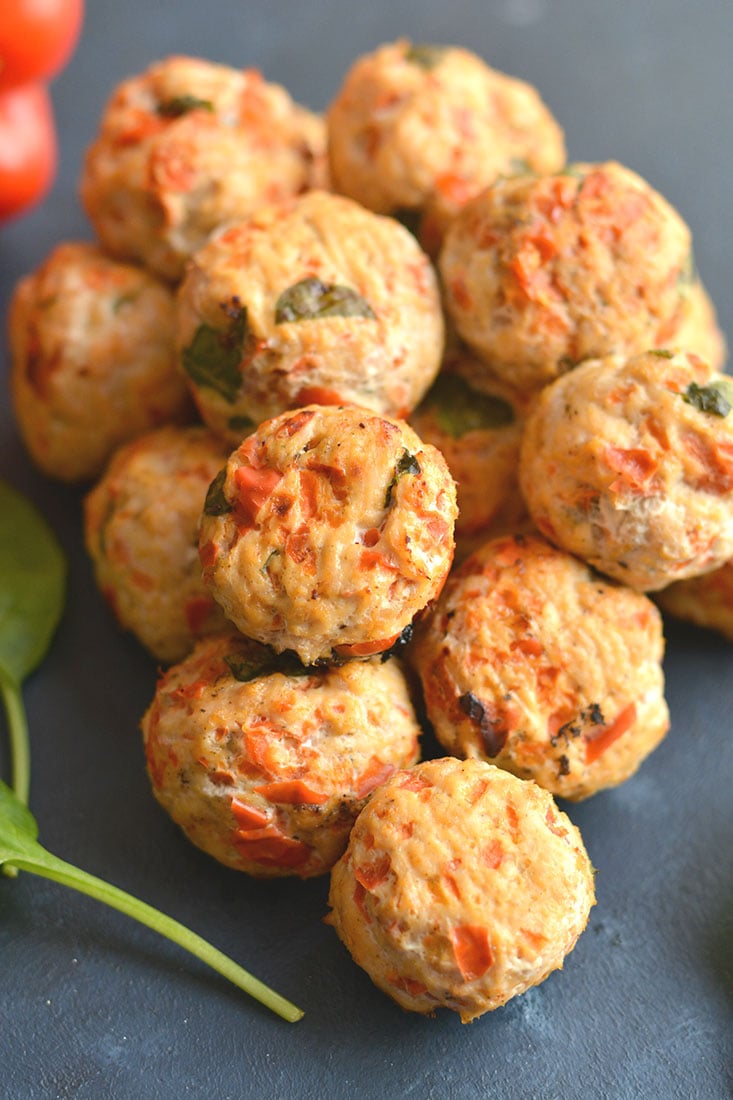 These Healthy Breakfast Meatballs are a great solution for those who don't love eggs or need other protein options in the morning! It's a high protein, high vegetable breakfast which I always recommend to my clients to keep their blood sugar balanced.
Make them ahead of time, store in the fridge and warm up all week long for a hearty breakfast. They're also easily customizable so you can put just about any veggie or green you like in them. They're also what I call a low maintenance recipe, meaning, they're easy to make. You can't mess them up and you can tell all your friends you're eating meatballs for breakfast!
Paleo Breakfast Meatballs
Healthy Breakfast Meatballs! Meatballs for breakfast are the best way to start your day. These protein and veggie packed balls are great for prepping in advance, serving with eggs and taking on the go. Easily customizable, simple to make & delicious! Gluten Free + Low Calorie + Paleo
Prep Time 15 minutes
Cook Time 20 minutes
Total Time 35 minutes
Servings 16 meatballs
Calories 40 kcal
Instructions
Place red bell pepper in a

blender

and pulse several times until it's diced finely. It should be somewhat liquidly.

In a large

mixing bowl

, combine turkey breast, garlic powder, sage, salt, pepper, red bell pepper and chopped spinach with your hands.

Roll the mixture into 16 bite-sized balls. A small ice cream scoop will help with this.

Place the meatballs on the prepared baking sheet. Drizzle with the extra virgin olive oil.

Bake at 325 F 10 minutes then using a tongs flip the balls cooking another 10 minutes until slightly browned.

Remove from the oven. Serve immediately or cool completely before storing in the fridge.
Recipe Notes
Any ground meat would work with this recipe.
If you use a higher fat meat, you can omit the extra virgin olive oil as there will be enough fat in the recipe.
My Amazon shop has more products similar to those used for this recipe and that I recommend to my nutrition clients.
Course Breakfast
Cuisine American
Keyword breakfast, dairy free, gluten free, healthy, high protein, low calorie, lowcarb, meatball, Paleo, veggie
Recipe Video
Nutrition facts per serving (1meatball)
Calories 40 kcal
Fat 1.2 g
Saturated Fat 0.3 g
Cholesterol 13.8 mg
Sodium 18.3 mg
Potassium 0 mg
Carbohydrates 0.4 g
Fiber 0.1 g
Sugar 0.2 g
Protein 6.6 g
Vitamin A 0 %
Vitamin C 0 %
Calcium 0 %
Iron 0 %
Meal Plans
Get a meal plan designed to meet your weight loss goals.
Learn More
What I Used For The Recipe