This post contains affiliate links. As an Amazon associate I earn qualifying purchases. Click here for more about this policy.
Low Carb Crockpot Lasagna! This noodle free lasagna made with ground chicken, eggplant and cottage cheese is a healthier lasagna that's cheesy, high protein and delicious! Gluten Free + Low Calorie + Low Carb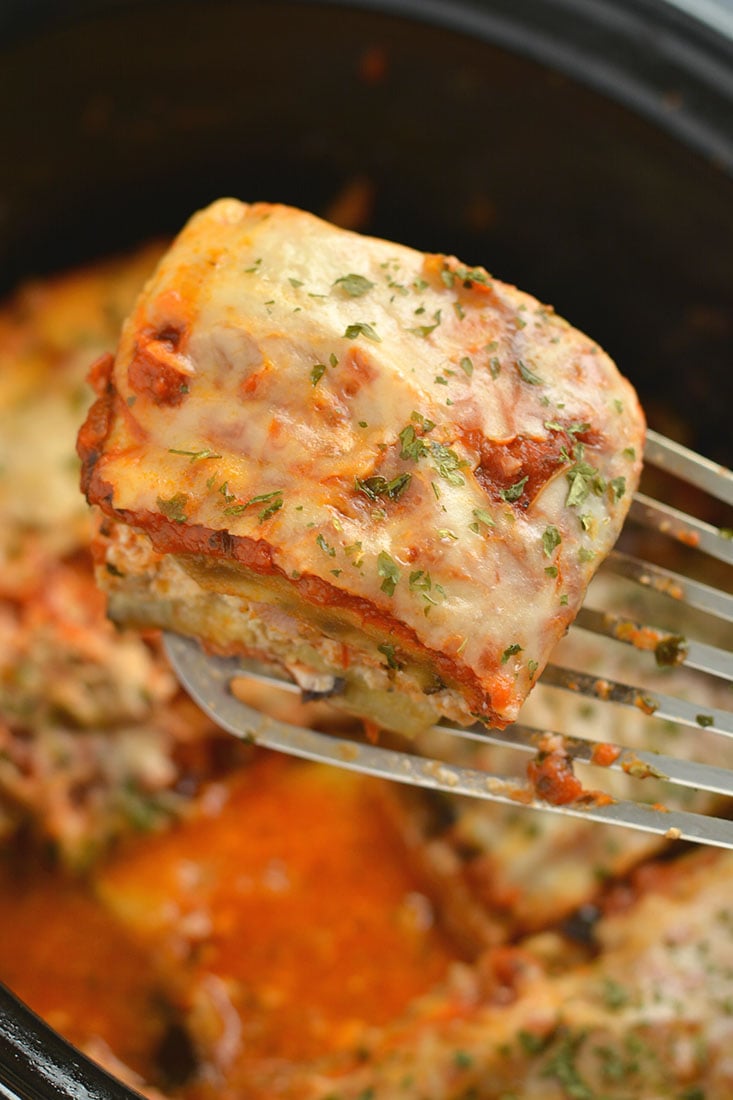 Oh hello cheesy, delicious Low Carb Crockpot Lasagna, and hello to you guys too!
I have to admit, I'm feeling my age more these days. I don't know if I'm worn down, but the things I could do a year ago seem to take me forever to do now. Even my workouts have been a struggle. Some days are good, and others not so much. I think I finally figured why though.
Over the summer, I got out of the habit of walking a couple days a week. The Phoenix heat just made it unbearable to be outside, and there's no way I'll walk on a treadmill unless it's for less than 20 minutes. So boring and makes my feet hurt.
Click here to pin this recipe!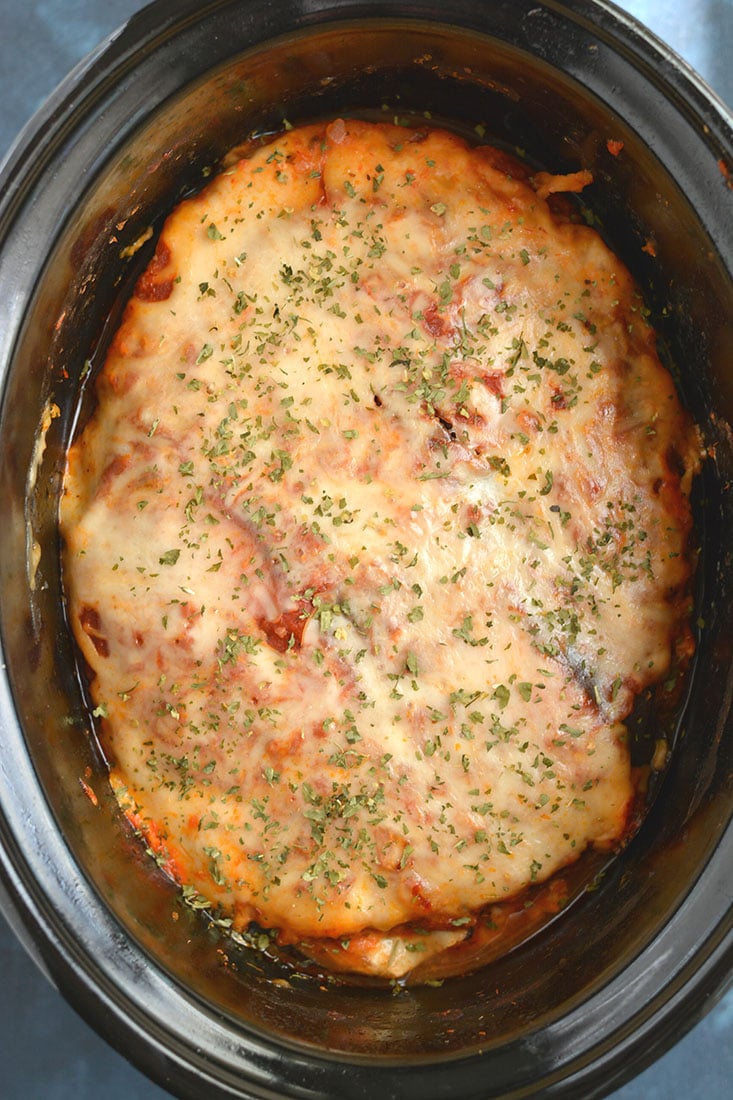 Recently, I recommitted to early morning walks and it's made a huge difference. Don't ask me why because I don't really know. Other than to say with my Hashimoto's my body's super sensitive to any stress including too much exercise. Walking is just the right balance of exercise for my body.
While I'm on the subject of walking, I've had several people comment on this post telling me they're walking and not losing weight. Here's the deal with walking. First, need to be walking really fast to lose weight.
Second, everyone is different so while it worked for me, it may or may not work for you. Last, if you've been doing the same thing for awhile and not getting results then it's time to do something different! The body adapt easily. Keep it guessing!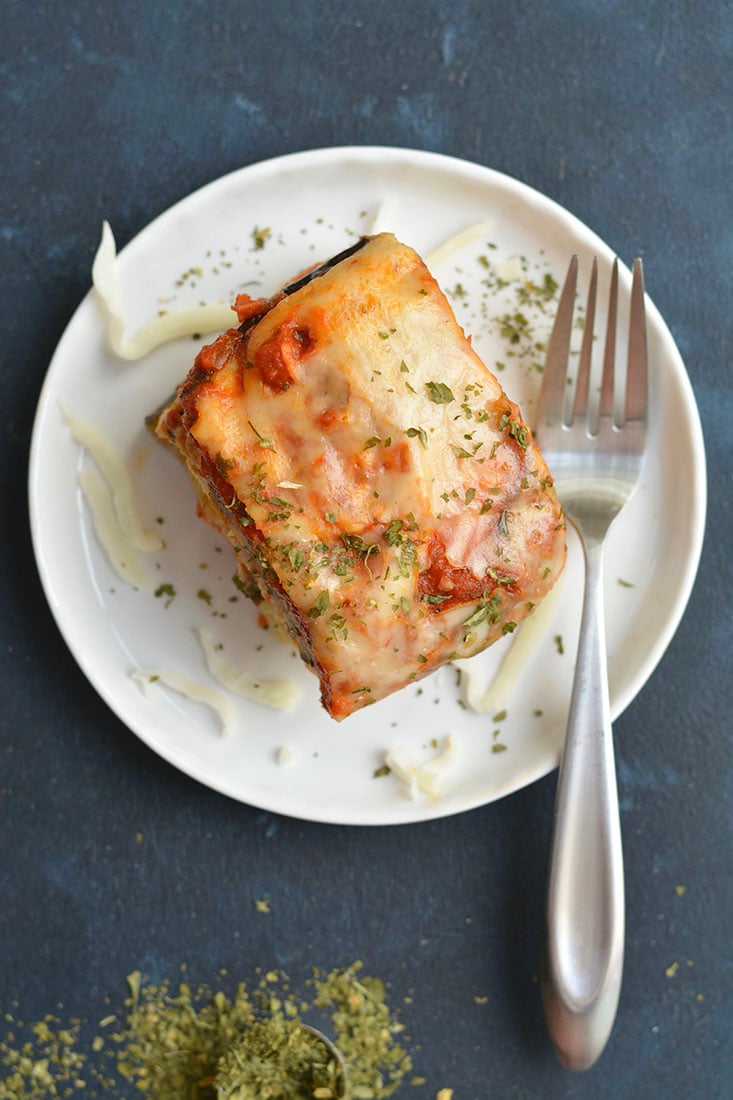 Speaking of guessing, I'm not going to leave you hanging with this Low Carb Crockpot Lasagna any longer. It's just too good not to share and I'm not even a fan of lasagna.
You guys know my crockpot is my favorite kitchen tool. I love it even more when it's hot out and I don't want to turn on the oven. It's disheartening when you're craving a hearty casserole and have to sweat as hard as a workout to get it done. That's why I love my crockpot!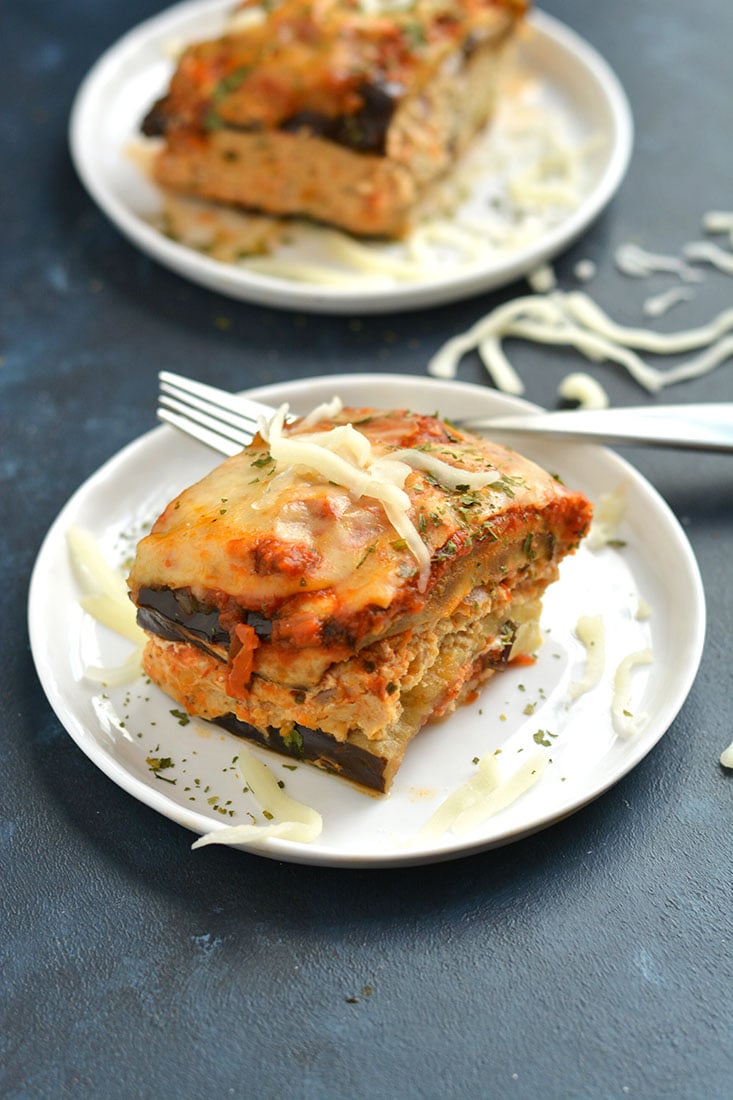 This Low Carb Crockpot Lasagna is made noodle-less with eggplant. I've tested this recipe five times using zucchini and it never turned out, but with eggplant it was perfection. The eggplant is hardy enough to hold up the casserole like real noodles.
The trick to making them not sweat in the crockpot is broiling it on a really high heat to eliminate some of the liquid. You can also slice the eggplant ahead of time, keep in the fridge overnight then broil the next day. The liquid will reduce even more when it sits in the fridge overnight.
Now for this lasagna I'm sure you're wondering where the cheesy goodness comes from. Cottage cheese! Before you crinkle your nose, you need to trust me when I say it makes the most delicious filling. Tastes just like the real deal. Promise!
Now here's the recipe. Try it and see for yourself!
Click here to pin this recipe!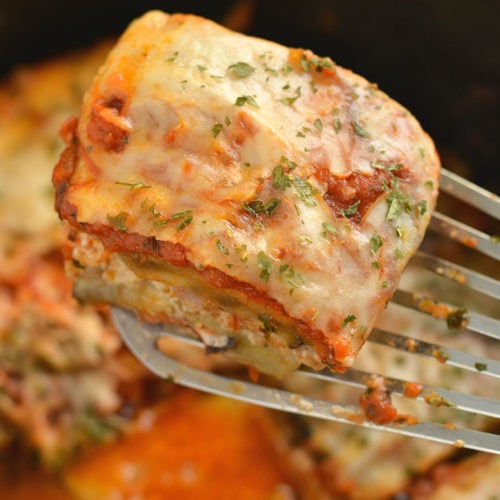 Low Carb Crockpot Lasagna
Low Carb Crockpot Lasagna! This noodle free lasagna made with ground chicken, eggplant and cottage cheese is a healthier lasagna that's cheesy, high protein and delicious! Gluten Free + Low Calorie + Low Carb
Ingredients
1 lb ground chicken
1 eggplant
16 oz low fat cottage cheese I use Lactaid
1 large egg
1/4 cup red onion diced
16 oz marinara sauce no salt added
1/2 cup low moisture mozzarella cheese
1/2 tablespoon dried parsley
1/4 teaspoon salt
Instructions
Slice the ends off the eggplant then thinly slice it using a

mandoline

or knife.

Place the slices on a baking sheet and sprinkle with salt.

Broil the eggplant 5-10 minutes until lightly browned.

Remove from the oven and pat with paper towels to remove any liquid remaining from them.

In a large mixing bowl, combine the ground chicken (uncooked), cottage cheese, red onion, dried parsley and egg. Stir to incorporate the ingredients thoroughly.

Spray the inside of a crockpot with cooking spray.

Place 1/4 cup of marinara sauce on the bottom of the pan. It won't seem like much, but it's all you need.

Place a layer of eggplant over the marinara sauce. Over the eggplant, place 1/3 of the chicken mixture followed by 1/2 cup of the marinara sauce. Repeat this process for 2 more layers. They will be thick.

Top the last layer with the remaining marinara sauce and mozzarella cheese.

Cook the lasagna in the crockpot on high 3 hours or low 6 hours. You will know the lasagna is finished if you can cut into the eggplant and it's nice and tender. You should expect to see liquid in the crockpot from the eggplant. The liquid can be discarded after making.

Slice into 6 equal pieces.

Store the lasagna in the refrigerator in a container up to 1 week. Note, this will store in the freezer due to the eggplant.
Notes
Ground turkey or beef will work too. A leaner protein is recommended!
This lasagna won't freeze well due to the eggplant substituting the lasagna, but it does keep in the fridge up to 7 days.
My Amazon shop has more products similar to those used for this recipe and that I recommend to my nutrition clients.
If you love this recipe, check out my cookbook for more delicious, low calorie recipes!
Nutrition
Serving: 1servingCalories: 262kcalCarbohydrates: 16.1gProtein: 27.6gFat: 10.5gSaturated Fat: 2.2gCholesterol: 76.5mgSodium: 429.6mgFiber: 3.9gSugar: 7.9g
What I Used For The Recipe