Blueberry Lemon Yogurt Breakfast Cookies! Bursting with blueberries and infused with lemon flavor, these creamy oat cookies make a great breakfast treat or anytime snack. Lower in carbs and only 68 calories each. Gluten Free + Low Calorie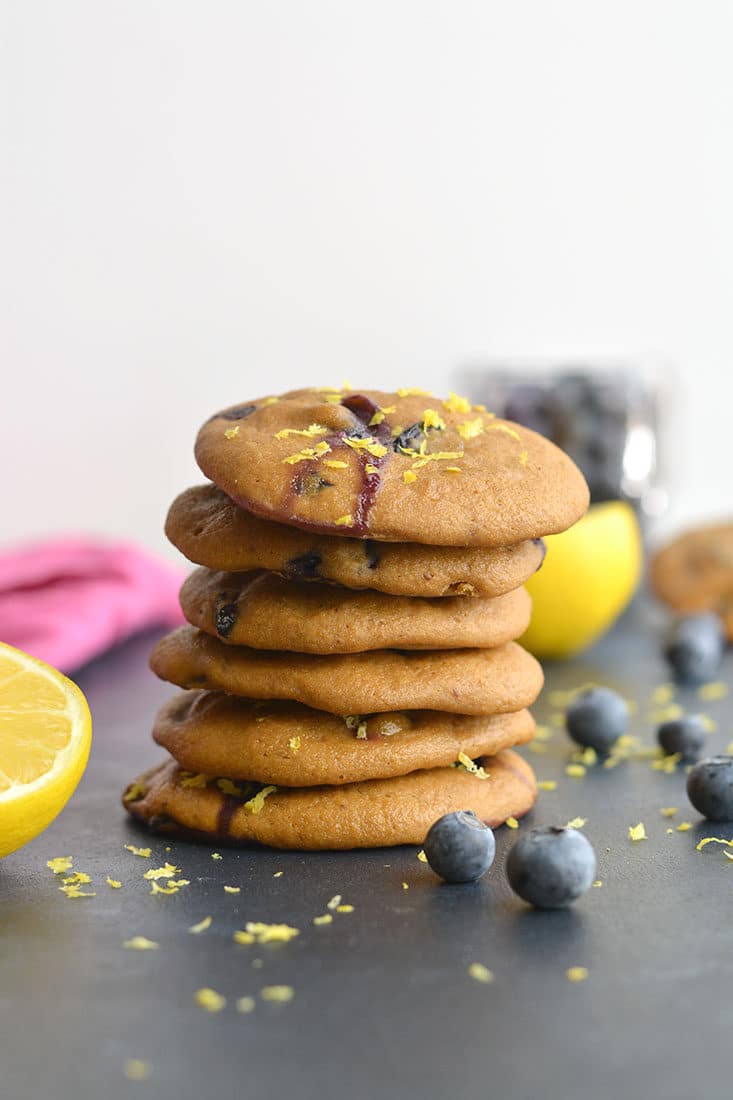 Just letting you know, this Blueberry Lemon Yogurt Breakfast Cookies recipe was originally published September 2015. I retested, rephotographed and updated the content for you. Hope you enjoy it!
It is officially summer in Arizona! We broke record weather this weekend. Almost 110 yesterday! I am so not ready for this heat, but it's here and probably here to stay. What's a girl to do? Stay inside and bake of course! Blueberry Lemon Yogurt Breakfast Cookies!!!!
This weekend was a relaxing one. We've had a lot going on the last few weekends so it was nice to have a weekend with no events or places to be except at home. I was able to catch up on random work, sleep and time with my guy.
Speaking of which, we woke up early Saturday morning for a hike. A few weeks ago I told him "I wanted to go hiking," which was secretly my way of motivating him to get active. He used to go to the gym all the time, but has fallen off the wagon. Now, every Saturday he just knows we're going on a hike and has discovered he likes it.
I can't say I liked it that much this weekend when we encountered a rattlesnake. I heard something buzz, turned around and spotted it hidden under a rock close to the trail. Of course, he had to get up close to it for a picture. NO THANK YOU!
After that, I practically ran down the hill. I could not get off that trail soon enough. I'll probably be the one he has to motivate to hike now. I think I'm safer in the gym or even better, in the kitchen!
These Blueberry Lemon Yogurt Breakfast Cookies are an oldie but goodie. I forgot how delicious these cookies were. The guy had a ton of lemons that a patient gave him and wasn't sure what to do with them.
When life gives you lemons (literally and metaphorically), you can either put them in a bowl or you can make cookies and I choose cookies. Especially when they're silky, creamy and only 67 calories each. Wouldn't you?
Blueberry Lemon Yogurt Breakfast Cookies
Bursting with blueberries and infused with lemons, these silky and creamy Blueberry Lemon Yogurt Breakfast Cookies make a great breakfast treat or anytime snack!
Prep Time 5 minutes
Cook Time 12 minutes
Resting Time 5 minutes
Total Time 22 minutes
Servings 12 cookies
Calories 68 kcal
Instructions
Preheat oven to 375 F. Prepare a baking sheet with parchment paper.

To a food processor or blender, combine egg white, yogurt, lemon extract & salt and combine well

Add sugar to mixture & combine. Add remaining ingredients (except blueberries) and mix well. Then add batter to a bowl, add blueberries gently folding them in.

Using an ice cream scoop, add batter to baking sheet. Bake 12-14 minutes until edges are slightly brown.

Remove from oven, allow to cool 5 minutes before removing to cool fully on a wire baking rack.

Store cookies in the refrigerator up to 5 days or in the freezer 30 days.
Course Breakfast, Snack
Cuisine American
Keyword blueberry, breakfast, cookie, gluten free, greek yogurt, healthy, lemon, low calorie, low carb, oat
Recipe Video
Nutrition facts per serving (1cookie)
Calories 68 kcal
Fat 1 g
Saturated Fat 1 g
Cholesterol 1 mg
Sodium 68 mg
Potassium 98 mg
Carbohydrates 12 g
Fiber 1 g
Sugar 4 g
Protein 3 g
Vitamin A 0 %
Vitamin C 1 %
Calcium 34 %
Iron 1 %
Meal Plans
Get a meal plan designed to meet your weight loss goals.
Learn More
What I Used For The Recipe