The 7 dieting mistakes that are hard to learn for women over 35. These are not your typical diet and exercise mistakes. They're the common mindset mistakes women make in their journey to better health and losing weight.
In this week's podcast, I'm sharing the 7 diet mistakes that I've observed most commonly in my nutrition practice working with women over 35 and how it holds women back from feeling their best about themselves and reaching their goals.
Often a woman will come to work with me after having done many fad diets. The common story is they lost weight doing X unsustainable diet then gained the weight back.
Now they don't know what to eat, how to eat, how much to eat and they're in a constant internal battle with themselves mentally beating themselves up feeling frustrated and confused.
We have all been conditioned by diet culture to lose weight by changing what we eat and doing weird things with food to achieve a certain body composition. That is not sustainable.
I discuss in this episode why sustainability with how you eat is so important to keeping weight off permanently and how women over 35 often the common mistake is that they do not think of this before signing up for a diet.
They usually recognize a diet is a quick-fix, but they have the common dieter's mindset of thinking they will just do this hard, restrictive thing for a short period of time and then eat like normal. Except that never works and always leads to weight regain.
I'll do this unsustainable thing for this short timeframe and then I'll figure out how to eat or learn to eat healthy. That's always the mindset and in a way, this sounds easier than creating new habits.
I speak to my clients about the common dieting mistake we all make (myself included) by taking the approach of trying to lose weight before building new habits.
It's like building a house without a foundation. If you build a house without a foundation, the house is guaranteed to fall down after some time.
Many women I've coached act surprised when weight comes back after doing a quick-fix diet.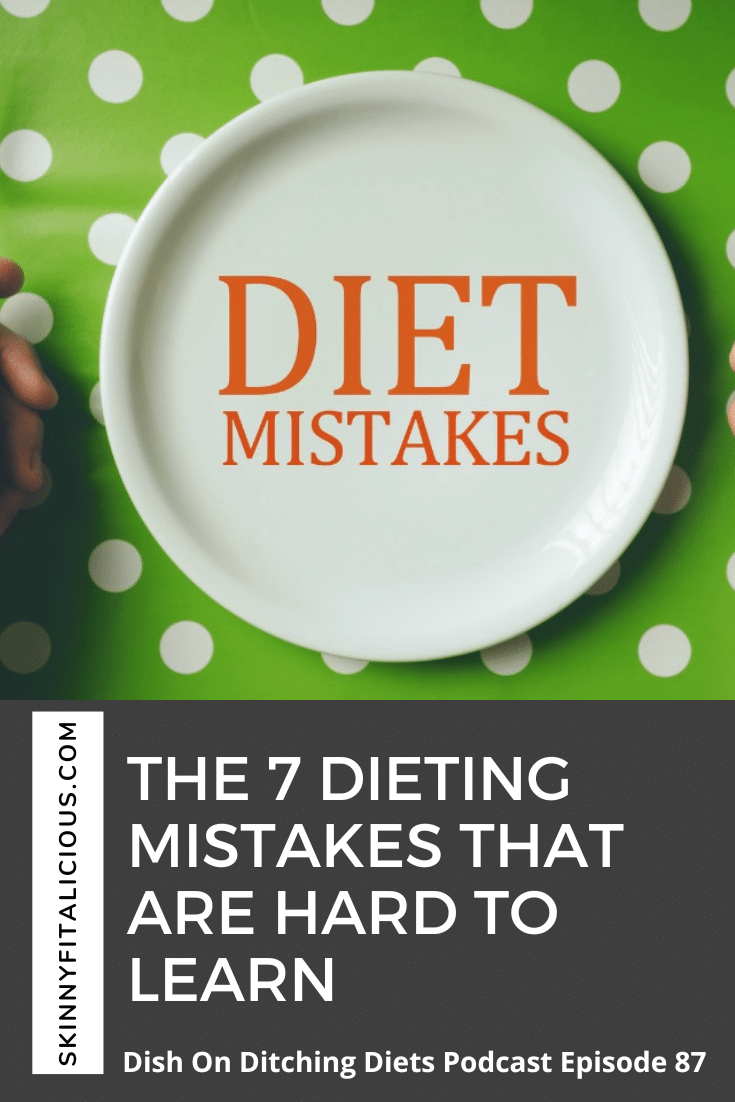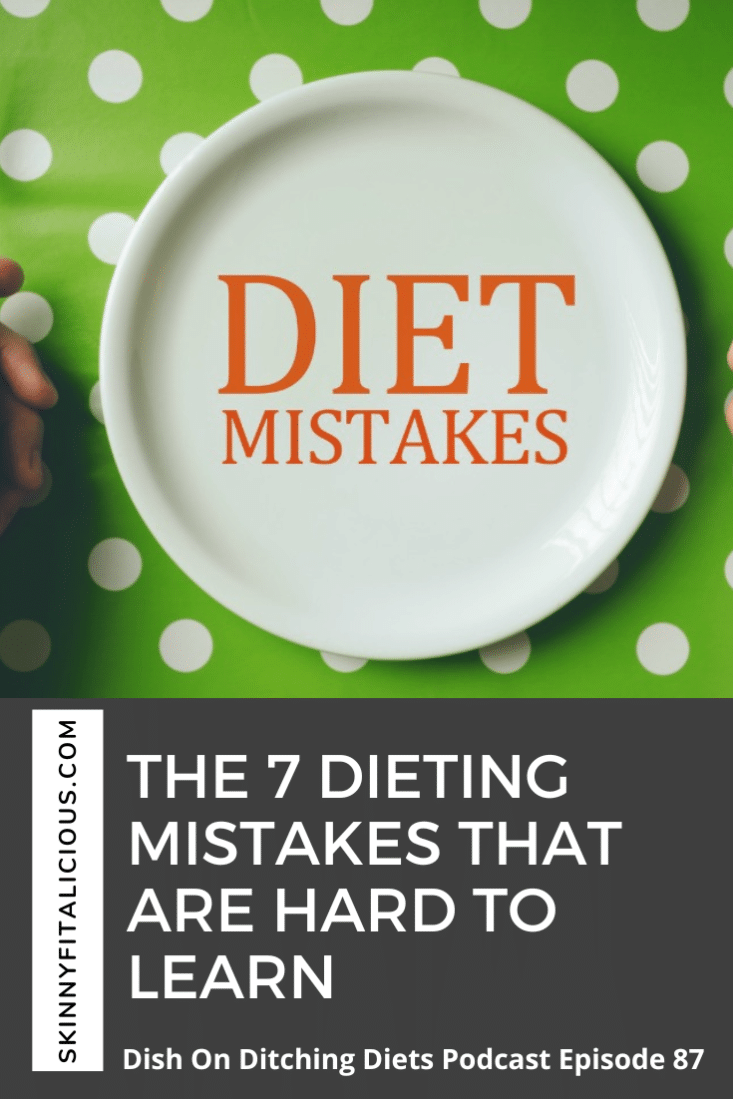 That would be like your house falling down and acting surprised about why it fell down when you never took the time upfront to build the foundation. Without a foundation, you are guaranteed to fail.
Our desire though as humans for instant gratification is high so we want the glory of losing weight and seeing progress right away.
This is why shifting your mindset and your perspective of what it means to take care of your health and weight otherwise you will always be chasing dopamine and instant gratification.
If lasting weight loss is what you desire, recognizing that sustainability is required. You must find something that is sustainable and that you can do until the day you die. If you're not willing to give up pizza or ice cream until the day you die, why are you doing that to lose weight?
There is nothing wrong with eating less nutritious foods. The only thing that is wrong is that you keep thinking it's wrong to include foods you enjoy and are assigning a moral value to yourself when you eat foods those foods.
Listen to the full podcast episode below for the 7 weight loss mistakes that are hard to learn plus, my answers to two social media questions from women.
And if you are guilty of making these diet mistakes, you're normal. Even I've made all these same mistakes in my own 80-pound weight loss journey.
We have to make mistakes, that's how humans learn!
In this Dish on Ditching Diets Podcast Episode, You Will Hear:
The 7 Dieting Mistakes That Are Hard To Learn
Why You Need To Build The Foundation of Your House BEFORE Losing Weight
2 Social Media Messages I Received From Women & My Response
Why You Are On Borrowed Time In A Calorie Deficit
Why Eating "Clean" Isn't Working For You
Why You Have To Change To Get Change
Why It's More Appealing To Your Brain To Do A Quick-Fix
Why You Need To Make Compromises To Change Your Weight
Why Having Realistic Expectations Is A Must
How Thinking Defaults Back To The Dieter's Mindset
Why Sustainability Is Key
Never Miss An Episode! Subscribe to the Dish On Ditching Diets Podcast on Apple, Google Play, Stitcher, Spotify or Amazon Music.
Related Dish On Ditching Diets Podcast Episodes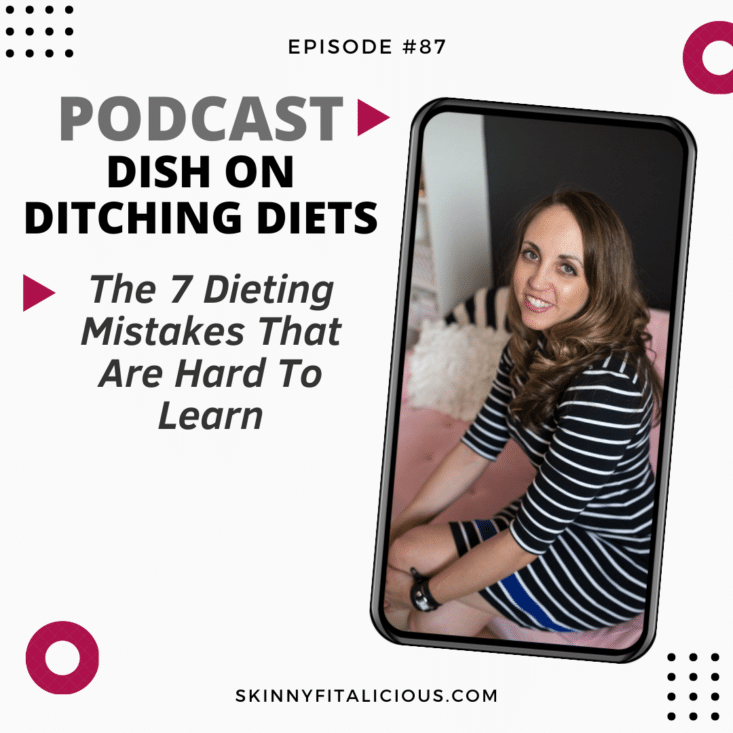 The 7 Dieting Mistakes That Are Hard For Women To Learn Podcast Transcript
Hello ladies! Today we're talking about 7 dieting mistakes that are hard to learn. I have a few things on deck for you today. One is two messages I received recently on social media from women. The second are the 7 dieting mistakes that are hard to learn.
But before we get into the meat and potatoes of today's episode, I have a favor to ask of you. If you've been enjoying the podcast and getting benefit from it, would you please pause the podcast go into the Apple podcast app on your phone or device, click on the Dish On Ditching Diets podcast – it's the thumbnail with my photo on it.
Then scroll to the bottom and leave a 5-star rating and a review. I greatly appreciate you supporting the podcast by doing that!
So, let's talk about the first message I got on Instagram recently and I share these messages with you guys on here because I know a lot of these things can help you too.
This listener says Hi, love your page and all your great advice. I'm pretty good with tracking my food. Calorie deficit. I need to eat 1700 calories. My sister says that if I'm unable to eat 1700 calories per day, I can "bank" these calories to have a special treat at the end of the week. Only bank on week. Do you agree with this concept. Thanks.
Here was my response: I do not agree with this concept. This facilitates the good and bad food mindset around food which always leads to restricting foods and overeating. This is a disordered eating pattern many fall into during dieting because they are so rigid.
If you have 1700 calories, you have plenty of calories to include a special treat daily. This is how we learn moderation with food making it more likely an individual will maintain weight loss long-term.
Also, eating as many calories as possible and getting away with weight loss is important to protecting hormones and metabolism. Don't make it a practice of under eating your calories.
Here's the second message I received:
"Hi I listened to your podcast about barely eating and not losing weight. Loved it. It was really informative. I am really struggling right now. I am at just about my highest weight ever and barely eating, and just not feeling well. I have been struggling with this for years and consulted with multiple people!!!!! Can I please talk to you more?"
My response to this person was to schedule a consultation with me. I'm highlighting this particular message because this is a very common message I receive from women and the fact is I simply cannot do this individual justice in an email or via a social media message.
There are a lot of questions here like how long have you been pursuing weight loss? What's the diet history and health history? What's symptoms are they having? How many calories are they eating?
Are they eating all food groups? What does their exercise look like, sleep, lifestyle, stress? Have they been to a doctor?
Who have they consulted with on this before? Has she done any extreme dieting like Optavia or very low calories.
The fact that this woman states she is not feeling well makes me wonder if she has been severely undereating for her body's needs.
Remember the metabolism is very smart and when we eat too little for too long or diet too long, weird symptoms happen in the body.
The fact is that we don't gain weight by eating too little. We gain weight from eating in a surplus and for some women if their metabolism has adapted down to 1200 calories then yes, you will FEEL like you're barely eating and gaining weight.
Very easy to gain weight in this scenario because it's so easy to eat over 1200 calories. So easy!
I don't know for sure if this is what's going with her, but I will just say that these types of scenarios are not things I can address via a message. They are complicated and require a consultation.
Like I said I get a ton of messages like this and it's not something that can be assessed on social media. I mean if you hurt your arm, would you message a doctor on FB or IG and tell them my arm hurts, what should I do? That's kind of what these messages are.
I mean anyone who is an ethical nutritionist isn't going to give you a step-by-step rundown of your health situation via social media.
I understand there's frustration and emotions playing into this, but if you truly need help then the right way to get it is to setup a consultation. These are the type of situations that require a lot more digging.
I had a new client who recently started working with me and she kept telling me she couldn't figure out why she's gaining so much weight. In our first session, I was reviewing her labs and noticed her ALT (liver enzymes) are high.
I also noted that she drinks 3-4 glasses of alcohol a night. I asked her if her doctor said anything about this and she said no. I had her go back to her doctor and they retested her ALT and turns out she has alcohol related fatty liver disease. This is why she's gaining weight so easily!
But it took me, an expert looking at this deeper to figure this out. That never would have been something I could have told someone via a social media message. And this is why I tell women who send messages like this to setup a consultation with me.
So, if this is you, setup a consultation with me. It's free and will give you some insight into what's going on and what to do about it. If I cannot help you, I will refer you to someone else. It's a win for you!
Okay, now for the meat and potatoes of today's podcast…. the 7 dieting mistakes that are hard to learn.
Number one is thinking clean eating is enough to lose weight. I hear this from ladies a lot which by the way, I don't even know what clean eating even means.
I mean clients will tell me they're eating clean, but then I see their food journals and there's wine every night, chocolate cake every day, skipping meals, skimping on lean protein, eating handfuls of nuts, not eating fruit.
I mean is that really clean eating? I honestly do not know, and I believe it means so many different things to different individuals.
But here's the deal if you're eating nutrient dense foods most of the time and you're not losing weight, the truth is you are not in a calorie deficit.
You still need a calorie deficit to lose weight even if you're eating all the nutrient-dense foods on the planet.
You can still overeat on a whole foods diet. Think about avocados, nuts, PB, almond butter, seeds, oats, "clean" snack foods, oils, rice, beans, lentils.
All fantastic nutrient-dense foods but are calorie dense foods that without a calorie deficit can keep you maintaining your weight or gaining weight.
Quality of food and quantity of food both matter for body fat loss!
Number two, thinking that eating as little as possible is best and that pursuing weight loss all the time is helping you.
What a lot of women do is they are just constantly pursuing weight loss. There is no intentional time spent in maintenance – notice I said intentional like learning how to eat to maintain your weight.
Having good foundational habits so when you come out of a deficit you know what to do instead of defaulting back to old habits. That is something I truly believe more women need to be aware of.
The model of eating less, aka a calorie deficit, should be a very short-term intervention.
Now, the nuance is if you are significantly overweight, very sedentary, you're way overconsuming food and you're eating habits are very unhealthy, then you likely do need to be moving more and eating less.
But the eat less model or calorie deficit approach should always be a short-term intervention.
Your body adapts to calorie deficits very quickly. You are on borrowed time in a calorie deficit.
You must understand that your body adapts and if you keep trying to eat as little as possible or you're dieting for too long you shouldn't be surprised your metabolism isn't working the way that you want.
Hormones are messed up, hair is falling out, immune system is compromised, low energy, digestive problems, your workouts are terrible, sleep is awful, you're hot and cold, brain fog, you have stalled weight loss or unexplained weight gain.
These are potential side effects from eating too little for too long or dieting too much.
The solution is pretty straight-forward. Most of the time you should be eating to support your hormones and metabolism.
That means you're eating enough protein, fiber, vitamins and minerals from fruits and vegetables and eating enough calories to support your energy needs.
If you're training for a marathon, you need to be eating a lot more calories.
Energy requirements go up the more active you are. This is why women who are doing HIIT training 6 days a week who are trying to eat 1200 calories feel terrible and are getting the oppositive results than they desire.
The demands you are placing on your body with that type of training are high, which means your food intake must be much higher to support that activity and recovery.
Number three is not thinking about SUSTAINABILITY. Can I eat this way until the day I die? If your diet has a name, it's probably not going to be sustainable long-term. Keto, low carb, WW, Jenny Craig, Optavia. Those are some examples.
Your metabolism is unique, your preferences are unique, your lifestyle is unique, your energy requirements are unique. It is unlikely you will sustain weight loss if your diet has a name.
I have consultations with a lot of women who've done Optavia. I had one recently where the woman told me she lost 40 pounds, but then gained 50 pounds back after getting off the diet.
And she told me she just got sick of eating one meal a day and buying their pre-portioned snacks. Right! I did a podcast on this diet awhile back and the problem with these diets with names it that there's a sustainability issue.
If you can't sustain that thing until the day you die, then it's likely weight regain will happen because when you come off that diet you have no idea how to eat.
You have no foundational habits, so you just go back to the way you were eating previously which was probably the diet that got you into trouble in the first place.
The solution here is to actually take the time to learn how to eat balanced meals and how to include all foods you enjoy in your life while still getting your protein, fiber and vitamins and minerals from fruits and veggies.
Remind yourself if I'm not willing to give a certain food up until the day I die, then I shouldn't be cutting it out right now.
Learn to listen to your own body. Listen to your own biofeedback. When you eat certain foods, does it improve your energy, sleep, strength, recovery, sleep?
Pay attention and make decisions based on how you feel. Don't just blindly follow the rules of a plan. I tell my clients this all the time. Everything I'm giving them are guidelines to help guide them into figuring out a lifestyle that works for them.
We need nutritional structure, but we also want to learn how to build a lifestyle and foundational habits. The women who are most successful are the ones who take the time upfront before losing weight to figure this stuff out.
The ones who are least successful are the ones who continue to try to treat it like another strict diet.
Those are usually the women who don't trust themselves with food, have a bunch of food rules based on fear and so then they believe that they need rules to keep themselves under control.
If they don't have food rules to follow, then they believe they'll just be out of control and overeating. But the irony is the exact thing causing them to be out of control is their belief that they need strict rules and their fear.
Number four avoiding behavior and habit changes. If you've been listening to my podcast for a while you've heard me talk repeatedly about habits.
Focusing on health promoting habits BEFORE attempting weight loss.
A lot of women are trying to lose weight and they have no foundational healthy habits in place. That's like building a house and having no foundation.
Listen, nothing changes long-term unless you change and I get that moving your body every day and eating your protein, fruits, veggies and fiber, prioritizing sleep isn't sexy.
People get bored of doing these monotonous habits and a lot of women resist doing this work.
It's the classic dieter's mindset of I'm going to do this thing, this program, this diet, this whatever, for a short period of time and then I'll go back to normal.
That's how we've all been conditioned to lose weight. That's how we've been conditioned to look at diet and food.
We've been conditioned to think I'm going to do this thing for a short period of time and then I'll go back and do what I was previously doing.
Except what you were previously doing didn't get you the results that you wanted. What you were trying to do was not sustainable (ah there's that word again), so then you're back at square one.
Sometimes we lose sense of logic when we're dealing with something emotional like losing weight. Losing weight is emotional.
Changing the way, you feel about yourself is emotional. Changing the way your body looks is emotional.
So, a lot of times we lose perspective and logic, and then we default back to our old thinking which leads us back to previous habits and behaviors.
Getting healthier, losing weight is not a transactional thing and I believe many individuals look at it that way. They tell themselves okay if I just suck it up and do this thing for a short period of time and get this result then I'll live happily ever after.
Except you won't because you didn't change. You simply defaulted back to your previous habits. You didn't make lasting change.
Anyone who's lost weight and gained it back understands what I'm talking about.
You likely said to yourself I'll just suck it up and do this diet thing until I lose weight except then you lose weight and default back to what you were doing that got you into weight gain land in the first place!
Or you're like I'll just do this thing and then I'll go back to normal. Then you're surprised when the weight came back.
It's really unfortunate the number of women I speak to who when I ask them what happened that caused their weight to come back, they say things like well, life happened. No, life didn't happen.
You were doing things in unsustainable way. So, you went back to what you were previously doing because you were so happy to have food back in your life and to eat like a normal human.
You went back to the things that caused you to be overweight to begin with and now you're back at square one.
But now you have more knowledge that those approaches are not sustainable and like I said we've all been conditioned to believe this is how we're supposed to lose weight. It's a lie. This is not how we lose weight and keep it off.
Like I said, if you don't change nothing will change. Here's an example of what I mean by this to make this clear.
Recently, I was talking to a woman on Instagram who told me she was eating boring chicken breast, sweet potatoes, and broccoli every day and how she knew if she kept eating like this that she knew she would eventually give up.
Right, because nothing changes unless you change. If you think in your mind that boring food is what it takes to lose weight, then you are not changing. You must find foods you DO LIKE that still check the boxes of getting high quality nutrition in your body.
You must change how you think about food, and you have to change your approach. I told her I have an entire website filled with recipes that are lower calorie and nutritionally balanced that taste good.
If you don't take the time to go out and find foods and meals and recipes you enjoy that you can put on repeat, whatever you're doing is going to be short lived.
But this is the tough part. People don't want to take the time to find what works for them because they want rapid weight loss results.
They would rather someone just hand them a plan and just follow the plan and not have to think about what they actually like and how to create a lifestyle that works for them.
Likewise, sometimes we have to change in ways that seems counterintuitive. I had a client awhile back who had a very stressful job and personal life. She was waking up at 4am doing HIIT workouts 7 days a week. Couldn't control herself around food, had a lot of blood sugar problems.
First, thing I told her is that she needed to back way off the exercise, stop getting up at 4am and sleep in more and work on balancing her meals.
She did it for a while and was feeling better than a family member got sick and she was back to over exercising and doing her 4am HIIT workouts and feeling exhausted and having issues with her blood sugar.
I told her nothing will change if you don't change how, you are exercising and give your body time to rest. I suspect she was in burnout, but she never wanted to do a DUTCH test to test it.
You have to change if you want long-term change! Changing your default habits and thinking is hard. It takes time, sacrifice and commitment. It's boring.
Real change is hard and that's why most individuals avoid this type of work.
They would rather go to a program that promises a quick fix and severely restricts food because that sounds more appealing.
It almost sounds easier in some ways. Oh, I just have to suck it up and do this thing for a short period of time and then I can go back to how I was eating before. Great sign me up!
Except it's not sustainable but it's more appealing. The solution is you have to change your perspective. This is a lifestyle change.
Nothing changes unless you change, and chances are your approach to losing weight has been conditioned to look at it like this.
Like something miserable you must do temporarily to lose weight. Suck it up and then go back to your old ways except that cycle always brings the weight back.
This is why I constantly say build your foundation. Build your healthy habits first and then work on weight loss. Otherwise, you have nothing to fall back on if you don't have that foundation in place.
Number five is not being willing to make compromises. I see this all the time. A woman will tell me she really wants to lose weight, but she isn't willing to change anything she's doing.
Well, if you haven't achieved your goal with the things, you're currently doing then I can promise you that making zero compromises won't work.
Now I do think sometimes the wellness community gives off this sense that in order to reach your goals that you have to go hard core. You have be super rigid with your diet.
No fun foods. Get up at 4am and exercise. Go hard with your exercise. Be as strict as possible. Never go out with friends.
You know that kind of messaging and again that isn't true. It's just the messaging we've been conditioned to believe. And that is NOT what I'm talking about when I say you have to make compromises.
Here's an example of what I mean. A had a client once upon a time who had done a 1200 calorie diet and was a runner. She lost weight and gained it back came to me 6 months after doing this diet. So, it was rapid weight loss with rapid weight regain.
Told me she was completely baffled why she gained it back. So anytime someone tells me they were on a 1200 calorie diet and gained weight back quickly I know their metabolism has been compromised and they've lost muscle. I also suspect their eating habits may not be great.
As I began seeing her food journals, she was drinking alcohol with friends every night and not eating a meal, just eating snacks. Well, we all know when we drink alcohol, we don't tend to make the best food choices and we tend to be unaware of how many calories we're eating.
I explained to her that the alcohol had to be cut back, but she continued to push back and not want to do that. Oh, my friends are going to think something's wrong, I'm going to feel left out.
I mean she didn't want to compromise. She wanted to keep doing what she was doing and lose weight. LOL - I mean you don't have to give up alcohol altogether, but you do need to make a sacrifice for your health.
If you're having 3-4 drinks a night and you have a weight loss goal, that will need to change. Later on we found out she was prediabetic and despite getting that diagnosis she still didn't want to change.
So, this is what I mean by having to make compromises. There must be some changes you have to make it you want change. And I wish people would be more honest with themselves about not wanting to make compromises because it would save a lot of frustration for them for not having achieved their goal. Right?
So, you set a goal for yourself and you're not willing to make any compromises or changes for you to achieve that goal but then you're frustrated you're not achieving the goal. There is a big disconnect there.
Change comes with giving up things that no longer serve the future version of yourself. When you want to change you have to sacrifice things that are no longer serving you. That might mean you will disappoint people who are not in alignment with who you want to become.
I think a lot of individuals jump into their goals without realizing this. They want change, but they don't fully realize what it's going to feel like to have to make certain compromises to reach their goals. This makes it so easy to fall back to your default habits and thinking.
It's your brain's way of protecting you. Let's go back to this thing that's comfortable and predictable. Except that's no longer what you want so you have this internal battle like why am I getting pulled back into the direction I don't want to go in?
It's because your brain likes certainty, and you have to consciously choose to go against that certainty until your new way becomes your brain's new default.
Most people, however, prefer the certainty of misery to the misery of uncertainty. That's a quote I love by Virginia Satir.
So, if you don't exactly know why you want to lose weight, how your life will be improved by pursuing that goal and getting healthier, you will default back to the certainty of misery.
Because it's your comfort zone even though it's the exact thing making you uncomfortable. This is the crazy thing about human psychology.
Number six is having unrealistic expectations with how fast your body can change. Woof. This one is tough.
Many women have the mindset that in 2 months, 3 months or 6 months they should be where they want to be with their weight loss. That is conditioning we've all gotten from doing unsustainable diets.
So, while you may have seen weight loss right away with something like Keto, it likely brought you right back to square one. You gained the weight back and now you're starting over.
Congratulations, now your brain thinks it is normal to see rapid weight loss and if you're not seeing rapid weight loss your brain thinks nothing's working and then your brain scares you into thinking you will never figure this out and you freak out and quit.
I had a client in this exact scenario last year. She had been dieting since she was 12. Had an insanely disordered relationship with food and the scale. Was exercising a lot and freaked out when I asked her to back off her exercise.
I asked her to stay away from the scale because she was undereating protein and we had to prime her metabolism by increasing her calories. Her meal composition was poor meaning she was eating a lot of low nutrient foods and so we began working on increasing her protein and working on her meal composition first.
I had also asked her to see a GI doctor because anything she ate ran right through her and that was concerning to me from a nutrient absorption standpoint. She told me this was normal for her but after seeing the GI doctor she was diagnosed with a bacterial infection in her colon.
Well, the doctor weighed her, and she flipped out because she gained 5 pounds. Around the same time, I had received her bloodwork from her regular doctor – her A1C was high, and her triglycerides were high – she was prediabetic. But because she saw the scale go up, she quit and gave up.
This was just 2 months into the program. In her mind, she really believed that in 2 months she should see weight loss despite me explaining to her otherwise.
Even though I had advised her that these things we needed to do FIRST before losing weight and that it was going to take time before we could get her into a calorie deficit. I mean this is how irrational people are with their expectations.
They have damaged their bodies from dieting, and they want to fix that, but they don't want to listen to reason. It's sad.
I have certainly seen women do some really stupid things like this with their health as a result of bad expectations. Let's get something straight if you have a lot of weight to lose you and it's your very first time ever dieting, you will see weight loss initially assuming you're in a calorie deficit.
BUT if you've been a chronic dieter, a yo-yo dieter, lost weight and gained it back many times, your metabolism is now in a compromised position, and you've lost a lot of muscle mass. If you're a female over 35, you're also losing muscle mass year over year.
But yet, you think you should see results quickly like you did in the past even though you've lost muscle mass and you've put your metabolism in a compromised position. Makes sense. No! It doesn't make sense, but this is the conditioning we've gotten from the diet industry.
If I'm not seeing weight loss results in 2-3 months, I'm outta here. Nothing's working! This is a terrible mindset and one I see over and over again.
I always do my best to set expectations with clients and explain to them that if they're not committed to working on this for 6 months, that I can't help them.
I get this question all the time. If I sign up with you and after 2 months, I don't think it's working, can I leave?
And this is usually after the person is crying and telling me how frustrated and desperate they are to find a sustainable solution and how they know their previous diets were not sustainable and I explain to them how we're going to have to go through a process of priming their metabolism while building their foundational habits and mindset.
But then they're thinking defaults right back to that dieter's mindset of after 2 months I should see change. No!!! After I just explained to them this isn't how it doesn't work like that! Like this is the irrational thought process people have.
It's very likely if you've been a chronic dieter this is going to take a minimum of 6 months up to one year. That is a reasonable expectation. Two months, no way unless you have a lot of weight to lose and you've never dieted before.
Number seven – last diet mistakes that are hard to learn is not getting help when you need it. This often comes with a irrational thinking and justifications.
The two resources in life are time and money. I spoke about this in episode 38 when I spoke about how I saved $15,000 losing weight. Time and money are two resources.
How much is your time worth?
If you've been struggling with weight for the last 20 years, how much time have you spent on that struggle and what is the value of that time? If your job had not paid you for the last 20 years of your life, what would you expect your job to pay you for those 20 years.
Your time is valuable, right? The time you have spent trying to lose weight is worth something. What is it in dollars.
If you had a child who was struggling with speech, you would immediately get them the help of a speech therapist. Or if you had a partner dealing with depression, you would probably recommend they get a therapist.
If you had a friend who wanted to learn how to play an instrument, you'd be like OMG that's awesome. You should find an instructor and take some lessons.
And yet, when it comes to your own health, your body and relationship with food you're like no I don't need an expert. I'm going to figure this out on my own.
I've been struggling with my body, my weight - issues with food for the last 10, 20, 30 years but I'm going to figure this out on my own.
As if there's a moral badge that comes with that. Except through the process of trying to figure it out on your own it's costing you time, energy, frustration, and money.
But yet you'll spin it every which way you can to make an excuse not to get the help you need.
Well, we're renovating the house, we're going on vacation. I have to pay for my kids whatever.
As if the choice is either you are prioritizing your health OR you doing this other thing which really is just an excuse.
It simply comes down to resource allocation and often we don't feel worthy of investing in ourselves ladies and we don't believe in ourselves. That's a huge problem!
Your own health, your own body, relationship with food – those things are not as important as renovating your house or your vacation? The reality is not investing in getting the support you need is not saving you money.
It's costing you in a different way in the long run. If you have health issues, you are going to pay.
You can justify the decision and convince yourself that time and money is better spent elsewhere, but in the end, you're not saving anything, and the reality is it will cost you more in the long run.
Some people get uncomfortable when I talk about this, but I've seen women make all the justifications and excuses even blame their husbands and partners and put off getting help and then when they're diagnosed with an illness or condition all the sudden the money appears.
I've talked to women in my free consultations, and they don't want to make a decision and I've had some who 2 years come back and sign up for coaching.
It was never about the money. It was the way they convinced themselves not to take action thinking oh well, it's more responsible for me to pay for my home renovation or whatever then to pay for me getting help with my health.
What's ironic is that many women will tell me how they need to be a healthy example to their kids, they want to age well and have great health and not turn out like their parents, yet they won't sign up.
So, what you're really saying is it's not important for me to be a healthy example to my kids right now. I'm choosing not to invest in my health right now.
I recently had a woman who started working with me in 2016 reach out to me and want to come back. She didn't complete the program back then - gave me some kind of excuse and quit.
Told me she was going to do it on her own. It is now 2023 and she's back and she's been spinning her wheels with unsustainable diets since and now is reaching out to me saying she needs help again.
That is SEVEN YEARS of her life she just wasted.
So, stop pretending like you're saving by not investing. You're just allocating your resources elsewhere. Just be honest with yourself.
You are making a clear declaration that YOU are not as important as wherever else that money is going. That you are not a priority.
Do an assessment. How much time have you already spent trying to figure this out? How much money have you already spent?
How much frustration and time has this already cost you? Then decide how is that going to feel for you if you continue to go down this same path for the next 6 months, year, 6 years, 10 years, etc.
How will that feel? Then make an honest decision with what makes you feel is best for yourself.
And the truth is if you truly didn't have the money right now to invest in yourself, you find a way. Just like you would find a way to get your child the help they need.
You put $50 or $100 in a special savings account every month to save up. You come up with a plan. Most people don't do that though. Again, because they're not being honest with themselves.
This is about what is best for you, and I just want you to be honest with yourself if you are not making yourself a priority then you need to be honest and say I am not as important as these other things. I am not a priority right now.
Okay so those are the 7 dieting mistakes that are hard to learn. Believe me, I've made a lot of these mistakes in my journey.
A lot of people make these mistakes. You're normal! Hopefully, it empowers you to change your approach to weight loss and to recognize the things that haven't been serving you. Talk to you soon!