Wake up to Paleo Breakfast Pizza! Made with a simple coconut egg crust and topped with fresh veggies and cracked eggs, this is a perfect, easy meal for any time of day! Paleo + Gluten Free + Keto
Just letting you know, this post is sponsored by my friends over at Eggland's Best!
I swear eggs are the happiest food. How could you say no to a big, bright, happy yellow yolk smiling at you in the morning? You know there's a reason they call them sunny side up!
If you've been spying my part of the internet for awhile, then you know I kind of dig my eggs. Okay, so I L-O-V-E my eggs! My morning is not complete without them.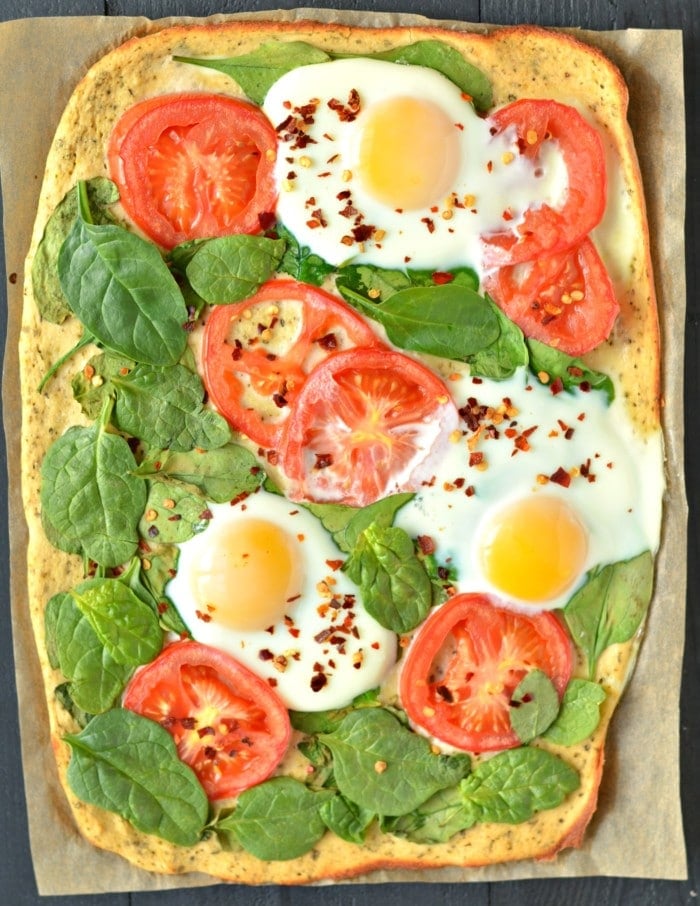 Growing up, my Mom made this breakfast pizza casserole. It was family tradition to have it with cinnamon rolls every holiday morning. It wasn't the healthiest of breakfast pizzas though which is why I haven't had one for a long time until now.
Sometimes it's hard to think about how I used to eat compared to how I eat now. Truthfully it feels like another life.
For a very long time, I've been trying to recreate those family traditions with a healthy breakfast pizza. The only problem was getting a crust recipe just right so it wouldn't crumble apart the second you picked up a slice to put it in your mouth. Good thing I like a challenge because this Paleo Breakfast Pizza crust is pure perfection!
The best part is it only take four magical ingredients to get that crust just right. From there, pizza making is a wiz! All you do is top it with your favorite ingredients, cook and voila. Pizza is made!
But whatever you do, you must, must, must put an egg on top. No excuses friends! A creamy, egg dripping slice of pizza is the absolute, best part about it. You want it. Trust me!
Leaving it off would be like taking the star out of the show and the star of this show is hands down thanks to Eggland's Best, my one an only egg of choice.
When it comes to eggs, I chose Eggland's Best for their superior nutrition. With 5 times the amount of Vitamin D and 3 times more Vitamin B12 than ordinary eggs, I choose Eggland's Best to give me the boost of nutrition I need. I've struggled for years with Vitamin B12 and D deficiencies so whenever I can get them extra nutrition through food I take it!
Eggland's Best eggs also have 25% less saturated fat. That's something very important to me. As you know, my Mom had six bypasses a few years ago and virtually every relative in my family has had some form of heart disease.
A diet lower in saturated fat is shown to reduce risk for cardiovascular disease along with a higher intake of omega-3's which have been shown to lower HDL cholesterol and Eggland's Best delivers double the omega-3's than ordinary eggs.
You can't go wrong topping your Paleo Breakfast Pizza with Eggland's Best! Not only will it yield you superior nutrition, but they've also been shown to stay fresher long than ordinary eggs.
That means you can feel confident eating leftovers. That is, if you can resist the urge not to devour the entire pizza. Enjoy!
Paleo Breakfast Pizza
Wake up to Paleo Breakfast Pizza! Made with a simple coconut egg crust and topped with fresh veggies and cracked eggs, this is a perfect, easy meal for any time of day!
Instructions
Preheat the oven to 375 degrees F. Prepare a large baking sheet with parchment paper.

In a large bowl, whisk together the egg whites, seasonings and coconut milk. Then fold in the coconut flour until combined.

Using a baking spatula, spread the dough onto the prepared baking sheet to form a rectangle.

Bake 15-18 minutes until the dough is set firmly.

Remove the crust from the oven and reduce the oven to 350 degrees F.

Using a baking brush or back of a spoon to spread the extra virgin olive oil over the crust. Spread the spinach over the crush, then the tomatoes. Carefully crack 3 eggs on top of the pizza. Sprinkle with the red pepper flakes.

Bake in the oven 12 minutes until the egg whites have set.

Remove from the oven and devour!
Nutrition
Serving: 1sliceCalories: 121kcalCarbohydrates: 5gProtein: 5gFat: 8gSaturated Fat: 5gCholesterol: 55mgSodium: 137mgPotassium: 160mgFiber: 2gSugar: 1gVitamin A: 500IUVitamin C: 2.7mgCalcium: 24mgIron: 1.4mg
What I Used For The Recipe