This post contains affiliate links. As an Amazon associate I earn qualifying purchases. Click here for more about this policy.
This post is sponsored by ! All thoughts and opinions are 100% my own.
Healthy Breakfast Strata is a make-ahead breakfast casserole packed with sausage and veggies and gluten-free bread! A simple and delicious holiday brunch recipe. Gluten Free + Low Calorie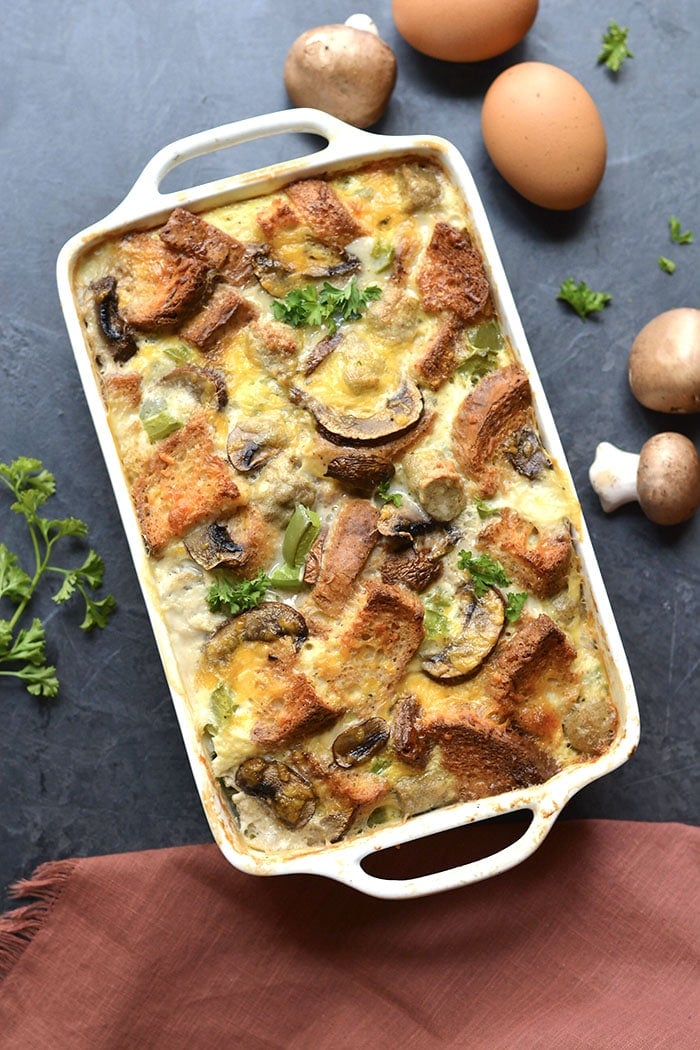 The holidays always bring something important to the table. Comfort food! A slow weekend with home cooking with brunch food and a healthy breakfast strata with sausage and veggies. Oh yes! That is my idea of pure comfort.
I love being able to bring you comfort in the form of healthier recipe options. After all, holiday comfort is a chance to welcome new friends, family and FOOD in your life. I can't think of a better comfort recipe to share with you than this lightened up breakfast strata.
What Makes This Breakfast Strata Healthier?
Traditional strata recipes have bread, cheese and eggs. This recipe adds protein and veggies while slightly lowering the fat to make it better balanced for you!
There are many strata recipes out there, but this recipe makes a couple easy swaps to make it better for you. Not to worry - it's easy and if you shop at Albertson's you will find everything you need!
High-Protein - Egg whites, Greek yogurt and chicken sausage are added to this recipe to increase the protein content. Protein stabilizes blood sugar and keeps you full.
Lower Fat - Whole eggs boost the healthy fat in this recipe. Half egg whites and half whole eggs are used along with a smaller portion of low-fat cheddar cheese to keep the fat content better balanced.
Lower Carb - The amount of bread used in this recipe is less than other recipes to keep the carb content better balanced with the other nutrients.
Gluten-Free - This recipe uses gluten-free bread and the remaining ingredients are gluten free.
Low-Calorie - Each slice is 212 calories and they are big slices!
Easy to Make - This breakfast casserole can be prepped ahead of time so it can be popped in the oven and baked the day you want to eat it.
High quality ingredients - This is why I shop at Albertsons and purchase O Organics® products. They are high quality, USDA Certified Organic products at a great value, that I know I can rely on them time and time again. I've used their Grocery Delivery and DriveUp & Go™ for convenient shopping too!
Ingredients For Healthy Breakfast Strata
Eggs (O Organics large brown eggs is what I used)
Egg Whites
Milk
Gluten-Free Bread
Almond milk (I used O Organics unsweetened almond milk)
Green bell pepper
Chicken breakfast sausage (I used O Organics chicken and sage sausage links)
Mushrooms
Cheddar cheese
How To Make A Healthy Breakfast Strata
To make a healthy breakfast strata, start by cubing gluten-free bread and baking in the oven to toast. As the bread toasts, whisk together the eggs, egg whites and Greek yogurt. Stir in the milk, salt and pepper.
Once the bread is toasted, remove it from the oven and cool a few minutes before adding it to the egg mixture along with the bell pepper, chicken sausage and mushrooms.
Cover and place in the refrigerator overnight. The next day bake the strata and serve!
Substitutions For Breakfast Strata Recipe
There are a several substitutions you can make for this recipe. Remember if you do substitute something that it does change the nutrition of the recipe from what is listed in the recipe below.
Egg Whites - Whole eggs may be substituted by dividing the egg whites in half (2.5 whole eggs to replace them). I do not recommend this as it will reduce the protein content of the recipe.
Almond Milk - Any milk can be substituted.
Greek Yogurt - Dairy-free yogurt can be substituted.
Gluten-Free Bread - Most breads will work with a strata. I recommend using one that is whole grain with no added sugar.
Cheese - Any cheese will work, and you can swap full-fat cheese. If you prefer dairy-free cheese, I suggest using nutritional yeast.
Veggies - Any veggies can be used in this recipe. Tomatoes, zucchini, spinach would complement this well. They have many fresh veggies at Albertson's to pick from!
How To Store and Reheat Strata Or An Egg Casserole
Strata can be store in the casserole dish by covering it and storing in the refrigerator up to five days. Alternatively, it can be sliced then placed in a container and stored in the refrigerator.
A strata can be reheated by popping it in the microwave or the oven. For the microwave, cook on high 1-2 minutes per slice. For the oven, reheat at 325 for 10-15 minutes.
I buy my O Organics products at my local Albertsons & Safeway, but you can find them exclusively at all Alberson Companies stores including Vons, Pavilions, Shaw's, Star Market, Jewel-Osco, Tom Thumb, Randalls, United Supermarkets and Carrs/Safeway. Check out Alberstons.com or Safeway.com to find a store near you!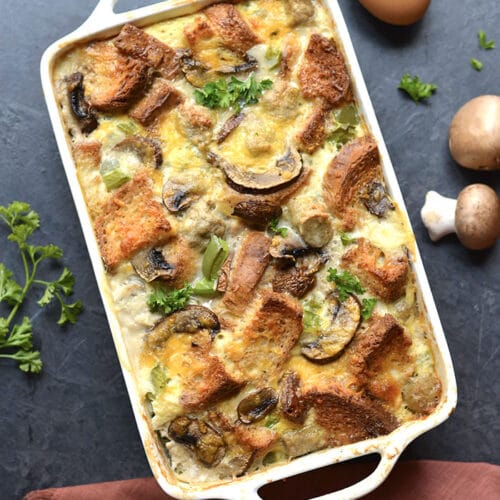 Healthy Breakfast Strata
Healthy Breakfast Strata is a make-ahead breakfast casserole packed with sausage and veggies and gluten free bread! A simple and delicious holiday brunch recipe. Gluten Free + Low Calorie
Instructions
Preheat the oven to 400 F. Prepare a baking sheet with parchment paper.

Slice the bread into cubes then spread it into an even layer onto the baking sheet. Place in the oven for 10 minutes to toast.

While the bread cooks, whisk together the eggs, egg whites and Greek yogurt in a large mixing bowl. Stir in the milk, salt and pepper.

Remove the bread from the oven then let it cool a few minutes before transfering the bread cubes to the large mixing bowl with diced green bell peppers and chicken sausage.

Spoon the mixture into an 8.5-inch by 5.5-inch casserole dish sprayed with avocado oil spray. Place in the refrigerator to set overnight.

In the morning, preheat the oven to 350 F. Bake the casserole in the oven for 60 minutes or until the center is fully set. Slice into 6 large pieces and serve!

Store the strata in the refrigerator up to 5 days. Reheat in the microwave 1-2 minutes per slice.
Nutrition
Serving: 1servingCalories: 212kcalCarbohydrates: 12gProtein: 17gFat: 10gSaturated Fat: 3gCholesterol: 168mgSodium: 462mgPotassium: 240mgFiber: 1gSugar: 3gVitamin A: 364IUVitamin C: 11mgCalcium: 174mgIron: 1mg