Gluten Free Chicken Chickpea Pasta Bake is loaded with protein, nutrition, flavor and is lower in carbs than traditional pasta! Delicious tasting, easy to make for a quick weeknight dinner or meal prep. This meal is a carb lover's dream! Gluten Free + Low Calorie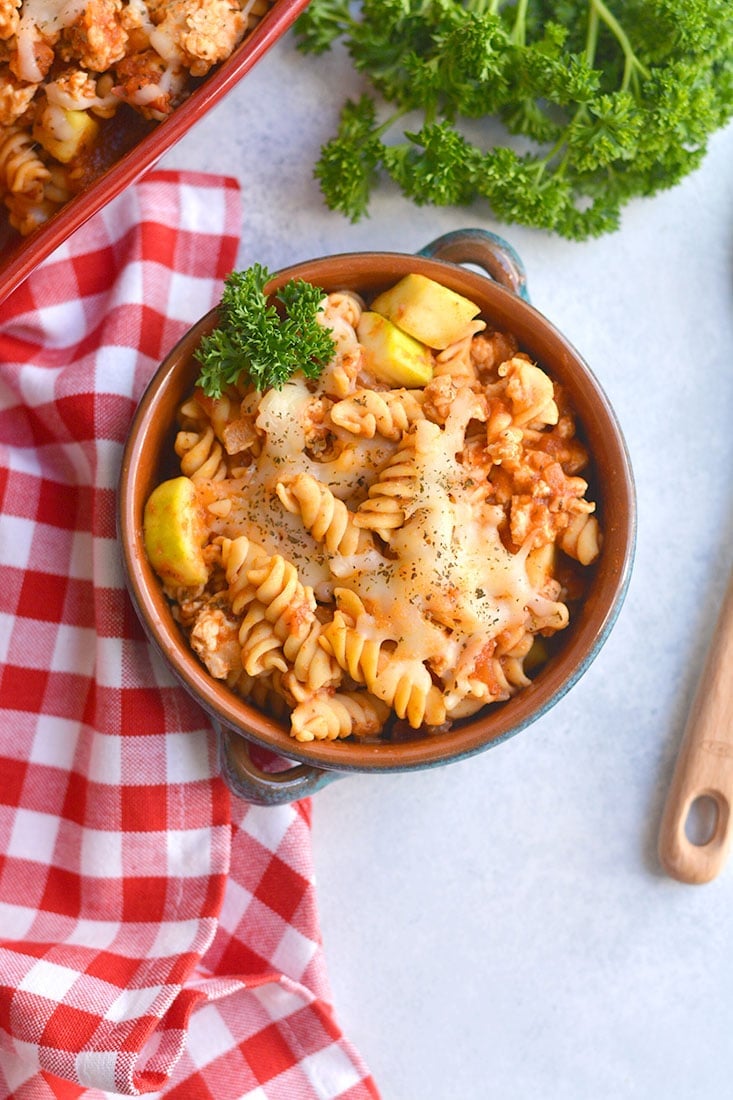 I hate pasta. If you've taken my online course, then you know why. The truth is I'm a recovering pasta addict. Growing up, I ate so much of it and until I lost weight and became more aware of the foods I was eating, I didn't realize how many calories and carbs I was overeating every time I ate pasta. Because a serving of pasta is like the size of your palm. Who's really only going to eat that much? Seriously…
Recently though, I discovered a pasta I could get down with. Chickpea pasta!!! Lower in carbs and high in protein. Now, this is my kind of pasta. I immediately had to whip up something good with this goodie. Chicken Chickpea Pasta Bake!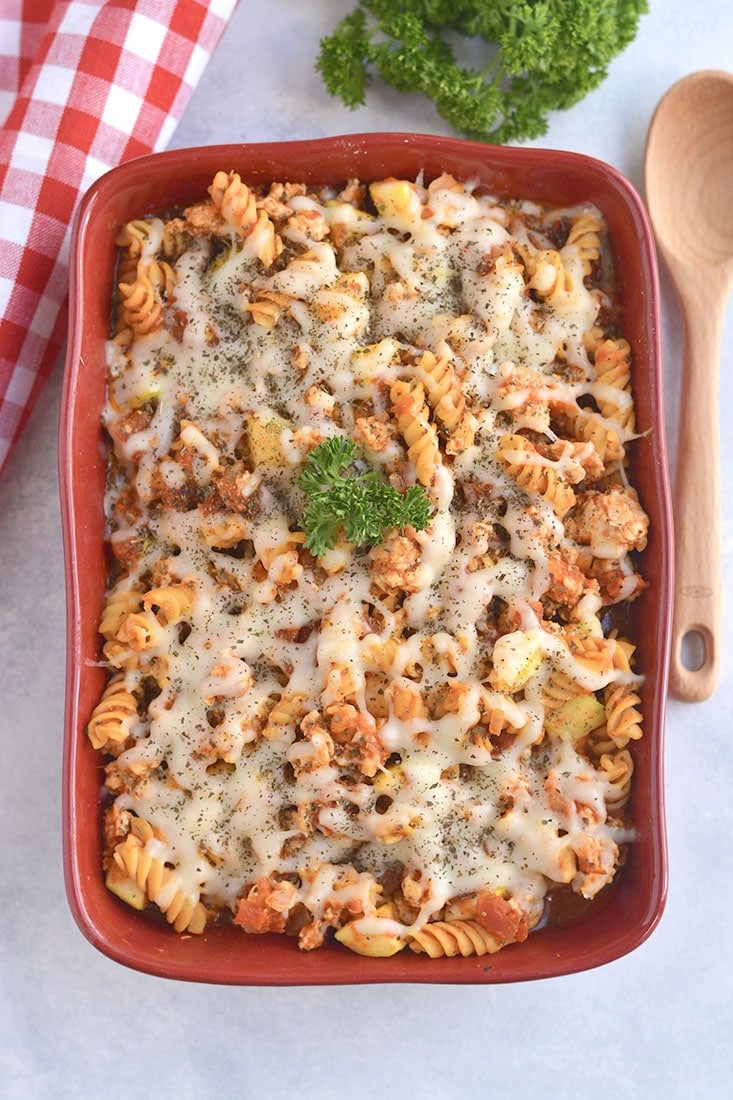 A quick to make pasta bake that tastes AMAZING, is super simple to toss together on a busy weeknight or to meal prep over the weekend and is higher in protein. Check, check and CHECK! This dish does all that and more! This will be going on a future Skinny Fitalicious Meal Plan because I know you guys love eating traditional recipes that are better for you.
I bet you're wondering where to buy chickpea pasta? I bought mine at Sprouts, but I've also seen it in many grocery stores in the pasta aisle. There's a lot more available than your standard pasta these days so take a peek and see what you can find so you can whip up these easy Chicken Chickpea Pasta Bake!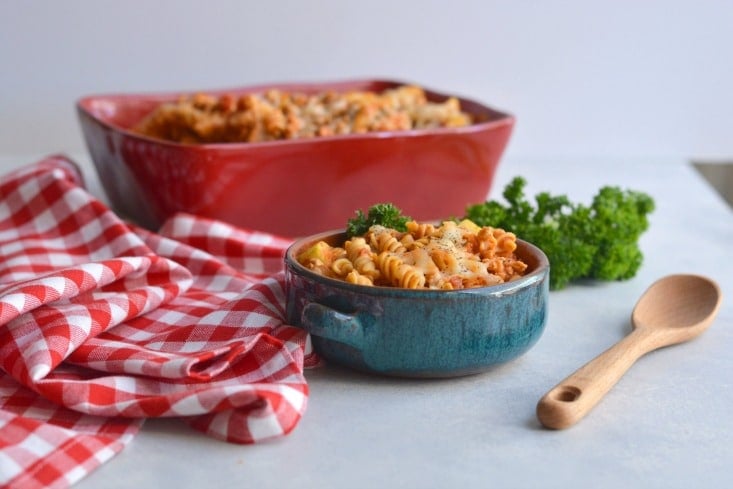 3 Smart Strategies To Stop Cravings
Chicken Chickpea Pasta Bake
Gluten Free Chicken Chickpea Pasta Bake is loaded with protein, nutrition, flavor and is lower in carbs than traditional pasta! Delicious tasting, easy to make for a quick weeknight dinner or meal prep. This meal is a carb lover's dream! Gluten Free + Low Calorie
Prep Time 10 minutes
Servings 6 servings
Calories 347 kcal
Ingredients
8 ounces chickpea pasta
1 lb ground chicken breast
1/2 cup white onion
2 zucchini diced
25 ounces marinara sauce no salt added
2 tbsp Italian seasoning
2 tbsp garlic minced
4 tbsp low moisture mozzarella shredded
salt and pepper to taste
Instructions
Preheat oven to 350 F. Prepare an 8x8 square baking dish by lightly greasing with extra virgin olive oil.

Boil the water and prepare the chickpea pasta according to the package instructions. Drain and rinse with cool water then set aside.

Place the onion, garlic and zucchini in a large skillet over medium heat. Sauté 3-4 minutes until onion is translucent.

Add the ground chicken, salt, pepper and Italian seasoning. Break up the chicken while it cooks.

Once the chicken is cooked, stir in the marinara sauce then add the pasta and turn off the heat.

Transfer to the prepared baking dish and top with cheese.

Place in the oven 5-8 minutes to melt the cheese then serve.
Recipe Notes
Brown rice or whole grain pasta may be subbed, but it will change the nutritional data. Chickpea pasta is available at most grocery and health food stores.
Nutrition facts per serving (1serving)
Calories 347 kcal
Fat 12.2 g
Saturated Fat 2.3 g
Cholesterol 70 mg
Sodium 189.2 mg
Potassium 0 mg
Carbohydrates 36.1 g
Fiber 8.6 g
Sugar 12.6 g
Protein 28.8 g
Vitamin A 0 %
Vitamin C 0 %
Calcium 0 %
Iron 0 %
Custom Meal Plans
Work with Megan to develop a custom macro or standard meal plan to reach your goals.
Learn More
What I Used For The Recipe