I've partnered with Dole Packaged Foods to bring you this post. All opinions expressed are my own.
This Almond Flour Upside Down Pineapple Cake is Paleo, dairy-free and simple to make! A pineapple flavored cake that's perfect for any season. Paleo + Gluten Free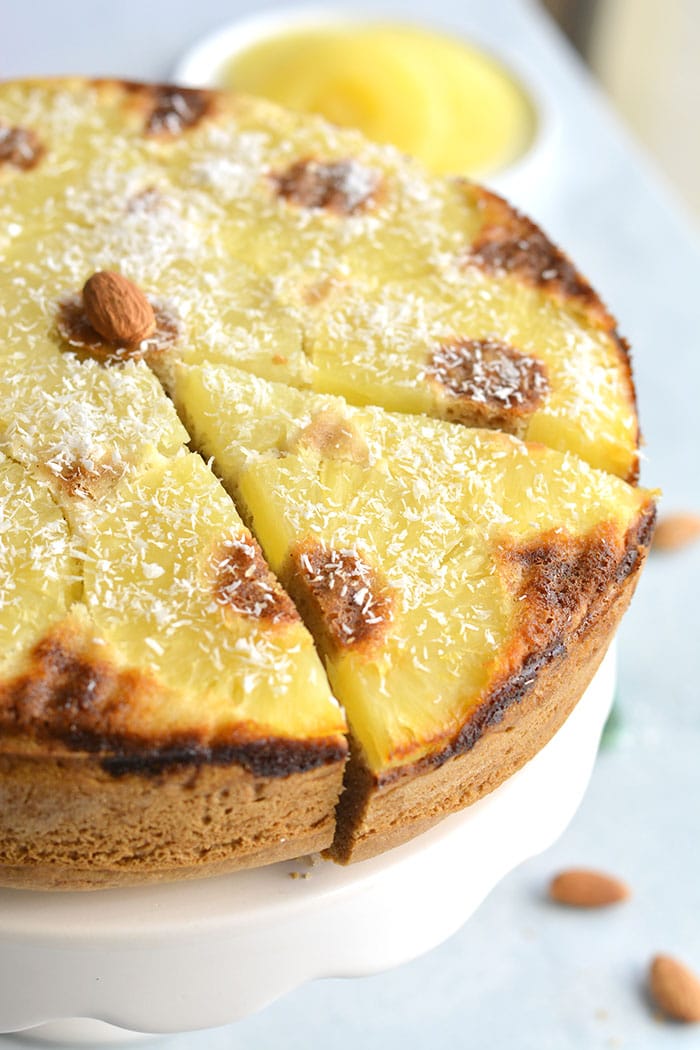 Let's talk cake! A cake that tastes like real cake, shines as bright as the sun and makes you feel like you've been transported to a tropical island. Sun, islands, cake. That means we can breeze into the holiday season feeling light, zesty and tropical. We can all use more of that any time of year, am I right?
While I'm sure we all could use a tropical location and I can't offer you one, I can offer you the next best thing. Tropical warm thoughts and a slice of cake.
Are you ready to feel light, refreshed and bake up this goodness? It's perfect for holiday entertaining!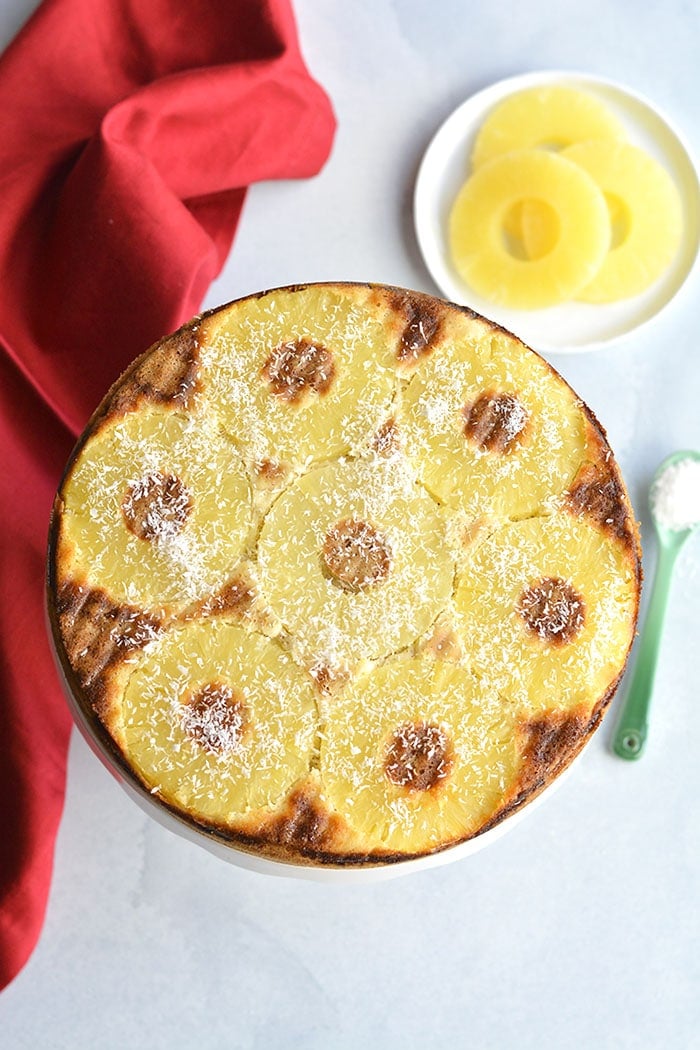 Almond Flour Upside Down Pineapple Cake
Made with Dole pineapple slices, this oh so tasty almond flour upside down pineapple cake not only is a bundle of deliciousness but also makes a scrumptious dessert, snack or treat. The pineapple adds natural sweetness and a boost of Vitamin C. Something we all can use a little more during the colder months.
Dole Packaged Foods makes it easy and convenient to add healthy foods to your baked goods. I recommend you buy an extra can to munch on as you bake your little heart out.
What You Need
Almond Flour
Eggs
Olive Oil
Maple Syrup
Apple Cider Vinegar
Baking Soda, Salt
Shredded Coconut
9-Inch Springform Pan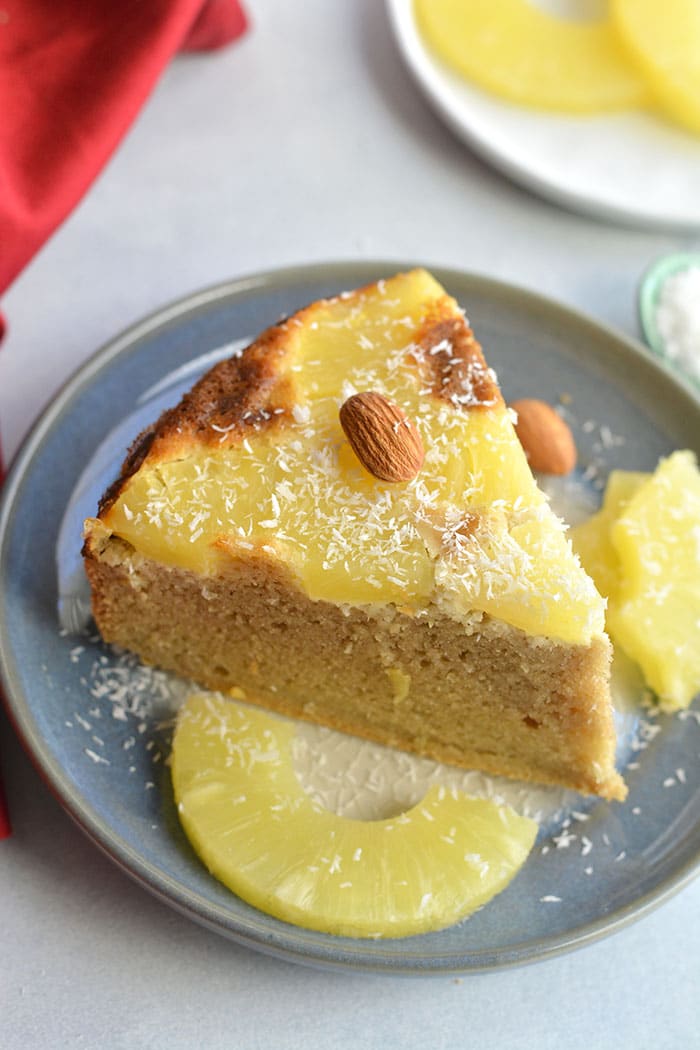 How To Make It
Prepping your cake is very simple. Layer the pineapple slices on the bottom of a 9-inch springform pan layered with parchment paper. Then blend the ingredients together according to the recipe instructions, pour it over the pineapple slices, bake and wait.
It's really the easy. In fact, the hardest part is not eating all the pineapple slices before layering it in the bottom of your pan!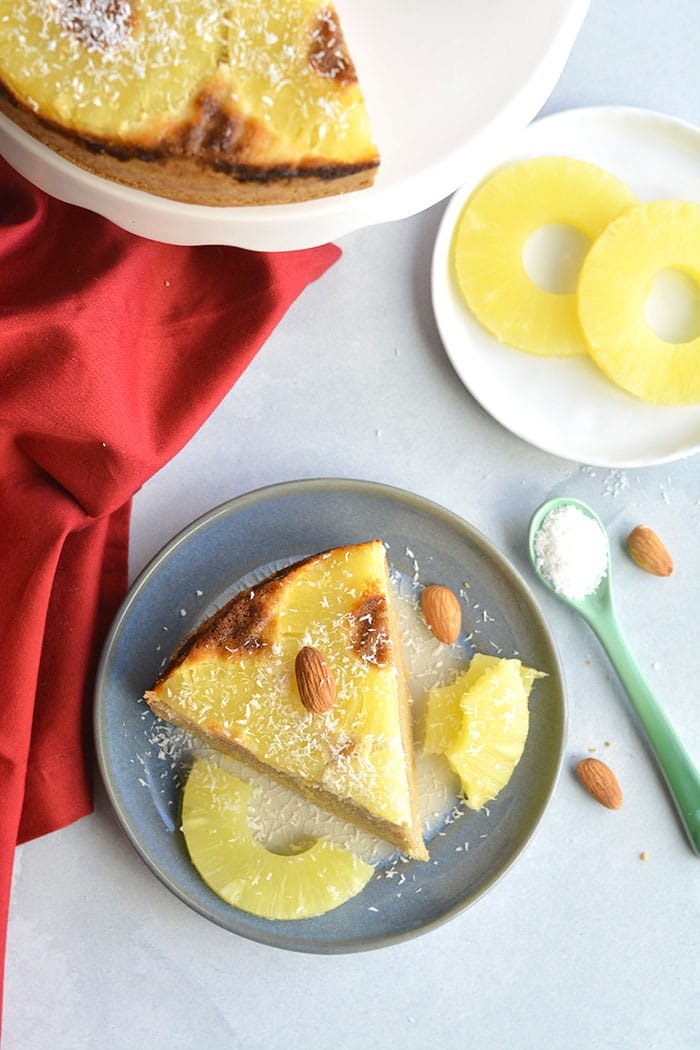 Helpful Tips
Measure the almond flour properly by loosely spooning it into a measuring cup instead of dunking and packing it into a measuring cup from a flour bag. Packing flour into a measuring yield twice as much flour. Loosely spooning it will yield a soft and spongy cake.
After your cake is finished baking, let it sit 10-15 minutes at room temperature prior to removing the springform. This will allow the cake to set up nicely, so you get perfectly cut slices.
Oh, and one final tip. Super important! Really want to do this so listen up. Reserve the pineapple juice from the Dole can and save for drinking on the side. It's the perfect way to wash down a slice of cake!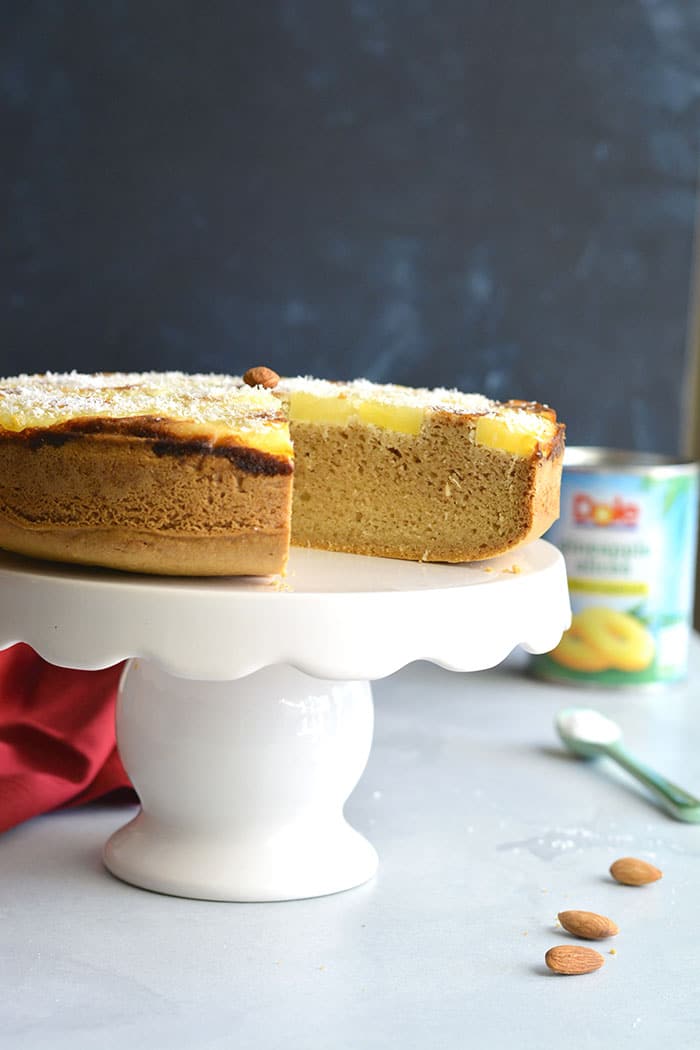 3 Smart Strategies To Stop Cravings
Almond Flour Upside Down Pineapple Cake
This Almond Flour Upside Down Pineapple Cake is Paleo, dairy-free and simple to make! A pineapple flavored cake that's perfect for any season. Paleo + Gluten Free
Prep Time 10 minutes
Cook Time 25 minutes
Total Time 35 minutes
Servings 14 slices
Calories 339 kcal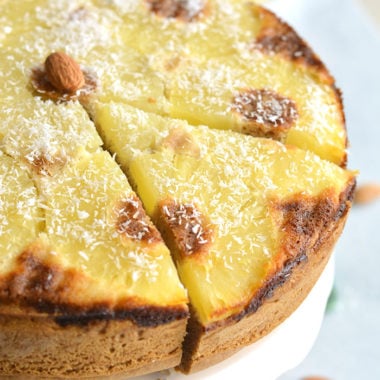 Instructions
Preheat oven 350°F and line the bottom of a 9-inch spring form pan with parchment paper cut into a circle to fit the bottom of the pan. Grease the sides of the pan with oil.

In a large mixing bowl, add the almond flour, salt and baking soda. Stir the ingredients together to combine. Set aside.


Using a standing (or hand) mixer, mix the eggs together with the vinegar 2 minutes until thick and smooth.


Add the maple syrup and olive oil. Blend until smooth.


Slowly add the flour mixture to the liquid mixture, ¼ cup shredded coconut and blend until combined.


Arrange the pineapple rings on the bottom of the spring form pan in an even layer. They should fit nicely together in a perfect fit.


Pour the batter over the top of the pineapple rings and smooth into an even layer with a spatula.


Bake 25 minutes at 350 F then remove from the oven and cool in the spring form pan 10-15 minutes at room temperature to set.


Once cooled, release the spring mold and turn the cake over a cake stand or large plate. Carefully, peel the parchment paper from the pineapples. Cut into slices and serve with extra shredded coconut on top.


10. Store cake in the refrigerator up to 7 days.

Course Dessert
Cuisine Dessert
Keyword almond flour, dairy free, gluten free, Paleo, pineapple, upside down cake
Nutrition facts per serving (1slice)
Calories 339 kcal
Fat 25 g
Saturated Fat 3 g
Cholesterol 70 mg
Sodium 288 mg
Potassium 107 mg
Carbohydrates 21 g
Fiber 3 g
Sugar 14 g
Protein 9 g
Vitamin A 120 %
Vitamin C 3.8 %
Calcium 97 %
Iron 1.7 %
Custom Meal Plans
Work with Megan to develop a custom macro or standard meal plan to reach your goals.
Learn More