This post contains affiliate links. As an Amazon associate I earn qualifying purchases. Click here for more about this policy.
Healthy Shrimp and Rice loaded with mixed bell peppers, garlic, lemon and pantry staple spices! A lighter, gluten free version of take-out that's easy to make and tastes great. Gluten Free + Low Calorie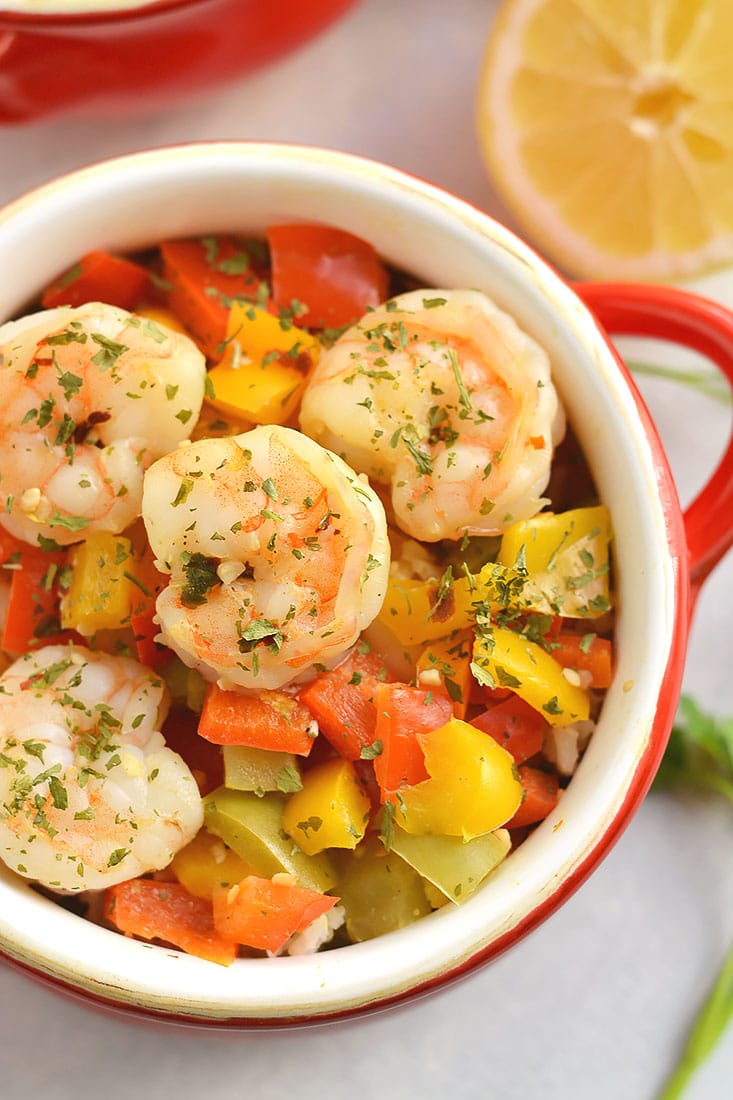 Social media is the death of me. I was complaining to the guy this weekend that I wish there was just one social media outlet. I mean I have him texting me all day, Kelli What's app-ing me, followers direct messaging me on Instagram, Facebook and Twitter. That doesn't even include blog post, Pinterest and Facebook and Instagram comments.
The only people who call me anymore is the guy and my Mom. The first time the guy called I was like what's wrong with you? He said "sometimes I just want to hear your voice" (<- aww...).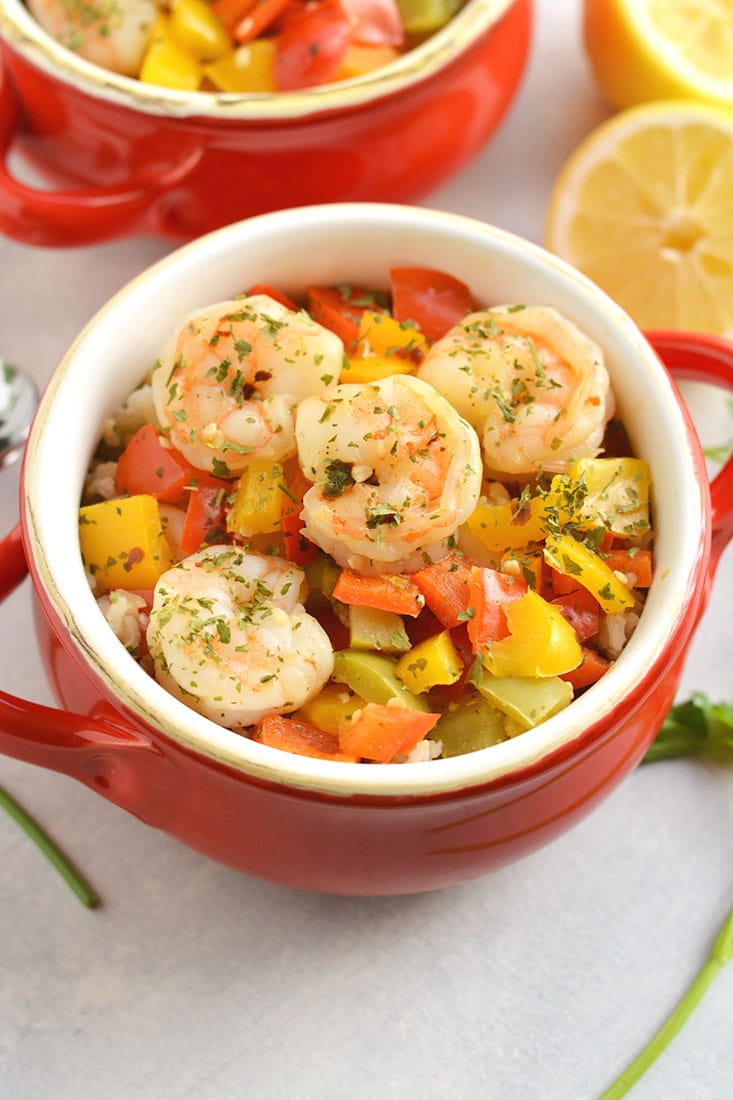 These days there's so many forms of connecting and communicating, it's impossible not to get sucked in. I find myself with my head in my phone all day mindless scrolling through things.
The sad part is I'm missing out on what's going on around me in the real world.
Most days I get to the end of the day and haven't finished any work because I'm surfing around social media all day. It's like a sand trap. Once you're in, you can't get out!
As a social media influencer, this a trillion times worse because yeah it's my job. My full time job! I feel like it's out of control.
Too many forms of communicating and too much information for my brain to absorb at one time, which is why I have a rule and only allow myself to check my phone at certain times of the day now.
A few weeks ago, I was at a dinner with other influencers and the brand manager for Melissa's Produce.
He was telling me how uncomfortable he was with Facebook Live. I told him, that it was the most comfortable place for me because I love giving presentations to groups of people. Basically I like to talk!
Later I was thinking how I love doing Facebook Live because it gives me an opportunity to connect with other people in real life. They get to hear my voice and see I'm a real person.
Not just someone in yoga pants with a crazy hair bun and no makeup behind a camera playing with food.
The only problem with Facebook Live is I don't always have an abundance of things to say. That's where I need your help! Please tell me in the comments below what things you would like me to talk about.
Speaking of Facebook Live, I did one for this 10 Minute Shrimp & Rice recipe. Actually, the recipe is so simple it took less than 10 minutes to shoot the video. This is why I like doing them to show you guys how easy it is to make a healthy meal and give you my shortcuts for making too!
The big tip for making this 10 Minute Shrimp & Rice is prepping the veggies and shrimp in advance. By breaking up the prep and cooking steps, you save yourself so much time!
For example, say you shop on Saturday. Either Saturday or Sunday prep everything (I use this veggie chopper to make it quick!) and store it in the fridge so during the week when you want to make a quick, healthy meal all you have to do is toss everything in a pan and cook. It does take a bit of planning to do this, but once you get in the routine of doing it all the time it's no big deal.
My other shortcut is buying fish from Sizzlefish. Living in Arizona, fish is not easy to find. Sizzlefish ships everything frozen right to your front door. The fish is individually packaged too for easy portion control. It makes my life so much easier so I don't have to shop at a thousand grocery stores to find what I need.
So there you have it. All my shortcuts to making a healthy, nutritionally balanced meal that's loaded with flavor and deliciousness! Try it, and let me know how it works for you!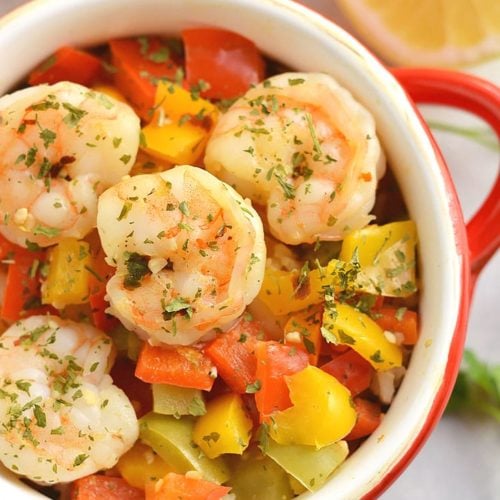 10 Minute Shrimp and Rice
10 Minute Shrimp & Rice loaded with mixed bell peppers, garlic, lemon & pantry staple spices! A lighter, gluten free version of takeout that's easy to make & tastes great. Gluten Free + Low Calorie
Instructions
Bring a small pot to a boil. Cook the rice according to package instructions. Once the rice is nearly done, add the cauliflower rice and stir to combine. The heat from the rice will cook it. Let the rice continue cooking while you make the shrimp and veggies.

Heat a large stir fry or skillet pan over medium heat. Add the extra virgin olive oil, garlic and bell peppers. Stir to combine.

Cook vegetables 5 minutes until tender. Add shrimp, lemon juice and crushed red pepper flakes. Stir to combine.

Cook 3-5 minutes until shrimp are slightly pink. Turn off the heat, add the dried parsley to the pan and stir to combine.

Serve the 1/4 of the shrimp and veggie mixture over 1/4 of the rice.
Nutrition
Serving: 1servingCalories: 359kcalCarbohydrates: 38gProtein: 36gFat: 7gSaturated Fat: 1gPolyunsaturated Fat: 1gMonounsaturated Fat: 3gTrans Fat: 0.02gCholesterol: 286mgSodium: 1315mgPotassium: 753mgFiber: 4gSugar: 4gVitamin A: 2748IUVitamin C: 180mgCalcium: 167mgIron: 2mg
What I Used For The Recipe