Healthy Shrimp Scampi Spaghetti Squash! Packed with flavor and simple to make. A lower carb meal with more nutrition by replacing pasta and a lightened up sauce with heart friendly ingredients. Gluten Free + Low Calorie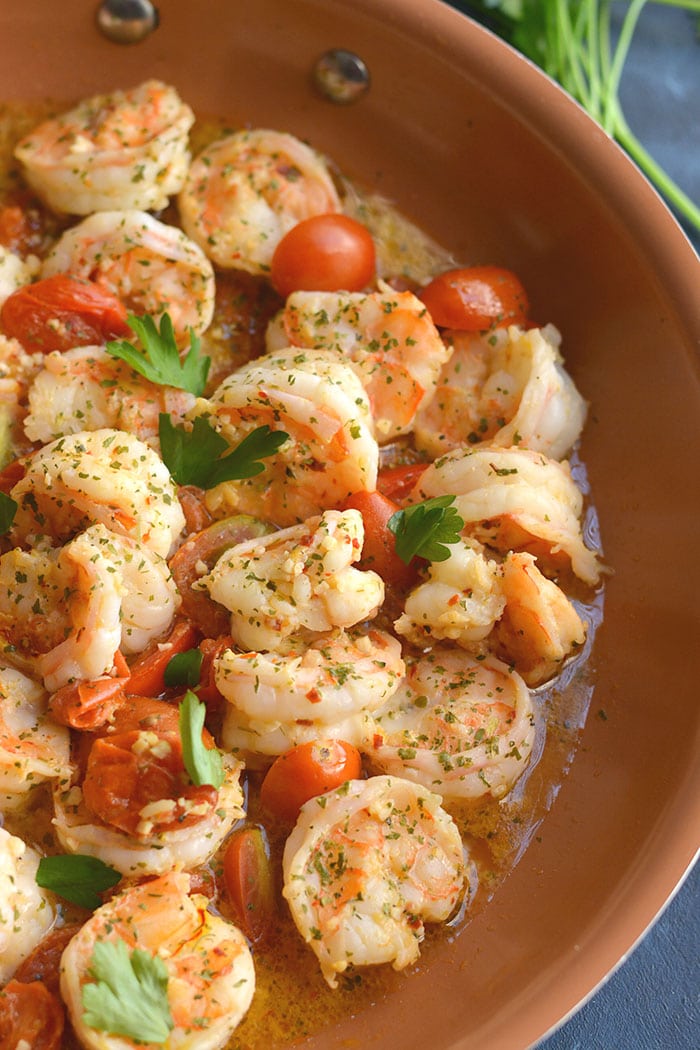 Healthy habits. We talk a lot about them in my group coaching program. I'm a firm believer in building healthy habits because they're contagious. The more you do one thing and do it well, the more it filters into other aspects of your life. But here's the thing…
In order to make healthy habits that last, you need to define what healthy is to you and find easy ways to incorporate it into your life. I know that's easier said than done. It helps when you keep your kitchen stocked with healthy options (why I love Sizzlefish and it's always in my freezer)!
Healthy eating to me means FUELING my body with vegetables and lean protein. Foods that give me energy mentally and physically. Healthy eating also means making the time to COOK food that's healthy. Hey, just because we have magical smart phones doesn't mean our food is magically smart enough to make itself. Cooking should be enjoyed just as much as eating!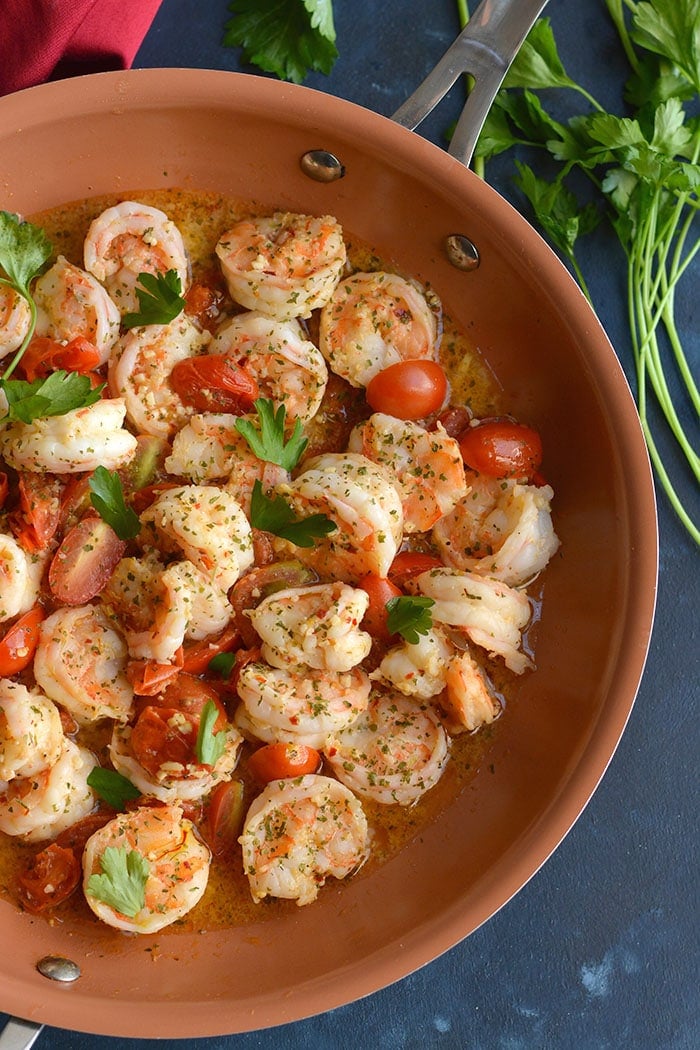 Healthy Shrimp Scampi Spaghetti Squash
Thankfully, my recipes require little cooking so you don't have to be in the kitchen too long. One of the reasons why I love this Healthy Shrimp Scampi Spaghetti Squash! Easy. Simple. Real Food Ingredients. Flavor!
This healthy meal prep dinner is high protein, rich in heart healthy fat, gluten free and almost dairy free. It uses ghee which technically comes from dairy, but has been strained of milk solids and lactose. It's Paleo and Whole30 compliant. Those with lactose problems (myself included) tolerate it well and it's so rich and delicious!
Ghee and extra virgin olive oil are the main sauce constituents in this recipe and they do not disappoint. A healthier and lighter version than the real deal!
What You Need
Spaghetti Squash, Grape Tomatoes
Ghee, Extra Virgin Olive Oil
Garlic
Parmesan
Saffron Threads, Red Pepper Flakes
Salt, Pepper, Parsley
Helpful Tips
Cook the spaghetti squash in the microwave. I recently discovered how to do this and it's a HUGE timesaver. And I'm ALL about saving time especially in the kitchen!
If you wanted to make this recipe during the week, I'd even recommend making the spaghetti squash ahead of time, storing in the refrigerator until you're ready to make the shrimp and sauce. Just heat and serve!
I buy my shrimp from Sizzlefish. They shrimp is already clean, deveined, tail removed so all I have to do is thaw, dray and cook. I've been buying my fish from them for years and for what it's saved me in prep time, has far outweighed the cost of ordering it.
I love shrimp, but I don't love it enough to spend hours cleaning it. If you want to make your life easier, definitely check them out! If you make this recipe, leave a comment on the blog. I love hearing from you and it helps others find the recipe too!
Healthy Shrimp Scampi Spaghetti Squash
Healthy Shrimp Scampi Spaghetti Squash! Packed with flavor and simple to make. A lower carb meal with more nutrition by replacing pasta and a lightened up sauce with heart friendly ingredients. Paleo + Gluten Free + Low Calorie
Prep Time 20 minutes
Cook Time 15 minutes
Resting Time 10 minutes
Total Time 35 minutes
Servings 4 servings
Calories 363 kcal
Instructions
Slice the spaghetti squash in half lengthwise. Using a spoon, scoop the seeds out from the center and discard. Place the spaghetti squash in a microwave safe dish with 1/2 cup water.

Cook on high 12-15 minutes or until the squash is tender. You can alternatively roast the squash in the oven at 400 F for 45 minutes. Once the squash is cooked, cool in the pan 10 minutes before removing the flesh.

Bring a large skillet to medium heat. Add the ghee and olive oil to the pan. Cook until the ghee is melted then add the parmesan and lemon juice.

Once the parmesan has melted into the sauce add the garlic, red pepper flakes, saffron and cook 2-3 minutes to release the flavors then add the shrimp.

Sprinkle with salt, pepper and parsley flakes. Cook until shrimp is opaque 4-5 minutes.

While the shrimp cooks, remove the flesh from the spaghetti squash skin and divide into 4 portions. Serve with the shrimp and sauce immediately or store in meal prep containers.
Course Dinner, Lunch, Meal Prep
Cuisine American, Italian
Keyword gluten free, healthy, low calorie, meal prep, scampi, shrimp, spaghetti squash
Nutrition facts per serving (1serving)
Calories 363 kcal
Fat 18 g
Saturated Fat 5 g
Cholesterol 299 mg
Sodium 1037 mg
Potassium 505 mg
Carbohydrates 22 g
Fiber 4 g
Sugar 8 g
Protein 28 g
Vitamin A 750 %
Vitamin C 25.4 %
Calcium 301 %
Iron 3.9 %
Meal Plans
Get a meal plan designed to meet your weight loss goals.
Learn More
What I Used For The Recipe