This post contains affiliate links. As an Amazon associate I earn qualifying purchases. Click here for more about this policy.
Happy [What I Ate] Wednesday!
Since last week's WIAW was focused on food phases, this week I'm talking food truths. But before I share my eats & dark secrets, I want to give a quick update on my foot injury recovery and workouts. A couple people have commented or asked how things are now that I graduated physical therapy.
Truth is I have good days and bad days. I still have a lot of cramping in my shin and calf which is from the injury. Basically, my mind still thinks my foot is injured so my leg is taking more of the burden to protect it when I workout. I'm still stretching, rolling and using a hand roller to work out leg cramps. I ice my foot every day and getting massages regularly. Groupon has great package deals!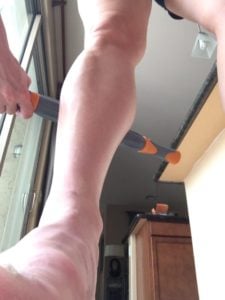 Despite the annoying cramps, I'm pushing through my workouts. I've slowed my pace to focus more on my form. I've also been doing more cross training – stairmaster, strength & balance training for my legs & core. I can feel my body getting stronger and recovering. Some of my triathlon friends have been mentoring me too. Having moral support of someone to talk to who knows what's it like recovering from an injury, is motivation in & of itself. I know it's just a matter of time before I feel 100%, but until then I will…just keep swimming…just keep swimming…
Breakfast. My Oatmeal with blueberries and raspberries. I love smashing raspberries and blueberries into the oatmeal instead of eating them whole.
Truth: I never ate oatmeal during my weight loss. For some reason, I thought it would make me not lose weight when in fact it is a skinny food and actually helps burn body fat. Biggest mistake EVER because oatmeal is my favorite food.
Snack. Orange Julius Smoothie. I am obsessed with these lately. This is like desert to me. I love that it takes me 30 minutes to drink this because it's like heaven.
Truth: Until a year ago, I never drank smoothies much less made one. I wasn't avoiding them. I just never thought about having one. When I was in Miami last year for Sweat USA (the time I met Jillian Michaels), the hotel I was staying at made me a green juice smoothie for breakfast and it was delicious. After that, I was hooked on smoothies.
Lunch. Mixed greens, tuna, steamed broccoli, my cilantro lime rice blend (barley, quinoa & brown rice) and Trader Joe's cilantro lime dressing. Yum! I love using leftover rice too on salads. It rounds out the meal.
Truth: Brown rice was the only grain you would find in my pantry up until 3 years ago. Some of that is because I was traveling every week and didn't have the ability to keep a variety to try. Over time I slowly began to try other grains and stash them in my pantry. Now I mix them all together when I can't decide which one I want.
Dinner. Chipotle knock-off bowl. I was craving Chipotle, but I wanted to stay home and avoid the calories and sodium so I made my own version at home and it was easy.
I tossed 2 chicken breasts in my slow cooker seasoned with paprika, cumin, oregano & chili powder. I covered it with a bit of chicken broth and let it simmer on low for 4 hours. With a little prompting, the chicken becomes tender and shreds apart. Then I added sodium-free black beans, lime juice and sriarcha hot sauce and let them cook together another 20 minutes. I assembled the bowl with lettuce, the chicken mixture, my cilantro lime rice blend and Homemade Salsa. Yum and easy peasy!
Truth: When I was traveling every week for my job, Chipotle was a regular on my dinner rotations. I always ordered the chicken burrito bowl. It's not only convenient, but also a healthy & quick dinner option while traveling. After traveling so many years, going out to a formal dinner every night gets old and you just want something quick you take back to the hotel where you can relax.
Desert. Banana blackberry vanilla froyo. I seriously cannot get enough banana froyo lately.
Truth: Most of my life I did not like bananas. Don't ask me why because I really have no idea. As my fitness trainings have become more intense these last few years, I've needed the extra potassium to help me recover faster. Bananas are now one of my favorite snacks especially the froyo knock-off.
What knock-off foods to you make? Tell me some of your truths.
Today I'm linking up with Peas & Crayons for What I Ate Wednesday.
Find me in these places!
E-mail — skinnyfitalicious@hotmail.com
Twitter — Skinny Fitalicious
Facebook — Skinny Fitalicious
Pinterest — Skinny Fitalicious
Instagram —Skinny Fitalicious
[Tweet "WIAW…Truths"]