This post contains affiliate links. As an Amazon associate I earn qualifying purchases. Click here for more about this policy.
Hi Guys! Happy Wednesday!
If there's anything I learned from my time in Munich, it's that sometimes you need to step away from your life. After last week's chaos, I jumped into the weekend feeling stressed, tired and out of sorts. I needed a break so I put my weekend to-do's on hold and headed to an outdoor mall to detox because retail therapy cures all, right? I probably should have channeled that energy into shopping for a new car. I'm hoping I won't regret that soon.
But I did find a lot of cute things like these Lulu crops that I didn't need, but couldn't resist they were just so darn cute! I may have gotten this tank too. Lulu why do you make me buy things? P.S. why do I look skinnier in dressing room mirrors than in real life?
After Lulu, I found 2 cute dresses at Macy's. They were having a ginormous sale. I picked up a French Connection dress for $30 and a Karen Kane striped tank dress for $35. I kinda felt like I stole them. Then I popped over to see the ladies at Lorna Jane. I brought home a pink mesh tank and sports bra. I desperately needed both and now I have to re-mortgage my home. Talk about a healthy habit!
It was a fun day, it may not have been the degaussing my life so desperately needs right now, but it was enough for the moment to put things back in order in my head. Funny how a little lot of shopping can do that! Now let's checkout what I ate.
Linking up with Jenn for What I Ate Wednesday
Breakfast. Truffled peppered egg whites with extra crispy plantains & 5 minute blender salsa. I was celebrating Cinco de Mayo early and for breakfast.
Snack. A Vega mocha protein shake. My friends at Vega sent me their new Sport Performance in Mocha last week. I'm obsessed with this! Not only is it great for a quick recovery between hard workouts, it's the best protein shake I've ever had. I mix mine simply with water and it tastes amazing. I can't imagine what I could with it in a recipe.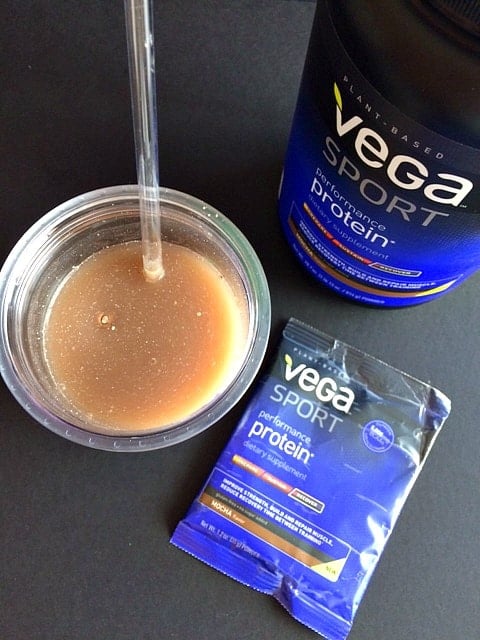 Snack. Apple in my dying car. I'll probably drive it until it does die.
Lunch/Dinner. I went to my 2nd favorite place in Phoenix True Food Kitchen. Everything is fresh, organic and sourced local. The food there is amazing!
It was a hot day. It hit 100, but not too hot for sitting outside yet. Perfect day for sitting on the patio. You have to do it while you can here.
I was there at the weird time between lunch and dinner so not many people were there which meant I had the whole place practically to myself. It was peaceful and glorious.
I ordered the "inside out" quinoa burger. It comes with a side of sweet potatoes and kale salad or you can choose one of them. I love them both so I get half of each. I need to recreate that kale salad one of these days.
Now this is how you do a quinoa burger, it's huge and crazy delicious. Just what the doctor ordered…soul food!
If you're in the Phoenix area, I definitely recommend you check out True Food Kitchen. By the way, I'm not affiliated with any of the stores mentioned. I just love them. I am affiliated with Vega and I love them too!
[Tweet "WIAW…Soul Food @lornajaneactive @lululemon @vegateam @macys #FuelYourBetter #wiaw #BiltmoreFP"]
How do you mentally detox?
Lots of Health, Food & Love,

Facebook | Twitter | Pinterest |Instagram
Linking up with Peas and Crayons