This post contains affiliate links. As an Amazon associate I earn qualifying purchases. Click here for more about this policy.
Happy Wednesday! I'm linking up with Peas & Crayons today for What I Ate Wednesday.
Before I talk food, I have a few things to share this morning.
Something amazing happened yesterday. I had a rest day! The first since my foot injury. My achillis was bothering me Monday night and I decided I needed a day off to rest things. I workout daily (disclaimer – this is not recommended for you) so this was a big thing for me. I love to workout and it's the only time I have for myself everyday. Working out relaxes me. I switch between light and intense workouts each day which is my justification to doing it. I'm not the type of person who can just do nothing and lounge around for a day. I will take a walk or swim on a lower intensity day to remain active. I'm hoping the day off will relax my achillis and promote my foot recovery.
I also have a new friend. Last week I came home from work one night to find a tiny dog lounging on my front doormat. He acted like he owned the place or something. When I approached him, he even had the audacity to bark at me. He took off after I got after him with a broom. I say he's a stray because he has no collar and I've seen him wandering the last couple weeks in a field not far from my house.
If you know me, you know I don't love dogs. My whole life I've been bitten or attacked by dogs. Last year while walking in my neighborhood, I turned a street corner and my neighbor's dog (who was 3x the size as her) jumped at me and shoved me to the ground. Instead of apologizing for her dog attacking me or asking me if I was ok she said "you need to share the road." Um…excuse me? So yeah, me and dogs…we don't get along. This stray dog, however, keeps coming back to my house. I'm not sure what to do about my new friend, but I'm not up for adopting a dog. Any takers?
Now for food. This is what I ate last weekend since it was much more exciting than anything I've been eating the last few days. This week has been crazy with meetings and deadlines. Thank goodness for leftovers and meal prepping.
Breakfast – Instant oatmeal with blueberries, strawberries and a healthy dollop of NuttZo crunchy 7 nut and seed butter. This is the best thing I've ever done EVER. Why have I never mixed nut butter in my oatmeal before? This was ridiculously good! There was a lot of coffee with breakfast too like 3 cups which for me, is a lot.
NuttZo is THE BEST nut butter I have ever had and I have tried them all. No joke. This one has cashews, almonds, brazilian nuts, flax seeds, chia seeds and pumpkin seeds. I love that it has no peanuts or added sugars or oils. It's all nuts and nothing more. Kind of like me! #gonuttzo



Detox Water for a pre-workout hydration.
Lunch – Asian chicken salad at Wildflower Bread Company. Salad was calling me after a sweaty workout. This had grilled chicken, jicama, cucumber, carrots, rice noodles, sesame seeds, sliced almonds, red and green cabbage served on a bed of mixed lettuce. I asked for the Thai peanut dressing on the side. It came with two heaping sides of their homemade sourdough bread, which was delicious dipped in the peanut sauce. The salad was a beast! I ate half and took the rest home. It was delicious and hit the spot!
Along with #mybeastofasalad, I had my usual green tea and this sparkling water flavored with lemon. Soda water is one of my favorite drinks. I'm convinced the bubbles helped me stop drinking diet soda a few years ago. I'm obsessed with eating lemons. This combo was meant for me.

I managed to breeze by this case of goodies without falling victim to its sweetness. Willpower at it's finest. 🙂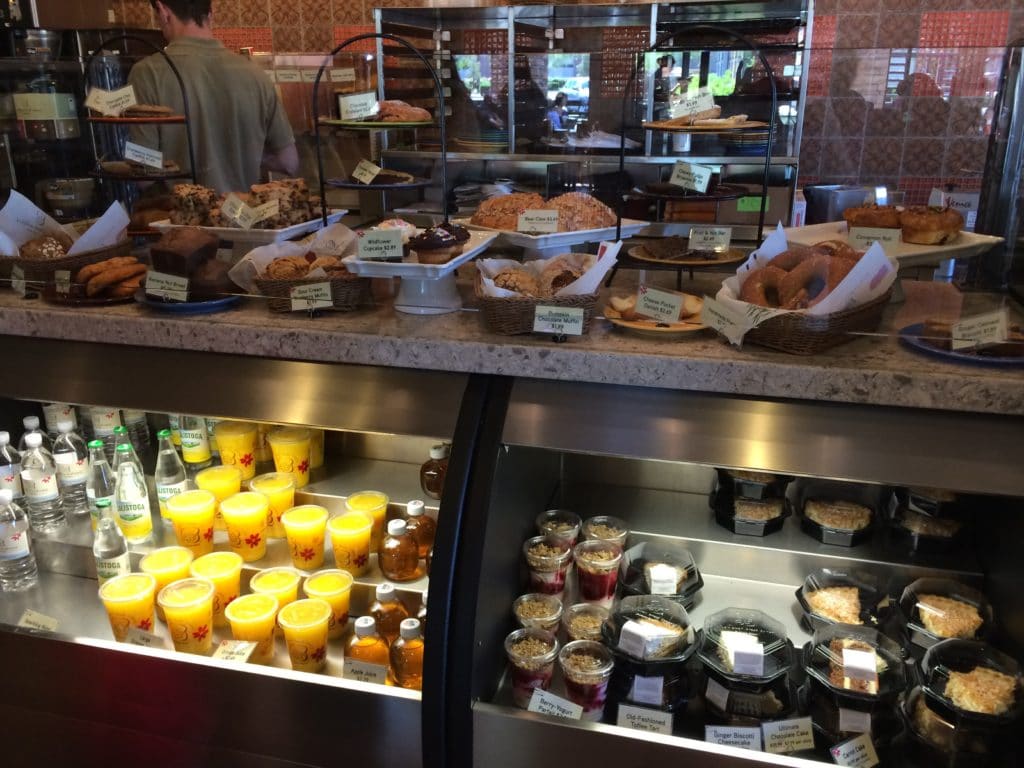 Snack – one of my homemade raspberry almond bars. Yum!
Dinner – Cauliflower Pizza Bowl. I know this sounds strange & weird. I'm loving cauliflower like crazy lately. It's so versatile. I've been testing it in several recipes like this pizza bowl and this one at Thanksgiving. I made pizza dough from cauliflower. It was ridiculously easy and delicious. I topped mine with garlic, fresh mushrooms, artichoke hearts and red peppers. Too bad my photography doesn't demonstrate how yum this was.
Desert – Healthy Choice Greek frozen yogurt sprinkled with granola. This is a good substitute for fro-yo.
What do you eat your nut butter with? What strange things have you made with cauliflower? Do you have a dog? What do you about a dog that thinks he lives at your house?
Find me in these places!
E-mail — skinnyfitalicious@hotmail.com
Twitter — Skinny Fitalicious
Facebook — Skinny Fitalicious
Pinterest — Skinny Fitalicious
Instagram —Skinny Fitalicious