This post contains affiliate links. As an Amazon associate I earn qualifying purchases. Click here for more about this policy.
Hi Friends! Happy Wednesday!
Hope you're having a great week! Before we talk food for What I Ate Wednesday, I wanted to give a little update on my recovery. I haven't talked about my ankle injury in a few weeks. I'm sure some of you who've been reading SF awhile may be wondering how things are going. I'm happy to report the ankle is doing excellent! No pain whatsoever. I did have swelling one day last week. I emailed my therapist a little freaked, but she assured me it was still normal to have swelling on and off. A few days later she checked in with me and by then it was gone.
Honestly I was never concerned about my ankle healing. I was worried though about my hip and femur from that old injury. Simple things were unbearable. Bending over to pick things up, walking, getting in/out of a car, sitting down, standing up. The pain was horrible. Everything was so weak. I thought I'd need a hip replacement or some type of surgery. When I traveled to Munich I was in so much pain from the flight, I thought I made a mistake going. After a few days, things calmed down.
The strange part though is when I got home, everything felt better back to my pre-injury "normal" pain. I don't know how it happened. I don't know why. I only know the pain disappeared. I still have glute and hip weakness, but now that I'm in less pain I can work on strengthening those areas more. I will probably forever need to work on them. A 15 year injury doesn't disappear overnight. Looking back on the last months of this year, I have no idea how I survived the pain or how I found the strength and determination to work through it. What I do know is Munich healed me. Whether it was Munich or a miracle, I'm grateful to have my body back. Now if I could just get those 10 pounds off.
And that's all I have so let's talk some food! If you're new to Skinny Fitalicious, What I Ate Wednesday is a post I do every week showcasing my meals from one day. It's fun to see what other people eat in a day. It's also great motivation for me to eat balanced and create more delicious recipes!
Today we're taking a peak at last Saturday. Last weekend I was off my routine. I was sick earlier in the week and having plantar fascitiis pain in my good foot. I decided not to do the trails and instead strength train at the gym since I missed a session earlier in the week then rest Sunday. I've learned that when my plantar fasciitis flares up it's time to back down. So my workouts were different which always leads to me eating a bit different than normal. Usually I don't eat before a workout, but this day I let myself sleep in to a whopping 6:30 (that's really late for me) then I was rushing out the door sans coffee to the gym. I never did get my coffee.
Breakfast. Greek yogurt. I'm obsessed with this TJ yogurt right now.
A freezer egg muffin in the car. Sometimes you gotta eat on the go.
Snack. Vega protein shake after the gym.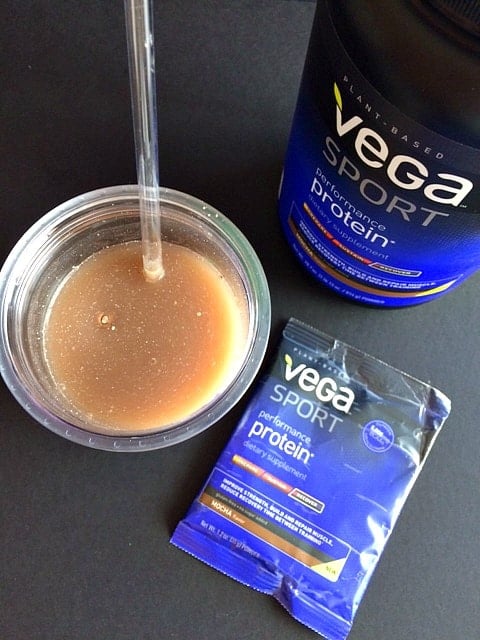 Lunch. Same as last week, only this time I added a Jennie-O 90 calorie sausage patty. Of course you can't forget the salsa! Random fact, I can't eat real sausage. The casing grosses me out.
Snack. Edamame. I always forget this is in my freezer. It's a great anytime snack!
Dinner. Leftover easy chicken stir-fry. This is one of the very first recipes I created when I was starting my weight loss journey. It's a favorite low-calorie meal of mine to this day.
Snack. Strawberries. Give me all the berries. They're so good right now!
Does your routine affect your eating? What's one food that grosses you out? What's a meal that you've been eating forever? Do you have plantar fasciitis?
Lots of Health, Food & Love,

Facebook | Twitter | Pinterest |Instagram
Linking up with Peas & Crayons for What I Ate Wednesday