This post contains affiliate links. As an Amazon associate I earn qualifying purchases. Click here for more about this policy.
Happy Wednesday Friends!
Get a bunch of fitness bloggers together and what do you get? A lot of food, a lot of blog talk and a lot of working out! Last weekend I was in Denver for Fit Bloggin' and it was quite the event. It was 2 fun filled days packed with fitness, good food, meeting new friends and seeing old friends. As you know, the last few weeks have been hard for me. I thought about cancelling my trip then decided at the last minute that going to the conference would be good for me and I couldn't have been more right about that. So here's a few highlights from the weekend!
Dance mob opening night. At Fit Bloggin', people really like to dance.
Early morning boot camp. We like to be punished.
Blogging conference gurus. These two really know blogging.
Because one fitness class wasn't enough, we did another.
I heart strength work. Photo credit Fit Approach. #Sweatpink
I still can't Zumba to save my life. So not my thing, but I tried. Again.
The Sweatpink ladies, Jamie & Alyse giving us advice on working with brands.
I ran into Gigi at the gym. I'm on the elliptical & get an Instagram asking if it's me on the one next to her. Love this girl!
Brooke & I on the roof before yoga. I'm still not a yogi, but Brooke sure is a great friend. 🙂
And there you have it, now let's see the food! I must admit the food wasn't all that exciting, but since it's Wednesday I'll let you see what I ate. 😉 If you're new to Skinny Fitalicious, What I Ate Wednesday is a post I do every week showcasing my meals from one day. It's fun to see what other people eat in a day. It's also great motivation for me to eat balanced and create more delicious recipes!
Breakfast. Eggs, Greek yogurt, melon and green tea. I sat down to eat with another blogger and didn't realize until much later in our conversation that I had been sitting next to Katy Widrick. Katy is a very successful and well known blogger. I've been a long time follower of her blog. I didn't recognize her because her hair color was very different from her blog. She's the sweetest lady. I'm thrilled I got some one on one time with her. You just never know who you might be sitting next to!
Lunch. Mixed greens, an open face turkey sandwich and a smile.
Dinner. Mixed plate filled with grilled zucchini (lot of zucchini), quinoa, baba ganoush, red pepper hummus with pita chips and a coconut chicken strip. That night several inspirational bloggers spoke about their personal journey with healthy and fitness. It was so moving to hear of their journey and how they became believers in themselves. I think believing in yourself is the hardest part of life. Believing that you are always worthy of everything and anything and even something bigger and better.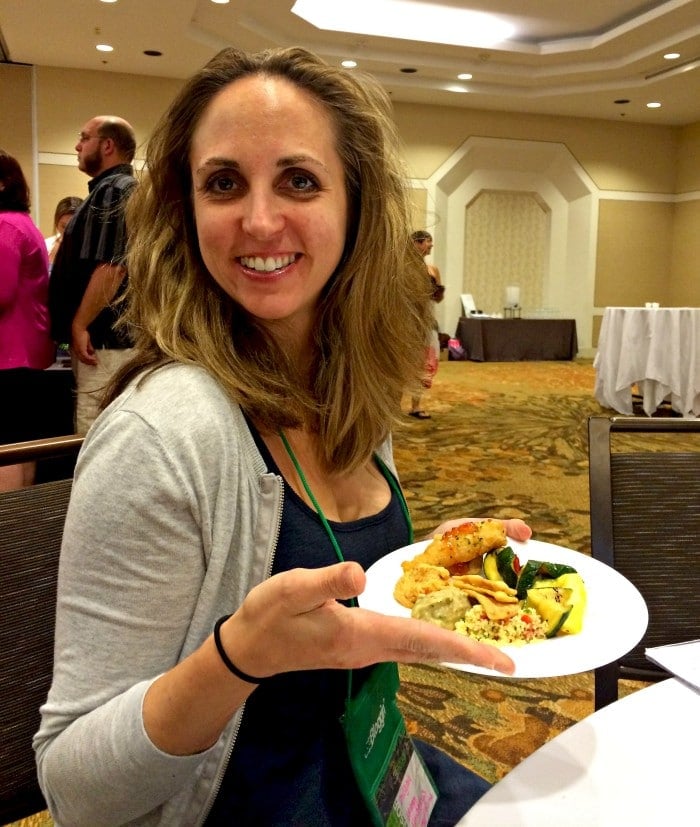 [Tweet "What I saw, what I ate @FitBloggin' #Fitbloggin15 #FitFluential"]
Have you been to Fit Bloggin'? Have you ever sat next to someone famous & not known it?
Lots of Health, Food & Love,

Facebook | Twitter | Pinterest |Instagram
Linking up with Peas & Crayons for What I Ate Wednesday