This post contains affiliate links. As an Amazon associate I earn qualifying purchases. Click here for more about this policy.
Happy Wednesday Friends!
I thought it would be fun to do a little sharing today in addition to the regular WIAW programming. You already know these things about me and since we're sharing food it only makes sense we get to know each other better, right? So I'm sprinkling a few random "did you know?" things about me in between my meals. Read on to hear about my quirks and what I've been eating!
If you're new to Skinny Fitalicious, What I Ate Wednesday is a post I do every week showcasing my meals from one day. It's fun to see what other people eat in a day. It's also great motivation for me to eat balanced and create more delicious recipes.
Breakfast. Scrambled egg whites with black truffle oil and 5 minute spicy & fresh blender salsa and a piece of turkey bacon.
Did you know I don't eat red meat? I haven't in over 15 years. The sight of steak or pork gives me the willies. I used to be vegetarian, but realized I love fish and chicken too much to give it up. Did you also know I like to sit on the kitchen counter when I'm eating breakfast at home alone? Growing up, I always sat on the kitchen counter when my Mom was cooking. Some habits never change.
Snack. Apple and strawberries.
Did you know I use a micro needle roller on my face? It's proven to stimulate collagen production, improve acne scars and reduce wrinkles. It's kind of scary to use at first, but it's really not bad. It feels similar to a facial scrub.
Snack. No bake chocolate almond chia hemp flax bar.
Did you know I don't like Quest bars? Honestly I don't get all the hype over them. They're meh and they hurt my stomach when I eat them. I'm pretty sure it's the whey protein isolate. When I eat protein supplements, I stick to plant based ones like Vega. You always have to go by how you feel. Everyone's different.
Did you know my ex boyfriend used to tell me how bad I was at taking pictures? When I look at the pictures I've been taking recently, I can't believe how much they've improved. Take that loser!
Lunch. Kale salad with tuna, leftover roasted veggies and ENLIGHTENED crisps. I finally threw out all my salad dressings because I only put mustard on my salads anyway.
Did you know I wear a lift in my right shoe? Since seeing the gait specialist, I now wear one due to my right femur being shorter than the left. I hate that I have to wear one and I have no idea what to do about flip flops, but it has made the world of difference in how my legs work together. Sometimes you have to swallow your pride for your health.
Did you know I still roll my feet constantly with a golf ball? Ever since my injuries last year, I've had to roll and I wonder if there will ever be a day when I won't need to anymore.
Dinner. Crockpot chickpea & veggies with greek yogurt. I haven't worked out a name for this dish yet, but it's ridiculous how good it is! I'll be making this all summer long. I was inspired to make this one from a meal I had in Munich.
Did you know I drink Metamucil every night after dinner? I started doing it after a GI specialist told me I needed more fiber in my colon. I had a colonoscopy done for my iron deficiency a few years ago. Is that TMI?
Desert. Mango strawberry sorbet. I know what I'll be eating all summer long! Come to momma!!!
Did you know my friend gave me her brand new never worn Hooka One One? She got them from another friend and they didn't fit either one of them. When I told her about my foot issue, she brought them to the gym and gave them to me. That's a good friend!
Did you know I own a lot of running shoes? I didn't realize how many until I got them all out and I'm pretty sure I'm missing 1 or 2 pairs from the Brady Bunch. I'll have you know I donated 3 pairs last week. I have a hard time letting go of them because I can always use them for cross training or I just need them to match my fitness fashion. #runnerproblems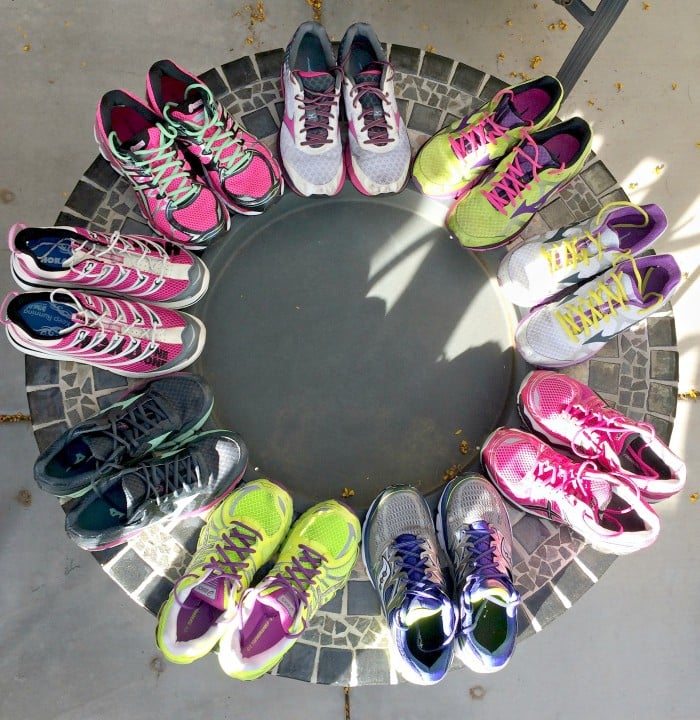 Did you know I like muffinlicious muffins?
How many running shoes do you have? Do you like Quest bars? Where do you eat your meals?
[Tweet "Did you know this about me? #fitfluential #wiaw"]
Lots of Health, Food & Love,

Facebook | Twitter | Pinterest |Instagram
Linking up with Peas & Crayons for What I Ate Wednesday