Hi Guys!
Hope Wednesday's going well for you! Last weekend was packing fiesta for my trip to Munich this Friday. Did I mention it's cold there? I hate packing for winter when it's summer where I live. I'm really particular about packing the right things. They have to be my favorite things and they have to fit me which is a problem with some of my clothes right now after being injured a year. I should be packing all my junk and leaving it there, but some things are still snug in the booty.
Before.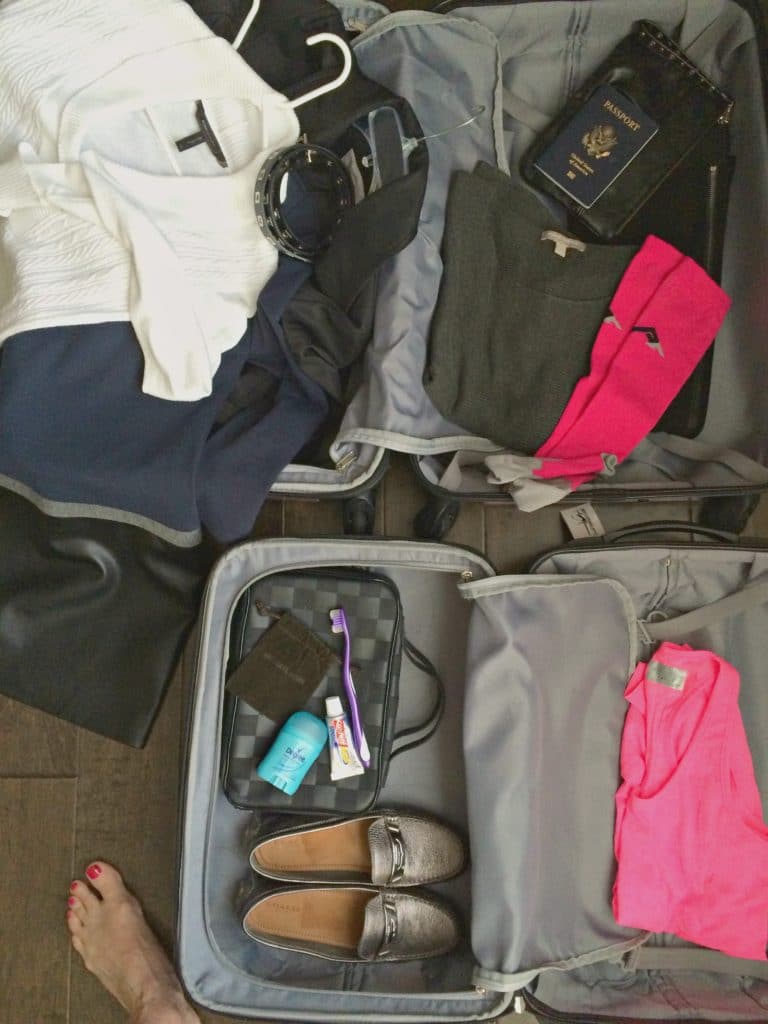 After.
Note -> The only two colors I wear are black and gray with sprinkles of pink.
For some reason when I go oversees, I feel the need to buy new stuff. I've traveled internationally a lot and this happens every single time. It's like someone hands me a license to shop. Like this Kate Spade laptop bag I splurged on. I justified to myself that I really needed it because I hate my old one. It's too heavy and awkward. I "needed" something lighter for everyday for work. It's really all about the cuteness.
Yesterday we received the agenda from our European team. They're taking us out our last night and on the agenda it states dress attire is "posh black." We were trying to figure out what that means. I told them my interpretation was preppy or S&M aka leather and lace. Based on their reaction, they obviously didn't know I about my "edgy" side. Guess they never noticed all the leather cuffs I wear.
I'm also very particular about leaving my house in order and clean. So in between packing and working on the blog, I've been cleaning my entire house from top to bottom and organizing dressers and drawers because that makes complete and logical sense. It's not like Bonny & Harry are comin' over to stay while I'm gone. I really don't get me sometimes.
My biggest packing dilemma right now are electronics. I'm sure I'll bring my DSLR, but trying to figure out what to do about my MAC. I have 18 hours to kill on the plane. I'd really like to get my pictures organized while I'm sitting there doing nothing. I'm not crazy about lugging two computers and a DSLR with me across the ocean. If I could, I'd probably pack my favorite kitchen gadgets and muffins tins too. I really don't know how I'm gonna survive an entire week without my kitchen. Ok. One computer it is. I'll put the pics on a thumb drive and organize them there.
Now for the food! These are from Easter, but don't get too excited nothing fancy. My family lives far far away in Wisconsin so I don't really celebrate it. No sense making a big thing about it for just me plus I was too busy being a travel packing-shopaholic. xoxo
[Tweet "WIAW…A Packing Fiesta #fitfluential #meals #health #foodie"]
Breakfast. I was planning to go out for breakfast after the trials, but traffic was backed up getting to my house for an hour for an event. Annoying on Easter Sunday. By the time I got home, I was famished so an Egg muffin and brussels sprouts it was. Fast and easy.
Snack. Ginger citrus carrot juice. I like having this anytime I'm sick or before a trip to build up immunity. It's packed with vitamin C.
Lunch. Leftover chicken wrap from Whole Foods. I picked this up at Whole Foods the day before when I was running errands.
I was hungry & knew if I didn't eat something I'd indulge in nuts or sugar. This was their sandwich of the month so I gave it whirl and it didn't disappoint! It had grilled chicken, hummus, roasted red pepper, cucumber and lettuce. I got mine on a whole wheat wrap. It was huge too! Big enough for two meals.
Snack. Avocado deviled egg.
Dinner. Applegate organic turkey burger on butter lettuce with roasted zucchini and sautéed bell peppers. This is one of my favorite lazy meal combos lately. I've been having these turkey burgers on replay for days. PS the butter lettuce growing in my fridge kinda freaks me out.
Snack. Greek yogurt trail mix bar. I'm loving these for a late night snack lately. They're no bake. Just mix and freeze. Perfect for hot weather, but I have to eat fast. They melt in minutes in Arizona!
How do you pack for trips? What do you think posh black means? Anyone see Real Housewives of NYC last night?
[Tweet "WIAW…A Shopping Fiesta #fitfluential #healthymeals #travel"]
Linking up with Peas & Crayons for What I Ate Wednesday
Lots of Health, Food & Love,

Facebook | Twitter | Pinterest |Instagram