PARTY PEOPLE! It's game week and today I'm teaching you one way to eat more veggies PLUS a few of my favorite dip recipes.
I think Super Bowl is more about THE FOOD than the game. Truthfully I'm a bit tried of seeing the same two or three teams playing the Super Bowl year after year. While I do watch it for the commercials and hype, I'm more obsessed with serving up a delicious menu! You see I'm a crowd pleaser. I like to have a little something for everyone. Oh yeah, and for me too! Because I just can never make up my mind.
I like making a few bitesized appetizers, but there's something so fun about dipping! It makes me feel like a kid again. Not to mention dips are simple. All you need is a blender (or two) and you've got a few healthy, crazy good dips ready to go in under 30 minutes. Layout your smorgasbord of dips with some veggies, crackers and tortilla chips and sit back, watch the game and eat up!
And if you're not a football lover, I highly encourage you to get dipping! Dips are one way to eat more veggies and veggies are important for their flavonoids and fiber which most Americans are seriously lacking in their diets. For that exact reason, I started a new habit two weeks ago of making a dip during my weekly meal prep. I seem to have no problem eating more veggies when it comes in dip form. Whatever works, right? And I'm happy to pass my tricks along to you! So without further ado, let's get dipping!
Related: My 10 Tricks for Eating More Veggies
A Low Fat Spicy Black Bean Hummus Without Tahini lightened up by omitting the traditional tahini ingredient without sacrificing taste. Pair this scrumptious dip with veggies or whole grain crackers for a healthy snack or spread on sandwich for extra protein & spice!
Made with zucchini, sun dried tomatoes, garlic and red peppers, this No Bean Sun Dried Tomato Red Pepper Hummus is thick, creamy and has a tang of spice. A delicious side to serve with raw veggies or spread on sandwiches. No one will ever miss the beans!
A spicy Cilantro Jalapeño Hummus that will brighten your plate, jazz up your veggies and make your taste buds sing. This dip is for those who like s-p-i-c-y food with flare. A healthy and delicious snack that may make you salsa dance!
A healthy appetizer to start your Super Bowl recipe feast, this dip is made with zucchini instead of chickpeas and is just as creamy & delicious as traditional hummus. Perfect with a side of raw veggies to munch on while the turkey is baking.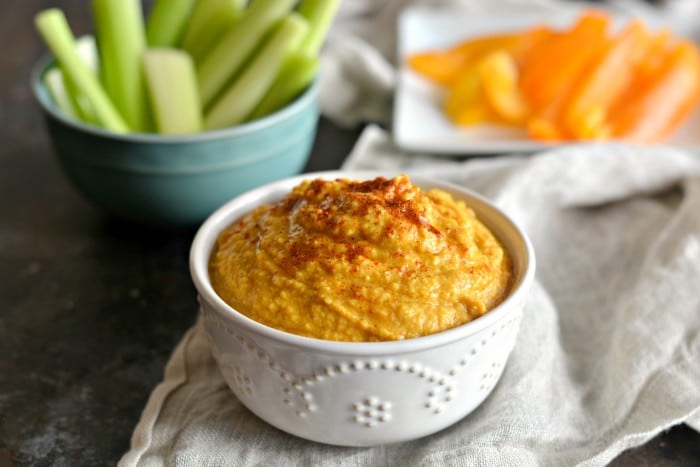 An easy homemade salsa made with fresh ingredients made in a blender in just 5 minutes. A delicious, low calorie side that pairs perfect with crackers, chips, vegetables and even to layer on salads, chicken or fish. This salsa's sure to delight anyone and give them nutrition too!
Sweet Potato Hummus made with peanut butter and chickpeas and sprinkled with paprika for a smoky flavor. This dip is great for spreading, dipping or to eat out of the jar. A delightful dip that makes health snacking easy!
Golden roasted Caramelized Cauliflower with Tahini & fried onions. A delicious appetizer paired with a side of tangy tahini that makes a tasty side dip for dipping cauliflower into!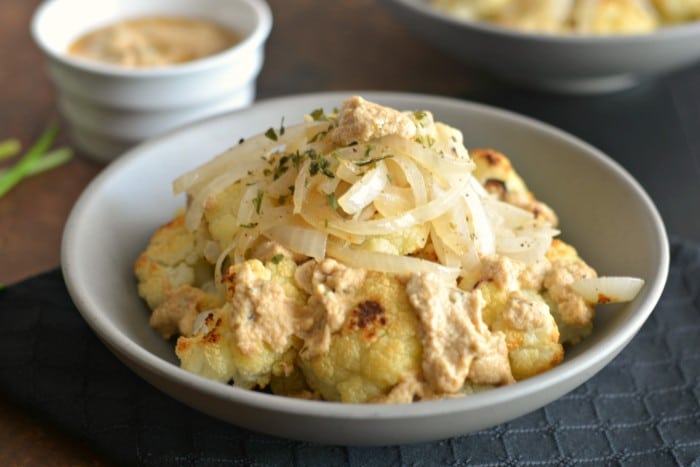 Are you a Super Bowl junkie? Do you look forward to the food more than the game?
[Tweet "7 #SuperBowl Recipes You Can Dip Into!"]

Facebook | Twitter | Pinterest |Instagram
Disclaimer – Affiliate links are included, which enable me to earn a small income and do not affect purchase price. Money earned goes back into my large grocery bill to bring you more delicious recipes!
[AdSense-A]