These delicious Vegan Almond Protein Bars are soft, chewy, filling and gluten free. A healthier protein bar everyone will love, even non-vegan eaters!
Hi Friends!
Welcome to Monday! After a few weeks of being off my normal schedule, I'm ready to get back on track with my food and nutrition. When I'm on vacation or not doing my usual day to day routine, I always seem to get off my schedule when it comes to food and sleep. When I'm at work, it's easy to know when I'm supposed to eat based on my daily schedule. But on the weekends, my schedule varies making it more challenging for me to remember when to eat. While it's nice to have those times when I can be flexible with my routine and enjoy life, it's also nice to get back to familiarity like my own bed and my own meals. When I'm on the go a lot like in the summer I'm never sure what I'll be eating which can make getting enough protein and fiber tricky. That's why I like making my own protein bars to bring with me to ensure I'm getting the right balance of things in my diet.
For years, I've been trying to perfect the perfect protein bar and it never came together just right. I'd make them and they'd either taste like cardboard or have too much fat and sugar. I'd even make other people's recipes and to my dismay, they'd fall apart. There's nothing more that annoys me than a bar that falls apart. BUT finally I've perfected the best protein bar and I can't stop making or eating them. What's different about these versus all the rest? For one, they don't fall apart. They have just the right amount of each ingredient to keep them together. I will caution you on the type of nut butter though. Be sure no to use a thicker almond butter to help them stick together. Any too oily, won't work. What else makes these bars so perfect? The protein powder. Enter Vega, my favorite protein provider!
[Tweet "Whip up a batch of Vegan Almond Protein Bars to get your greens @VegaTeam #FuelYourBetter"]
A few months ago, my friends at Vega sent me their All-in-One Nutritional French Vanilla Shake and asked I create a recipe. What I love most about Vega, besides the amazing flavor of course, is that Vega really puts the best in their products so you can get the best out of them. Here's a few facts about Vega One All-in One Nutritional Shake.
Made from whole food, non-GMO ingredients
1 scoop of Vega One All-in-One Nutritional Shake contains 20 grams of plant-based protein, 6 servings of greens & 50 percent of your daily value of food-based vitamins and minerals made from fruits and vegetable plus fiber, Omega-3s, antioxidants and probiotics
Vega is non-GMO project verified, vegan certified, low-glycemic, gluten-free and made without dairy or soy ingredients
Vega One also comes in chocolate, berry and vanilla chai flavors
I haven't tried the other flavors yet, but I have my eye on that berry one for a future recipe.
Today my friends at Vega are giving you a HUGE giveaway! To one lucky reader, they're giving away their Half Marathon Training Kit valued at $185. It contains these awesome products.
1 Vega Sport Pre-Workout Energizer Tub – Acai Berry
1 Vega Sport Electrolyte Hydrator – Berry Tub
1 Vega Sport Recovery Accelerator -Tropical Tub
1 Vega Sport Performance Protein- Vanilla Tub
Vega is also offering you free Running & Strength training plans that are emailed to you weekly. All you have to do is sign up here to download your 4-week plan (you get one for each). I know for me, my workouts are always so much better when I have a plan to follow. Whether you're looking to get ready for your next race or just trying to get yourself back on track with your fitness goals, these plans are for you. Each guide shows you how to perform the moves properly and also comes with nutrition tips, grocery shopping lists and plant-based recipes. You'll definitely want to check these out! Again you can sign up for all of it, FREE right here. 
[Tweet "Get 14 weeks of Free Strength & Running Training Guides from @vegateam here: http://bit.ly/FYB-TrainingPlans #FuelYourBetter @skinyfitlicious"]
Enter the giveaway below for a chance to win Vega's Half Marathon kit. Giveaway will be open to U.S. and Canada residents and will be open through this Saturday 6/25. Remember if you want to purchase Vega yourself, you can use my code SKINNYFIT to receive 20% off and FREE SHIPPING from now until JULY 31st at Vega's online store. You better believe I'll be stocking up on some Nutritional All-in-One and Sports Recovery for making more protein bars and chocolate mocha fudge protein smoothies! Better hurry, only a few days left until it's August!
Vegan Almond Protein Bars
These delicious Vegan Almond Protein Bars are soft, chewy and filling. They're a healthier protein bar everyone will love, even non-vegan eaters!
Author: Megan @ Skinny Fitalicious
Serves: 10
Ingredients
1 cup smooth almond butter
1 tsp cinnamon
dash of sea salt
1½ cup GF rolled oats
1 scoop Vega One All-in-One Nutritional Shake French Vanilla
⅓ cup sugar free maple syrup
1-2 tbsp dairy free mini chocolate chips for topping (optional)
Instructions
To a food processor or blender, add almond butter, oats, salt, protein powder & maple syrup
Blend until just combined do not over mix or the batter will become too tough
Prepare an 8x8 baking dish with parchment paper
To it, add the batter pressing it into the corners of the dish with the back of a wooden spoon
Once the batter's smooth and pressed into the pan evenly, add 1-2 tbsp chocolate chips to microwaveable dish
Microwave 30 second, remove & immediately stir
Drizzle chocolate across the batter randomly until all is used
Place backing dish in the refrigerator overnight
The next day cut into 10 bars to enjoy
Notes
Makes 10 bars, 246 calories each
Nutrition Information
Calories: 2230 Fat: 151g Saturated fat: 15g Unsaturated fat: 122g Carbohydrates: 177g Sugar: 47g Sodium: 335mg Fiber: 40g Protein: 70g Cholesterol: 4mg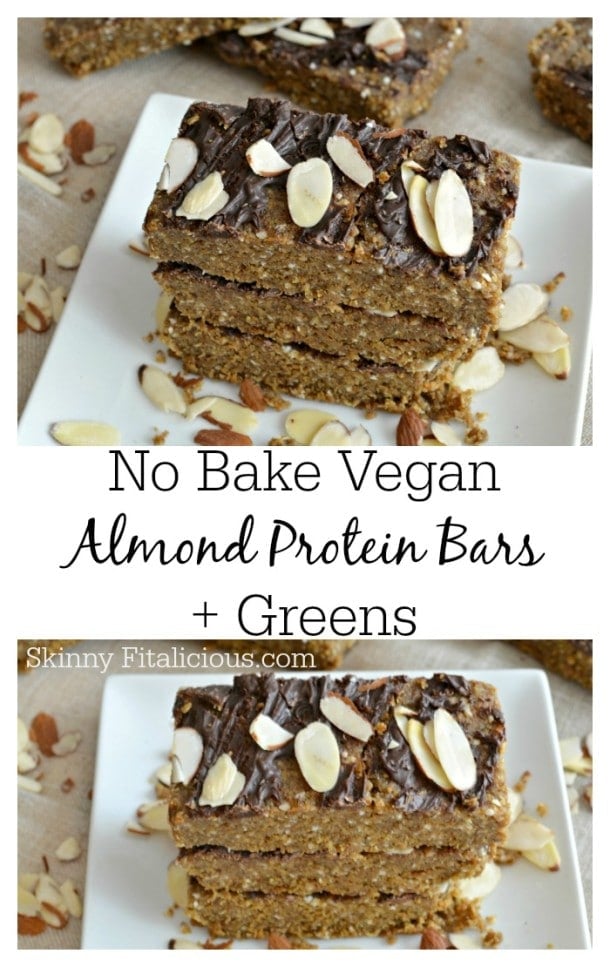 Vega Half Marathon Training Kit

[Tweet "Whip up a batch of Vegan Almond Protein Bars to get your greens @VegaTeam #FuelYourBetter"]
Do you get off schedule when you go on vacation? How do you stick to your healthy routine when you're on vacation?
Checkout my Food Shop for more of my favorite ingredients!

Facebook | Twitter | Pinterest |Instagram
Disclaimer – While Team Vega provided me with free product in exchange for this recipe, all opinions are my own. This post may also contain affiliate links. Thank you for supporting me!
[AdSense-A]