Taming the hunger monster isn't easy. Some days I just need more food. Sometimes I'm hungry because I'm tried or stressed. Other times I'm hungry because I worked out really hard. In this case, I worked out really hard. The strange thing about swimming is you never feel as if you've worked out until several hours, if not a day later. After swimming 6-7 hours on Saturday and not getting breaks to eat, I found myself famished from the moment I woke up Sunday. If you saw Monday's post, then you know why I was swimming that long. And if you didn't, you should read it because it would be a crime to miss out on these brownies.
With that, let's see my hunger monster food! If you're new to Skinny Fitalicious, What I Ate Wednesday is a post I do every week showcasing my meals from one day. It's motivational to see what other people eat in their day and also inspires me to eat balanced and to continue creating more delicious recipes for you!
Breakfast. Normally I don't eat before working out, but I was really hungry when I woke up and didn't eat dinner the night before so I warmed up leftover cauliflower kale frittata before the gym. Eggs are about the only thing I can eat before working out.
Lunch. After my workout, I was hun-GRY. Brussels sprouts with a fried egg and plantains. I may have to eat this everyday!
I snacked on a few brazil nuts from Trader Joe's while the eggs and plantains were cooking.
Then I sipped on a green juice while I worked and did some meal prep.
Snack. A few hours later I made a snack plate of edamame hummus, jicama and radishes.
Then a skinny strawberry frappuccino because why not.
Followed by a zucchini oat chocolate chip cookie. By this point, my hunger was becoming comical.
And multiple slices of raw carrot cake may have happened too. I am obsessed with this. Recipe will be up next week!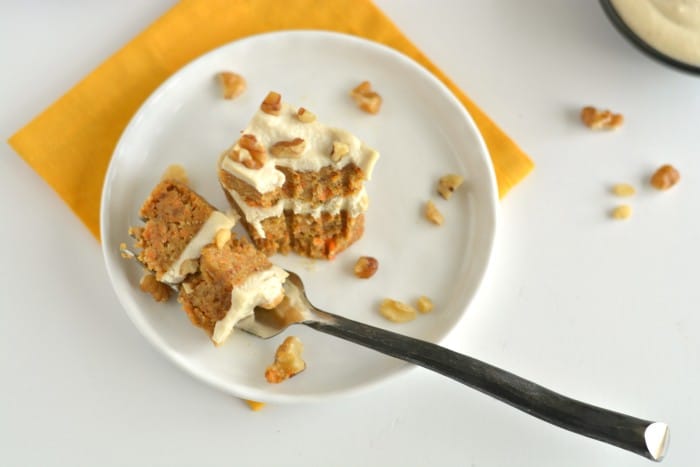 Dinner. By the time dinner rolled around, I wasn't very hungry so I made a Hilary's Eat Well adzuki burger on crispy kale with asparagus.
[Tweet "So much food, it's funny @skinyfitlicious is taming the hunger monster!"]
How do you tame your hunger? What's an activity that makes you hungry?

Facebook | Twitter | Pinterest |Instagram
Disclaimer – Affiliate links are included, which enable me to earn a small income and do not affect purchase price. Money earned goes back into my large grocery bill to bring you more delicious recipes!
[AdSense-A]