Creamy & rich No Bean Pumpkin Hummus made with zucchini & pumpkin instead of traditional chickpeas. This versatile and low calorie dish makes a delicious dip, dressing, sauce or marinade!
Hi Friends!
The surgery went well earlier this and I am recovering nicely. Yesterday was horrible. I thought I was gonna die. I was so congested and miserable. I was wondering why the heck did I do this. Thank goodness for pain meds! Today I have a post op checkup to get my nose packings removed. I'm really excited to see how much better I'll be able to breathe in the next few days now that my nose is fixed. I don't remember the last time I could breathe through my nose. 
The worst part about all this is not being able to workout. The doctor told me no high intensity workouts this week to allow the septum to heal. I told him, it's not like I can really workout anyway with my leg still recovering and all. In fact, I think this is a positive thing and will force me to be careful so I don't overdo it. My knee still swells on and off if I'm on my feet too long. It's a small price to pay for a lifetime of happy breathing!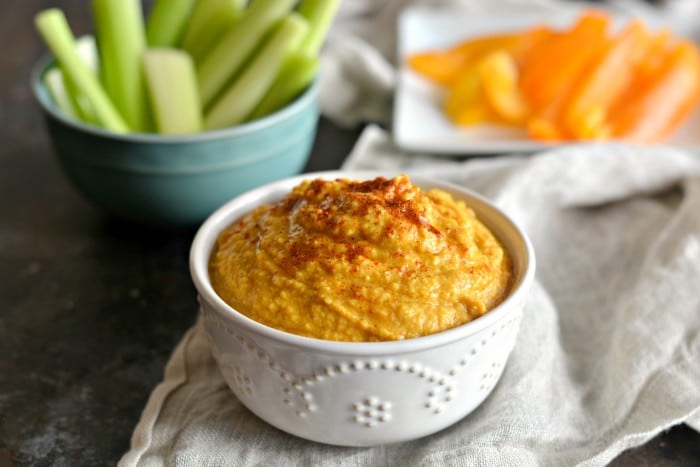 Tomorrow Mom's planned to return home. I say planned because she is notorious for switching her plans at the very last second. I doubt she will after living 3 months with cranky me. I sure don't mind her being here though. She's a big help and who could blame her? It's supposed to be 30 degrees in Wisconsin and it's 80 here. I would want to stay in Arizona if I were her too. But I told her she will be back for the holidays before I know it. I told her she should put up the Christmas tree before she leaves. Isn't it crazy that will be happening already in a few weeks? 
Now for the star of the show! I tell you guys. Pumpkin or any squash really is incredibly versatile to cook or bake with. I actually eat a lot of pumpkin recipes throughout the year because it's easy to get in a can (no mess, no fuss) and it's healthy. This pumpkin hummus has a double whammy of veggies too. I used zucchini as the base instead of chickpeas. Now I have nothing against chickpeas or any beans in general. In fact, these are the best chocolate chip bars you will have in your life made with chickpeas. But sometimes I like to lighten foods or give them an extra boost of vegetables for more nutrients which is what I did here. This No Bean Pumpkin Hummus make a delicious dip, sauce for pasta, dressing for a salad or my most recent favorite, using it as a marinade. Happy cooking!
[Tweet "This #Paleo #Pumpkin #Hummus Is Perfect For Dipping, Dressing Or Marinating!"]
No Bean Pumpkin Hummus
Author: Megan @ Skinny Fitalicious
Serves: 16
Ingredients
1 medium zucchini peeled & chopped into 1 inch pieces
¼ cup tahini
¾ cup pumpkin puree
2 tbsp extra virgin olive oil
juice of 1 lemon
1 tsp cumin
½ tsp paprika
½ tsp sea salt
1 tsp garlic powder
Instructions
Place all ingredients in a food processor
Mix until smooth & the mix has a thick texture
Notes
This makes a lot! 16 servings @ 2 tablespoons per serving
45 calories for 2 tablespoons
Nutrition Information
Serving size: 1 Calories: 730 Fat: 61g Saturated fat: 9g Unsaturated fat: 49g Carbohydrates: 44g Sugar: 14g Sodium: 1278mg Fiber: 16g Protein: 16g

Facebook | Twitter | Pinterest |Instagram
Disclaimer – this post may contain affiliate links. Read more about my policies here. Thank you for your support!
[AdSense-A]