In theory, starting a blog is easy. Buy a domain, select a host server, create a website, start writing and you are on your happy way. That's the theory anyway…
Did you know you could be at risk for losing your domain, your blog, your assets and the business you worked so hard to grow? If you're domain name is similar to another domain name offering similar products and services and that domain is trademarked, you may be at risk.
What is a Domain?
A unique name identifying the internet source of a website. A domain name, skinnyfitalicious.com, is a lot like a street address. It points to an IP address (internet protocol), i.e. 198.98.25.137. IP addresses are like license plates. They are given to every computer, server and network operating on the internet so that information can be located online. The domain name allows users to get to a website without having to memorize its IP address.
What is a Trademark?
A symbol, word or group of words legally registered which represents a company, product or service.
Most people assume 2 things when purchasing a blog. 1) It gives them the right to use that domain name in their published content – i.e. posts, pictures, recipes, tips, etc. 2) The server host i.e. Go Daddy, Blogger, etc. would not offer the said name domain if it were trademark or copyright protected. I would venture to guess that most bloggers do not check USPTO either to see if their domain name is trademarked prior to purchasing a domain.
The truth is if another company has trademarked your domain name and is using it to provide similar products and services as you are, then you are at risk for a trademark infringement. Your content, your business, your assets.
It is also important to note that anyone can trademark a name at any time. No precedents currently exist for deeming ownership. Let's say you have a blog a few years, someone applies for trademark of your blog name today and it's approved. The other party could file a dispute even though you had your domain prior to them obtaining the trademark. My assumption would be a court of law would judge this fairly; however, justice does not always prevail.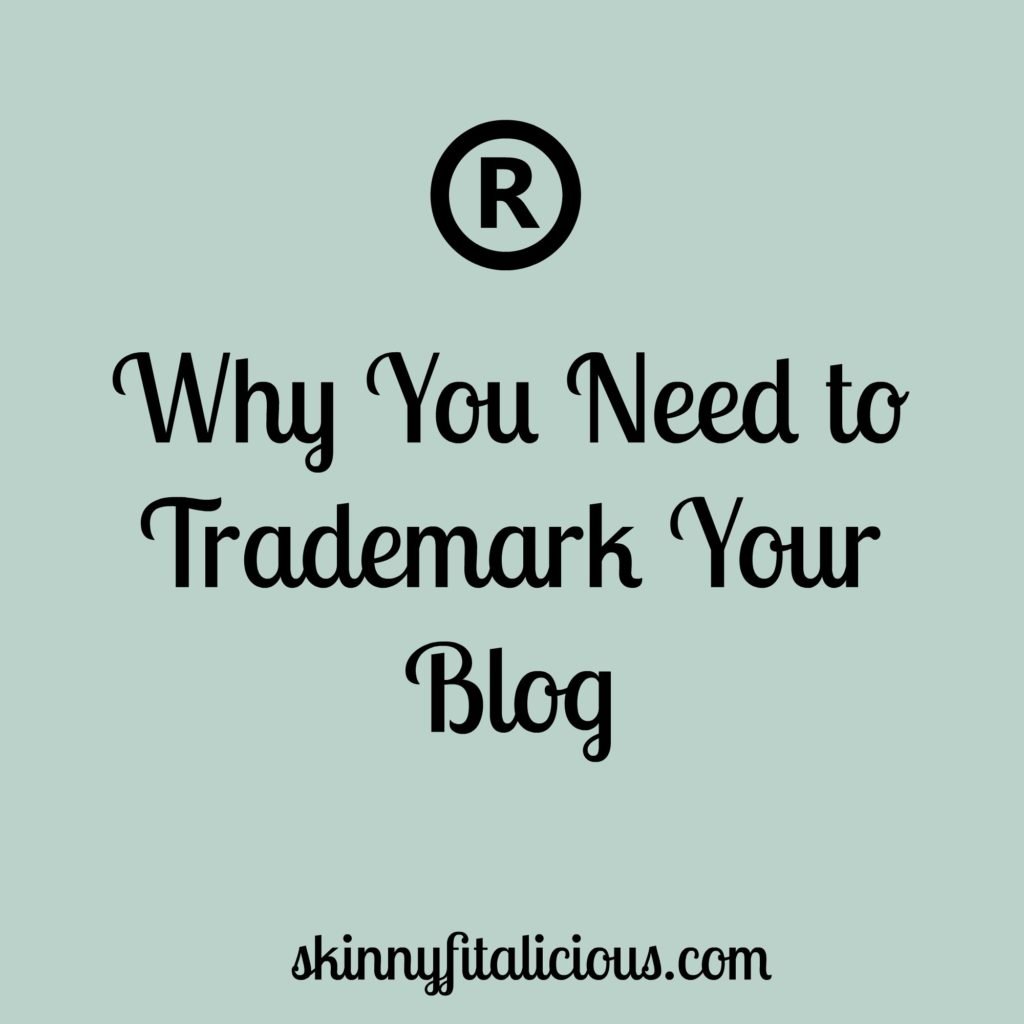 Protect Your Brand
Over time, readers will associate your blog name with you as a brand. If your blog name is similar to the name of other competing companies or bloggers in your industry, you may be at risk for them trying to take ownership of it or having anything similar. If someone also has a trademark of that name, they may accuse you of using their brand to obtain customers quickly and gain from them monetarily.
Prevent Customer Confusion
If multiple companies or bloggers have similar names or logos, it can result in customers unable to find you, visiting the wrong website, becoming frustrated because there are too many similar websites or not visiting your site at all. Similar domains can cause customers to potentially buy different goods or services than what they intended to buy. This could mean less revenue for you.
Alternatively you do not want to end up with a blog name that does not match your domain. That would be like typing Target in a Google toolbar and ending up at Macy's. Customer's identify your blog name with your domain address.
Gain Exclusivity
Declaring exclusive rights to your name allows you to use that name without the possibility of being accused of leveraging another person's intellectual property or the possibility of having your site shut down.
Avoid Defamation
As your readership grows and you gain notoriety, some may attempt to damage your brand. This can take existing customers away from you and prevent you from gaining new ones too.
Protect Your Assets
The possibility of suing another person for loss of business, leveraging their intellectual property or defamation of brand always exists. Trademarking your blog can effectively give you ownership of the name thereby reducing that risk.
If you do decide to trademark, you should first consider setting up an LLC for your business. An LLC separates your business assets from your personal assets. In the event of a dispute, your personal assets are protected from being considered in the matter.
On a final note, filing for a trademark is expensive and not everyone has the means to do it. If you cannot trademark, then exercise caution with your published content to avoid the possibility of an infringement. I also recommend for everyone checking USPTO to determine your risk. Knowledge is power.
Disclaimer – I am not a lawyer. Check with a licensed lawyer for specific legal advice. The statements here are reflective of my opinions.
Is your website trademarked? Have you checked USPTO to see if your domain name is trademarked by someone else?
Linking up with Amanada @ Running with Spoons
Find me in these places!
E-mail — skinnyfitalicious@hotmail.com
Twitter — Skinny Fitalicious
Facebook — Skinny Fitalicious
Pinterest — Skinny Fitalicious
Instagram —Skinny Fitalicious
[Tweet "Why You May Need to Trademark Your Blog "]