Crunchy and nutty skillet popped lentils in a bowl topped with an egg baked in bell pepper come together this decadent, gluten free and low calorie Egg Cup Lentil Bowl dish. 
I have a lot of friends who don't like eggs and refuse to eat them. I have to admit I understand this is because I don't like red meat and the sight of it makes my stomach rumble. I used to work with a consultant that would order his dinner rare just to see me cringe so believe me, I get it when you say you can't stomach something. I also remember, as a kid, my Mom making tuna salad. The smell was so horrible I could never get myself to eat tuna until a few years ago when I finally tried canned tuna for the first time and you know what? I loved it! I realized it was the mayo that actually turned me off to tuna not the tuna itself. Go figure.
I'm telling you this because awhile back one of my college friends asked me for suggestions on how to change her meals to help her lose weight. Because I'm a believer in eating quality protein for breakfast to aid in weight loss, I asked her why she wasn't eating eggs for breakfast to which she responded "ugh, I can't stand eggs!" After a lot of whining and complaining, I finally got her to try egg whites mixed in with her oatmeal. As it turned out, it was the yolk she was adverse to. Once she figured this out she was all about the egg whites and started adding them in. The moral of the story is making something you don't like in a different way or combining it with something you do like may actually be the trick to liking it!
Another thing I discussed with her was the quality of eggs she was buying. In my opinion, not all eggs are created equal. When it comes to nutrition, Eggland's Best is my choice for its superior nutrition over ordinary eggs. Due to their all-vegetarian hen, which contains no hormones, steroids, or antibiotics, EB has 3x more vitamin B12, 4x more vitamin D and more than double the omega-3's than ordinary eggs. Not to mention they're lower in saturated fat and calories too. EB eggs have 10 calories less than ordinary eggs and that's important to someone like my friend who's trying to drop a few pounds!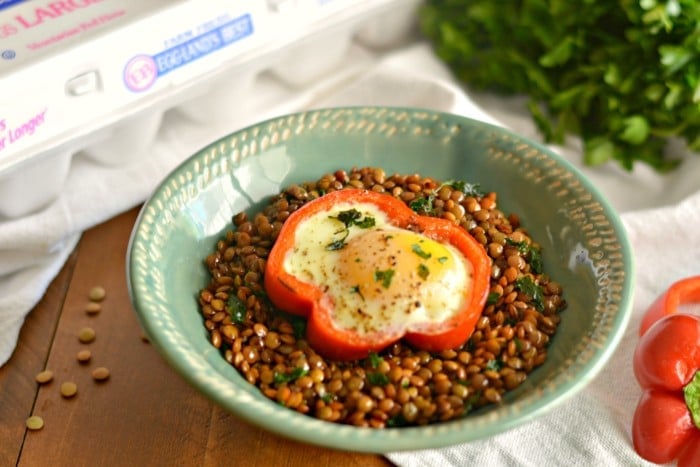 After getting my friend on the Eggland's Best egg train, she asked for help finding other ways she could eat eggs. Since then, I've been on a mission to find other ways to eat eggs. You may remember those skillet popped lentils with parsley and harvest skillet lentils recipes I shared. Well, I topped those popcorn-like lentils with an egg cup because putting eggs with those lentils was obviously the next thing to do. Do you want to know the best part? They're not only made with quality Eggland's Best eggs, but they're also super easy to make. Slice a bell pepper, crack an egg in the center, bake in the oven 5-8 minutes and voila you have an EB egg cup! Simple, easy, delicious! There's nothing like a warm bowl of crunchy, nutty lentils with Eggland's Best eggs for breakfast, lunch or dinner!
[Tweet "Crack An .@EgglandsBest Egg Over This #Egg Cup Lentil Bowl #ad"]
[yumprint-recipe id='247′]
Have you ever found you liked something after trying it another way? What's one food you can always tell the difference in how it tastes?

Facebook | Twitter | Pinterest |Instagram
Disclaimer – This post is sponsored by Eggland's Best. All opinions stated in this post are my own. Thank you for supporting me!
[AdSense-A]