This post contains affiliate links. As an Amazon associate I earn qualifying purchases. Click here for more about this policy.
Last year I published the Why Drinking Apple Cider Vinegar Is A Healthy Habit. This has been my most viewed health post and the one I get most questions on from readers. Based on the frequency and type of questions, I'm sharing with you How To Drink Apple Cider Vinegar. But before we get to drinking, here's a reminder on why drinking apple cider vinegar is a healthy habit.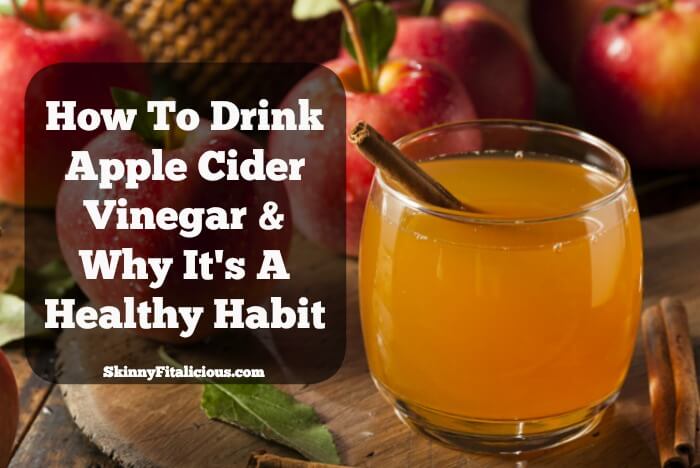 Apple Cider Vinegar Health Benefits
Increases Immunity
Apple cider vinegar made from whole apples that are not pasteurized or filtered is a nutritional powerhouse. I recommend using this one. It contains an array of enzymes, antioxidants and micronutrients including Vitamins A, B, C, E, calcium, magnesium, potassium and iron. The antioxidants in particular help keep the immune system strong. If you're sick, apple cider vinegar can give your body the boost of micronutrients it needs to get well.

Supports Weight Loss
Vinegar slows stomach emptying which can help keep you from feeling hungry. It's also been shown to lower the glycemic index (the measure of how quickly a food spikes blood sugar) of foods which means it will slow the release of glucose in your body keeping your blood sugar more stable.
Improves Digestion
ACV has been shown to improve bloating and constipation. It contains pectin which is a naturally occurring soluble fiber. Most people are lacking fiber in their diet and a little apple cider vinegar can go a long with for keeping things moving along.
Apple cider vinegar also increase stomach acidity. Low stomach acid makes it more difficult to break down and digest foods. Many people who have been eating the standard American diet of processed foods and sugars have low stomach acidity. A small amount of apple cider vinegar can greatly improve this.
What Kind of Apple Cider Vinegar to Buy
Raw, organic unfiltered apple cider vinegar is what you should buy.
Adjusting to the Flavor of Apple Cider Vinegar
Apple cider vinegar is very sour and your taste buds will need time to adjust to it. Generally, the harder it is for you to swallow the more you need it in terms of balancing your body's pH levels and stomach acid. If this is the case for you, start with a small amount like 1-4 or 1/2 teaspoon and gradually work your way up to adding up to 1 teaspoon per serving in your diet.
How to Drink Apple Cider Vinegar
Apple cider vinegar should be consumed diluted in water or another liquid. Do not drink it on its own as the acid can ruin the enamel on your teeth.
Drink apple cider vinegar before each meal by diluting 1/2-1 teaspoon in a 8 ounces of water. You can also make an apple cider vinegar morning cocktail by adding 1/2 teaspoon in 4 ounces of lukewarm water in the morning when you get up. This is what I do and it really energizes me!
Apple cider vinegar can be used as a salad dressing by mixing 1/2-1 teaspoon of apple cider vinegar with 1 tablespoon of extra virgin olive oil and 1-2 tablespoons lemon juice. This is the salad dressing I make most frequently and love it.
Drinking Apple Cider Vinegar & Working Out
This is the question I get most frequently from readers. Apple cider vinegar can be consumed before or after a workout. It's really a question of how your stomach handles the acidity. I drink mine before my workouts in the morning and have no issues. If you're stomach is more sensitive, you may want to drink it after you workout to avoid GI distress.
Is Apple Cider Vinegar for You?
Unless you have too much stomach acid or a unique GI problem, apple cider vinegar cannot do you harm. As you can see, it offers many natural health benefits and it's such a simple thing to add to your daily routine. Whether you want to lose weight, maintain weight or train for an event, apple cider vinegar can only improve the status of your health.
Want more health supplements I recommend? Read this post!