Good Morning!  TGIF Friends!
In case you hadn't already figured it out, I'm particular about the foods I buy and ingredients contained in them.  I try to buy as many organic foods possible and things with recognizable ingredients.  Last year I read a book about all the gunk put in food to preserve them and it made me shutter.  Sometime I will tell you more about the book.
Eating well has always been a important to me, but even more of a focus as I recover from my foot injury and increasing my fitness intensity.  My body needs solid fuel to perform and re-train. 
With that, how about some homemade salsa to kickoff this Cinco de Mayo weekend!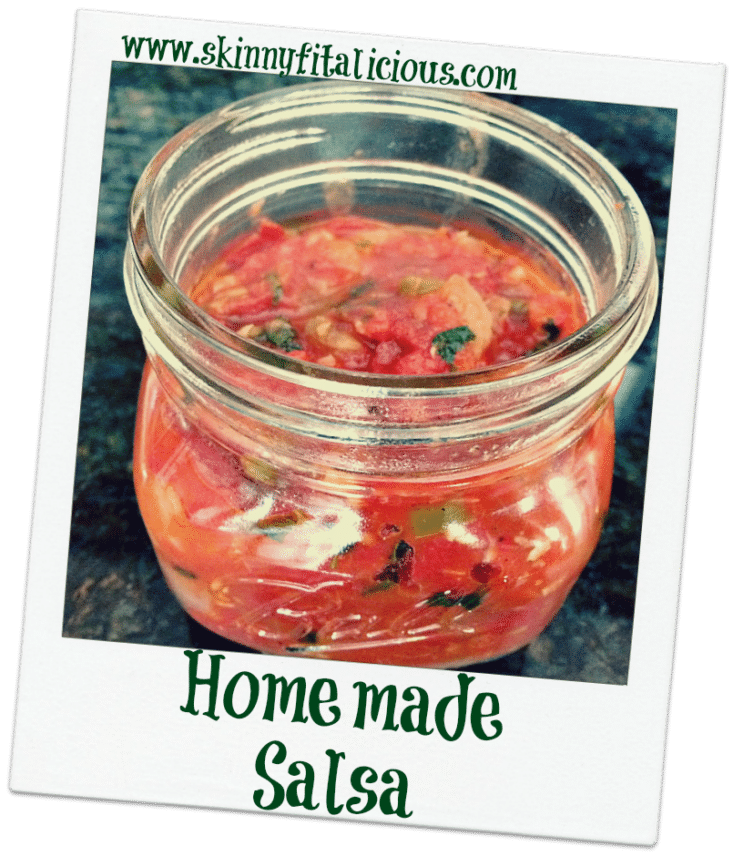 Over the years I've made pico de galo, but never canned my own salsa.  A few weeks ago, I bought mason jars at Target so when I saw these lovely jalapenos at the market I knew I had a new mission.   
Homemade salsa is ridiculously easy to make.  I will be making my own salsa from now on and I'm going to have so much fun playing with the ingredients.
 So I got a pot and added a little bit of this…. 
 A little bit of that….
And a whole that…
And voila….homemade salsa!  
Salsa makes a great addition to many foods.  When I was losing weight, I was always looking for ways to add flavor to my foods so I didn't feel like I was on a diet.  Salsa was a good option because of it's vegetable based ingredients and low-calories.  
I like to eat salsa as a snack with pita, plantain or tortilla chips.  I also add salsa to my eggs, salads, black beans, lentils, fish, chicken and rice.  It's so versatile. Also, a great way to add flavor and spice to your favorite foods.  Enjoy!
Homemade Salsa
Homemade Salsa
Author: Skinny Fitalicious
Ingredients
1 28 oz can organic diced tomatoes
2 jalapeno peppers, chopped
4 garlic cloves, minced
1 medium onion, chopped
1 bunch of cilantro leaves, chopped roughly
Juice of 1 lime
Salt to taste
Instructions
Wash, prep and chop vegetables
Heat a large pot on stove top to medium-low heat
Add 1 tbsp extra virgin olive oil and add onion, jalapeno & garlic
Cook until vegetables are tender
Add tomatoes and bring to a boil
Simmer on low for 15 minutes
Add lime, salt & cilantro
Refrigerate in a container 4-5 hours prior to serving
Notes
10 calories per tablespoon
Nutrition Information
Serving size: 15 Calories: 12 Carbohydrates: 3g Sugar: 1g Sodium: 58mg Fiber: 1g
 Do you like salsa medium, mild, spicy or hot?   What do you eat salsa with?  Are you celebrating Cinco de Mayo?
[Tweet "Homemade Salsa"]
Linking up with Jill at Fitness,Health and Happiness, Katie at Running 4 Cupcakes, Strange But Good with Laura
Find me in these places!
E-mail — skinnyfitalicious@hotmail.com
Twitter — Skinny Fitalicious
Facebook — Skinny Fitalicious
Pinterest — Skinny Fitalicious
Instagram —Skinny Fitalicious