This post contains affiliate links. As an Amazon associate I earn qualifying purchases. Click here for more about this policy.
Healthy high sugar foods are everywhere. Products marketed healthy can be deceiving as many are very high in sugar. Too much dietary sugar (fructose specifically) is now being linked to obesity, diabetes, heart disease, cancer and auto-immune diseases due to causing oxidation and inflammation in the body.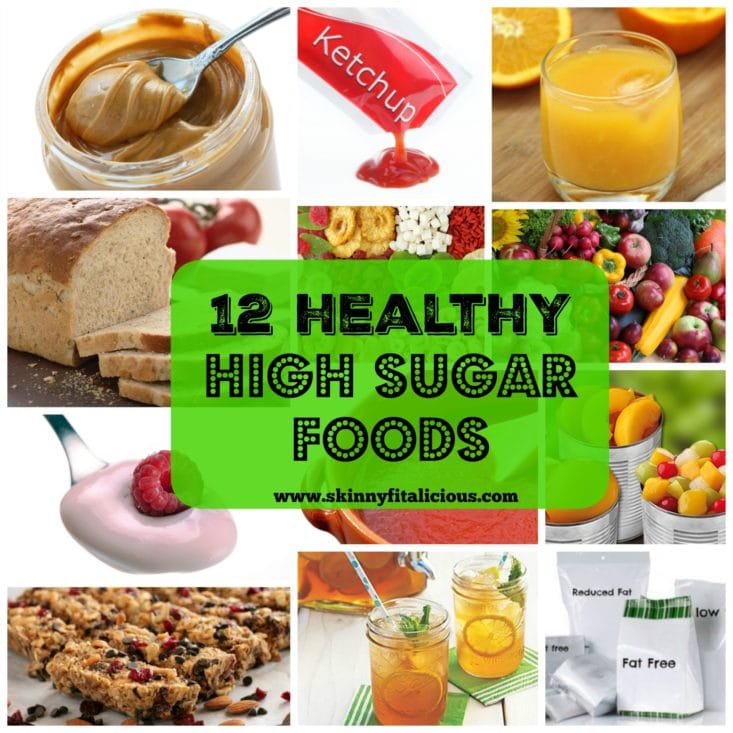 In my sugar experiment, I cut sugar from my diet and lost weight (one pant size to be exact). Since then, I've received questions about what sugary foods are good. This is somewhat difficult question to answer because it depends on an individual's eating habits, weight, age, activity level and health.
Here I'm educating you on healthy high sugar foods and alternative selections. I'm not here to tell you what's good or bad because ultimately, that's for you to decide. Remember the key with eating is moderation and variation.
Granola, Granola Bars, Cereal & Packaged Oatmeal
Despite a healthy-profile of whole grains, packaged granola, granola bars, cereal and packaged oatmeals have a lot of added sugar. I've seen some that have the same amount as a candy bar.
Instead of a buying pre-packed granola or granola bars, make your own. Some of my favs are Paleo granola, gingerbread granola, almond chia hemp flax bars and chocolate oatmeal bites. These are a breeze to make. Some are even no bake and you get to control the amount of sugar you put in them.
Instead of buying packaged oatmeal, buy regular old-fashioned oats and make oatmeal from scratch. All you need is milk and you can use fruit as a natural sweetener instead of sugar. Zucchini oatmeal and cranberry apple oatmeal are delicious too!
For cereal, look for ones with the lowest amounts of sugar and fewest ingredients. There are a handful of vegan and gluten free brands that are very good.
Bread
Bread contains folate which everyone needs but unfortunately, many breads are loaded with added sugar. Read the ingredients and choose ones with whole grains as the first ingredient, with no high fructose corn syrup and the fewest additives.
Low Fat Foods
Any low fat dairy and packaged foods are very likely to have the fat replaced with sugar and to be higher in sodium than the full-fat version. The best option is to buy the original version.
[AdSense-A]
Nut Butter
Nut butters are great with their omega-3 heart healthy fats except when they have sugar and other things added to them. Look for raw, unsalted nut butters. The ingredient list should only contain nuts. Anything added is suspicious. You will be surprised how many "healthy" nut butter brands are really not healthy at all.
Yogurt
Yogurt is a healthy choice offering calcium and gut friendly probiotics. However, yogurt is a misleading sneaky source of sugar especially flavored yogurts. The best option is unflavored yogurts or plain Greek yogurt as they only contain natural sugar. You can easily sweeten yogurt with fresh, frozen or dried fruit.
Condiments
Think ketchup, BBQ sauce and salad dressings. Each one of them has added sugar with ketchup being the biggest offender having one teaspoon of sugar per tablespoon. You really have to be a label detective to ensure no high fructose sugar has been added to condiments. Look for other sugar names like corn syrup, fructose, lactose, sucrose, galactose, maltose or concentrated juice. An alternative to condiments is making homemade salad dressings and Paleo versions of mayo, ketchup and BBQ sauce which usually do not have sugar.
Fruit Juices
Although a juice may say its all natural or organic, fruit juices are loaded with sugar. Even the low sugar ones still have a lot of sugar. Fruit juices are stripped of their fiber and original nutrients making them prone to spike sugar levels. An 8-ounce glass of orange juice can have as many as 30 grams of sugar. Same for sports drinks. They're not better for you than drinking a can of soda. Replace these by adding fruit and citrus to water to naturally sweeten them.
[AdSense-A]
Sweet Tea
Most people overlook the word "sweet" in sweet tea not realizing that it contains just as much sugar as one can of soda. Tea is a good choice as long as it is unsweetened especially green and black teas that provide antioxidants.
Sauces & Soups & Salsas
Tomato sauces, canned soups and salsas can have a lot of sugar snuck into them. Again, read the ingredients to be sure no sugar has been added. You can always sweeten something, but you can't remove the sugar once it's there. Adding roasted vegetables or caramelized onions are great for naturally sweetening these things.
Canned Fruits & Vegetables
While they appear to be a healthy choice, they're just as susceptible to having sugar added to them as soups and sauces to preserve them. Check the label and when in doubt, buy fresh, whole fruits and vegetables. Those are nature's real source of sugar.
Whole Fruits & Vegetables
Although fruit and vegetables contain sugar, they contain natural sugar and should not be avoided unless recommended by a doctor. They provide vitamins and minerals that protect the body and keep it functioning optimally. They also contain fiber which slows the release of sugar in the bloodstream. Eating whole fruits and vegetables are never a bad choice.
[AdSense-A]
Dried Fruit
Dried fruit is extremely high in sugar i.e. 4-5 dates has 32 grams of sugar, but like fruits and vegetables, dried fruit contains vitamins, minerals and fiber. These are best consumed in small amounts.
[Tweet "Know what you eat! 12 Healthy High Sugar Foods to be mindful of!"]
How are you mindful of your sugar choices? Do you feel like you know what to watch out for?