Healthy gluten free zucchini recipes coming at you just in time for zucchini season! Before my 80 pound weight loss, I wouldn't be caught dead with a zucchini in my house (or any vegetable for that matter). Now zucchini, like so many other vegetables, have taken over my cooking.
Zucchini, in particular, has a mild flavor almost undetectable flavor but adds moisture and texture to recipes. I love sneaking it into eggs, proteins, baked goods and spiralizing it for a lower carb alternative to pasta. The options with zucchini are truly endless!
Healthy Gluten Free Zucchini Recipes
Today I've rounded up healthier recipes (and creative ways) for you to enjoy zucchini. These healthy, gluten free zucchini recipes are not only lower in calories but BIG in flavor!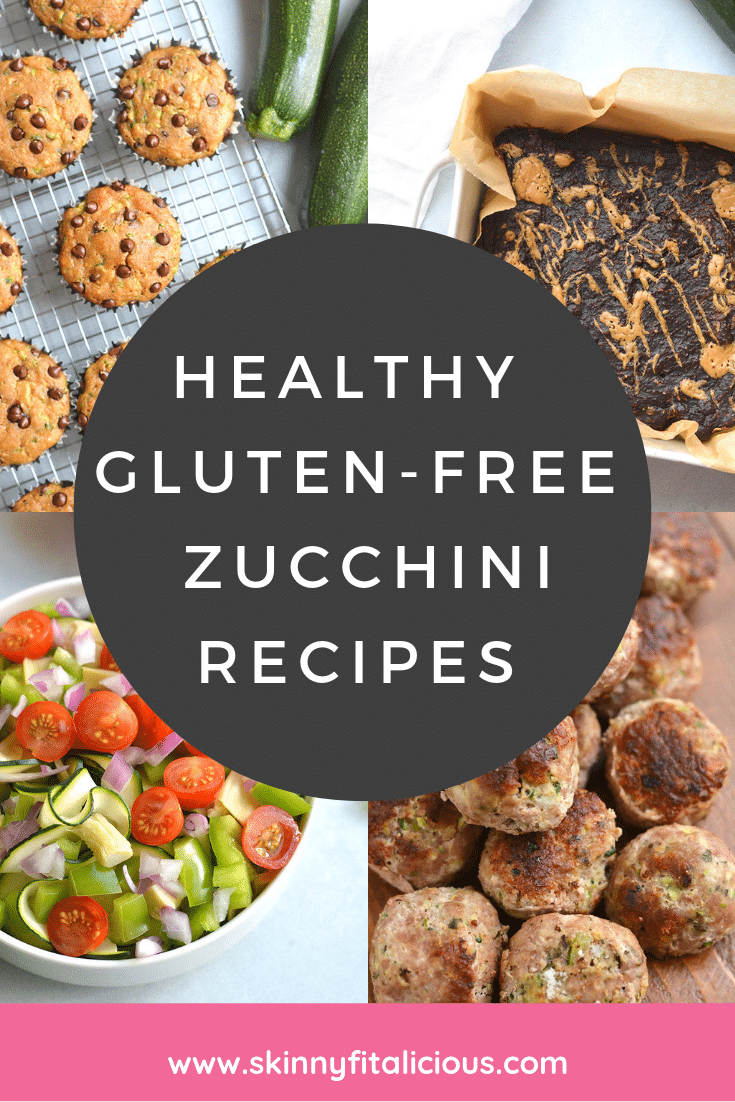 Healthy Zucchini Breakfast Recipes
Low Carb Red Pepper Zucchini Frittata! A high protein, veggie packed Paleo breakfast. No crust, easy to make, filling with delicious flavors! Low Carb + Gluten Free + Low Calorie + Paleo
Zucchini Cocoa Pancakes are vegan, gluten free friendly and low in calories! Made with simple wholesome, real food ingredients and oh so tasty! These pancakes are a sneaky way to add more healthy foods to your diet in a chocolaty way. Vegan + Gluten Free + Low Calorie
Zucchini Oatless Oatmeal is a Paleo twist on a classic bowl of morning oatmeal. Made with eggs, almond milk, zucchini, applesauce, flaxseed and cinnamon, this simple bowl of goodness is packed with protein and fiber. A nutritious way to stay full all morning! Paleo + Gluten Free + Low Calorie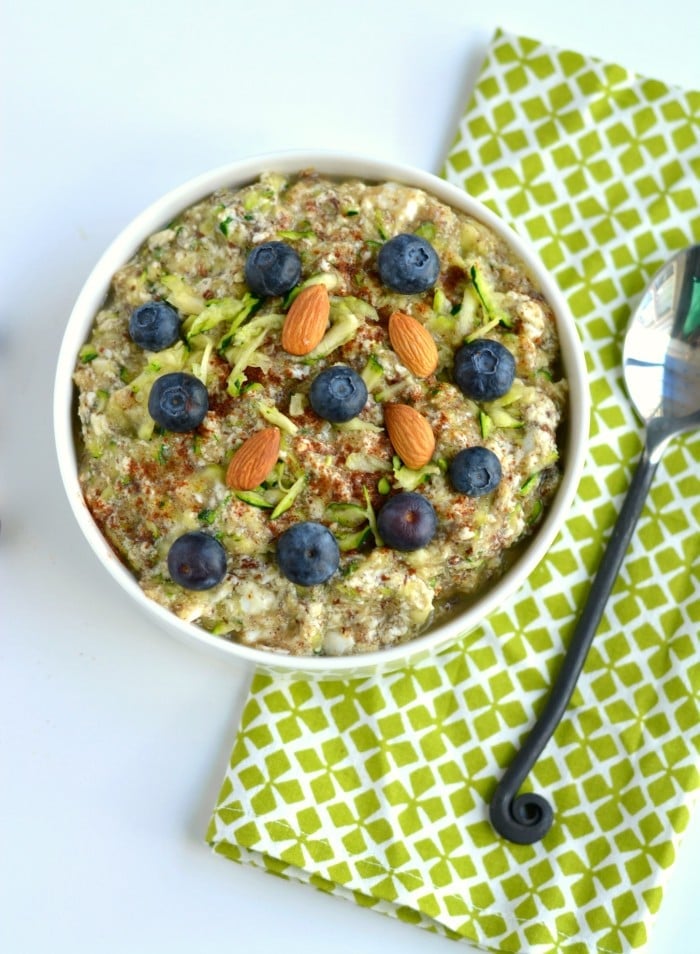 Zucchini Greek Yogurt Pancakes are packed with protein, whole grains and fiber. A mouthwatering stack that's fluffy on the outside & creamy on the inside. A great low calorie breakfast to start your day! Gluten Free + Low Calorie
Healthy Zucchini Sweet Snack and Dessert Recipes
These Healthier Chocolate Chip Zucchini Muffins are dairy free, made with real food ingredients and are lighter and healthier. A gluten free snack you can't resist! Perfect for post workout, breakfast or a snack! Gluten Free + Low Calorie
Low Fat Chocolate Zucchini Bread made with no added sugar or oil. A lighter and healthier zucchini bread that's most, creamy, incredibly addicting and guaranteed delicious! Gluten Free + Low Calorie, weight loss recipe. Gluten Free + Low Calorie
These Zucchini Chocolate Chip Cookies are a scrumptious 129 calorie treat! Made gluten free with whole grain oats, this soft and chewy cookie is packed with rich chocolate and zucchini you can't even taste. Kid approved with no zucchini flavor. Gluten Free + Low Calorie
Zucchini Chocolate Oatmeal Bites make a surprising homemade snack and only 100 calories! Made with shredded zucchini, oats and nut butter, these no-bake gluten free, low calorie bites will soon be your new easy go-to summer snack! Gluten Free + Low Calorie
Creamy Zucchini Chocolate Espresso Brownies with an almond butter swirl! Made with almond butter, chocolate, espresso and oats, these brownies are gluten free, vegan and low calorie with a Paleo option too. Luscious chocolate-y brownies that make healthy eating easy! Vegan + Gluten Free + Low Calorie
Packed with zucchini and apple this is the perfect winter muffin with a hint of spice and a punch of health. These muffins are paleo and can be easily made vegan too. Top one of these with nut butter and you have heaven on your hands! Paleo + Gluten Free + Low Calorie
Healthy Zucchini Savory Snack Recipes
Traditional Zucchini Walnut Espresso Bread made healthy & spiked with espresso for a velvety texture you can't resist. Perfect for breakfast or an anytime snack. Gluten Free + Low Calorie
Savory Pumpkin Zucchini Sundried Tomato Biscuits made with pumpkin seeds & flax. An omega-3 Paleo and Gluten Free bread that can be served as a healthy side or snack. Paleo + Gluten Free + Low Calorie
A super easy recipe for Paleo Baked Zucchini Parmesan Fries. Made with almond and coconut flour, this is a flavorful appetizer or side dish everyone will love! Gluten Free + Low Calorie
Healthy Main Lunch And Dinner Zucchini Recipes
This Dairy Free Chicken Alfredo Zucchini Noodles is a 30-minute healthy skillet meal. A low carb "pasta" dinner made with zucchini noodles and a cashew sauce. Paleo + Gluten Free + Low Calorie
Whole30 Zucchini Pasta Salad! Replace pasta with spiralized zucchini for a light and refreshing gluten free and dairy free veggie filled pasta salad! Vegan + Low Carb + Paleo + Gluten Free + Low Calorie
Shrimp Pesto Zucchini Noodles! Traditional spaghetti is replaced with low carb zucchini noodles. A lighter and healthier spin on spaghetti paired with skillet baked shrimp and homemade spinach walnut pesto. High in protein and healthy fat, this easy 30-minute meal is perfect for a quick lunch or dinner. Low Carb + Paleo + Gluten Free + Low Calorie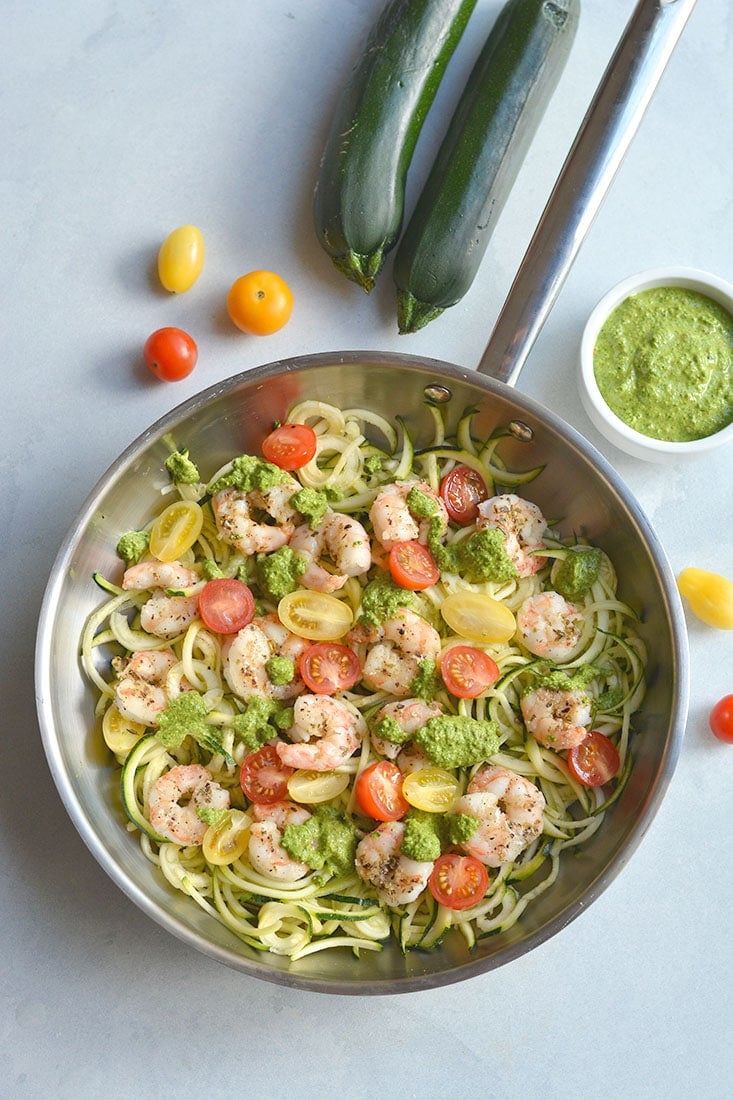 Zucchini Salsa Turkey Burgers! A fusion of salsa and zucchini flavors packed into a grilled turkey burger. Topped with a 2-ingredient salsa Greek yogurt dressing to make a flavorful veggie packed burgers that's unbelievably good. Gluten Free + Low Calorie
Healthy Zucchini Parmesan Meatballs! Baked in less than 30 minutes & freezable. These meatballs are perfect for meal prepping, a quick weeknight dinner or serving as an appetizer. Gluten Free + Low Calorie