Strawberry season is here! I have a strong appreciation for strawberries because for years I was allergic to them. Thankfully, I grew out of that allergy. When you have an allergy it sure makes you appreciate a food more. I truly love strawberries so much!
As a little girl, I remember picking strawberries at my Grandpa's house. He had a large property with rows and rows of strawberries and other produce. We always ate more than we picked. They were so good!
Healthy Gluten Free Strawberry Recipes
Today I've rounded up some healthier ways to treat yourself to strawberries this season. These healthy, gluten free strawberry recipes are not only lower in calories but BIG in flavor!
Healthy Strawberry Breakfast Recipes
Gluten Free Strawberry Banana Bread! Made with Greek yogurt, packed with fresh berries and naturally sweetened with bananas and coconut flakes. The perfect bread for summer breakfast or snacks. Gluten Free + Low Calorie
Strawberry Sheet Pan Pancakes! An easy way to make pancakes in the oven! Just blend the ingredients, pour, bake and slice. An easy way to meal prep a healthy breakfast for the week. This recipe allows you to make all your pancakes at one time without the mess.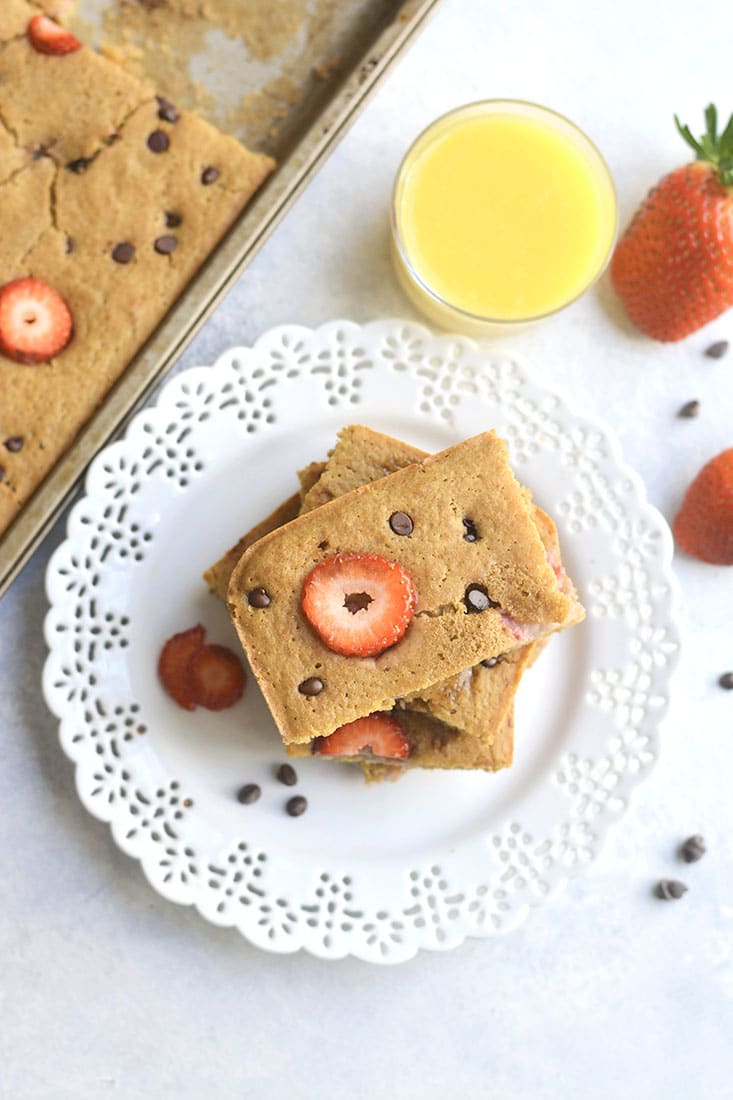 Nothing like cheesecake for breakfast! This Strawberry Cheesecake Overnight Oats recipe is prepped in less than 5 minutes so you can have a healthy, egg-free breakfast ready to go every morning!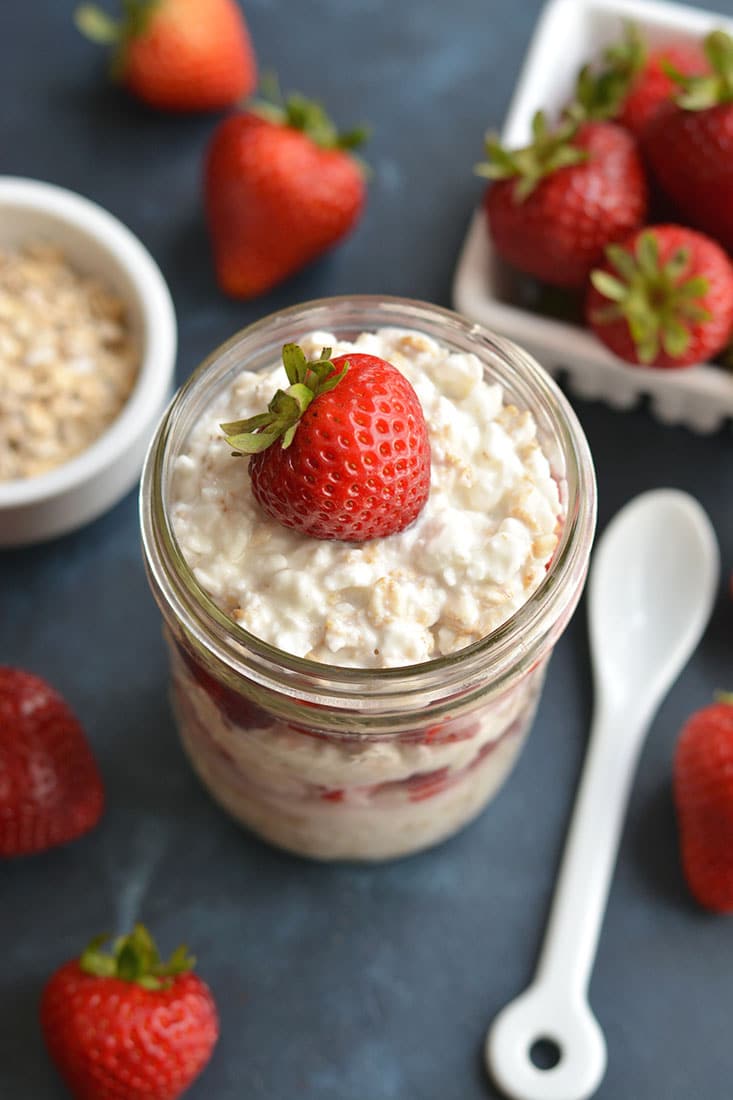 These Strawberry Oat Chocolate Chip Pancakes are made in the blender with creamy Greek yogurt, sweet strawberries and savory oats with chunks of dark chocolate nestled in the batter. Top with fresh berries for a perfectly sweet and healthy weight loss friendly breakfast.
Strawberry Greek Yogurt Muffins! Bursting with strawberries and creamy greek yogurt, these easy to make muffins make a delicious low calorie breakfast or snack. Quick to make and gluten free too!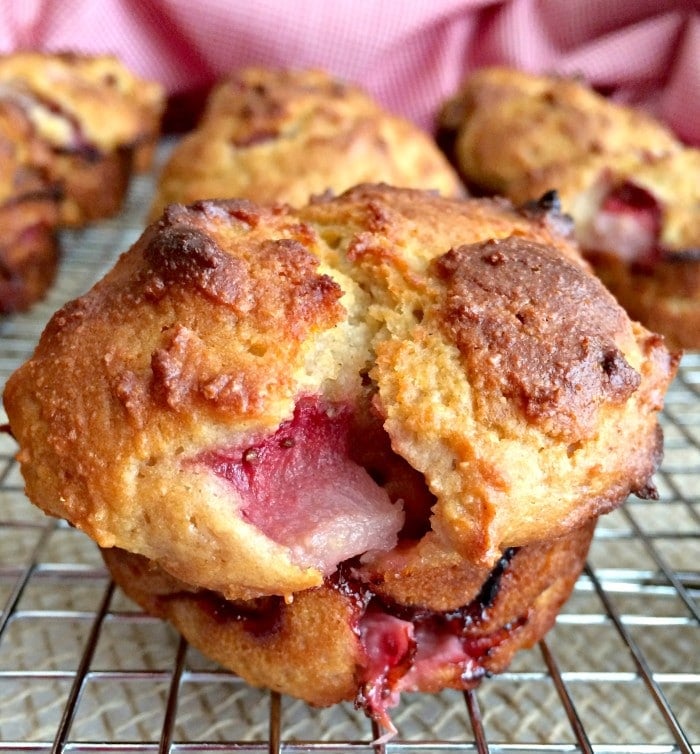 Healthy Strawberry Snacks & Salads
These Strawberry Grape Muffins are moist and naturally sweet. A sugar free snack that's Vegan, Gluten Free and has just 115 calories!
Skinny Strawberry Chocolate Donuts baked in the oven with lighter, healthier ingredients. Great for a sweet breakfast or snack, and super easy to make.
Chia Strawberry Shortcake Energy Bites! These Vegan no bake snack bites are a gluten free summertime treat. Healthy, easy to make and wholesome. Loaded with protein, natural sweetness and healthy fat, they make a great on-the-go snack.
A satisfying Shrimp Strawberry Poppyseed Salad packed with delicious, simple ingredients and a light strawberry poppyseed vinaigrette. Easy to make fresh at home. Just toss and go! Great as a vegetarian main or side salad.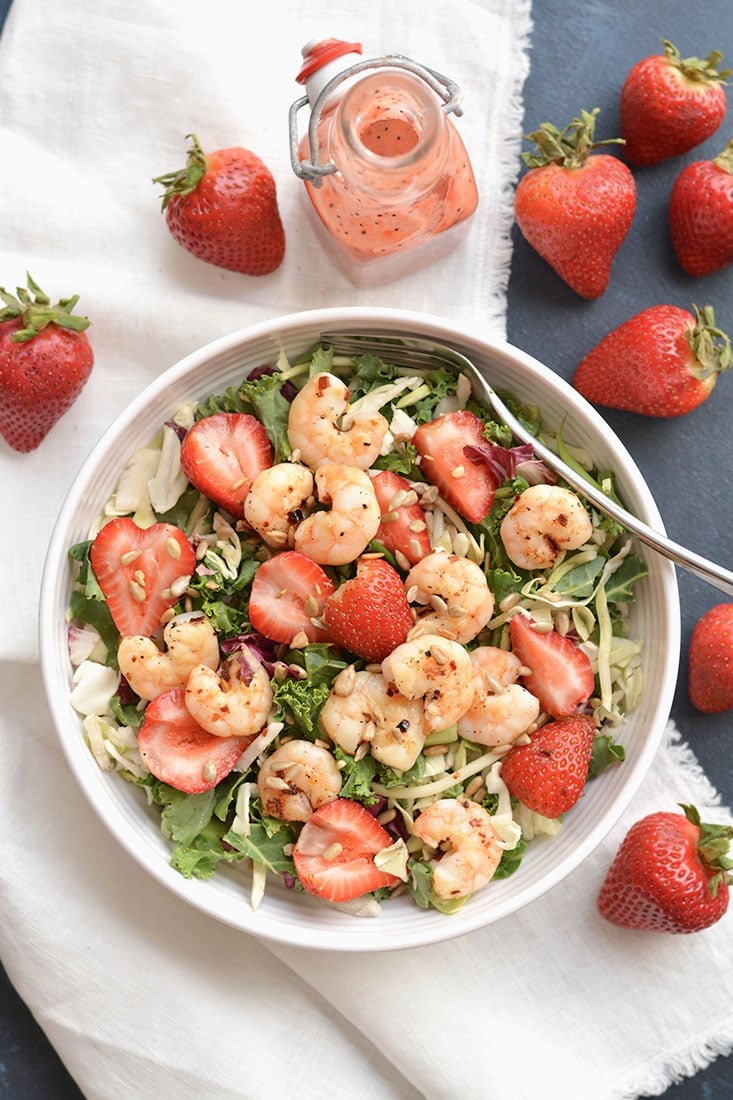 Healthy Strawberry Cookies and Cakes
Gooey, Chocolatey Strawberry Chocolate Chip Skillet Cake! Low sugar and made with healthier, wholesome ingredients, you will fall in love with this indulgent weight watcher friendly dessert!
Paleo Berry Cobbler! An irresistible dessert with a delicious almond flour topping! Dairy free, Vegan friendly, easy to make and customize too!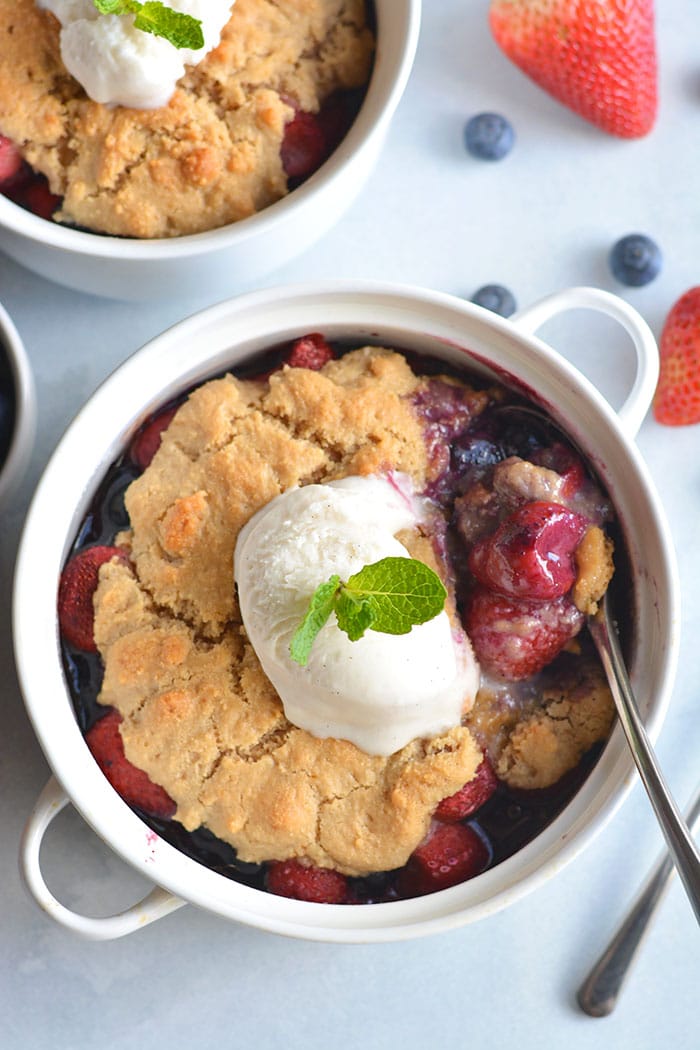 Healthy Strawberry Oatmeal Cookies! Chewy & creamy cookies filled with Greek yogurt, lemon, applesauce & fresh strawberries. A tasty breakfast or anytime snack under 100 calories!
Greek Strawberry Cheesecake Bars are a light version of classic cheesecake. Made gluten free with Greek cream cheese & than the original for a healthier dessert!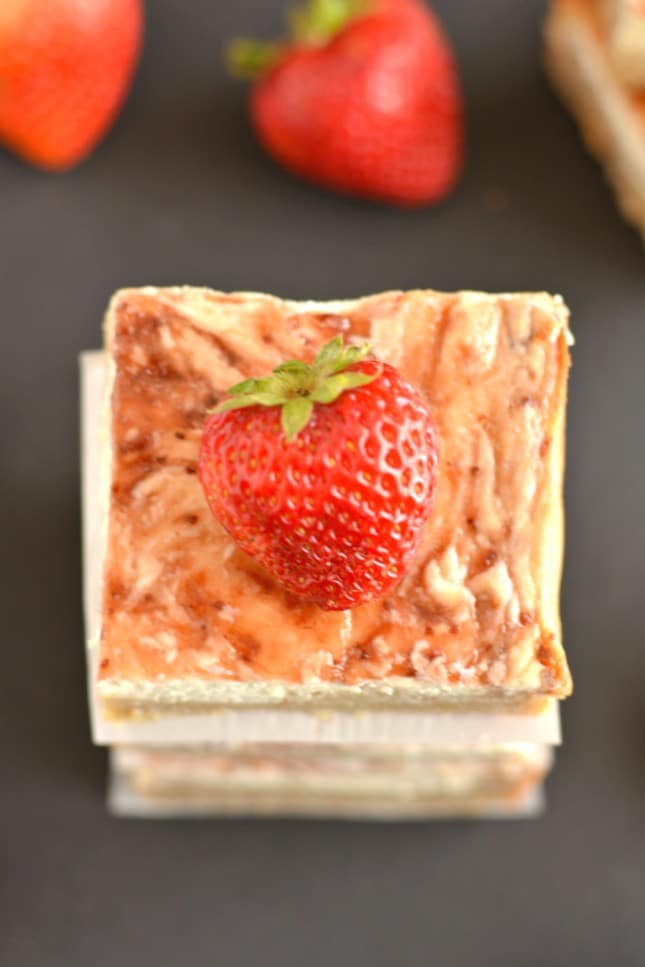 Skinny Strawberry Shortcake made nutritionally balanced with protein and oats in biscuit form for a portioned controlled dessert or snack. Perfect for those watching their weight or trying to lose weight.
Raw Strawberry Cake is a nutrition powerhouse! Made with a cocoa macadamia pecan crust, creamy cashew filling and topped with a strawberry sauce, this is a dessert you cannot resist.
Healthy Strawberry Drinks
Boost your health with an antioxidant & Vitamin C rich Strawberry Green Tea! This fruit sweetened tea is cool, refreshing, and nourishing. Perfect for a hot day.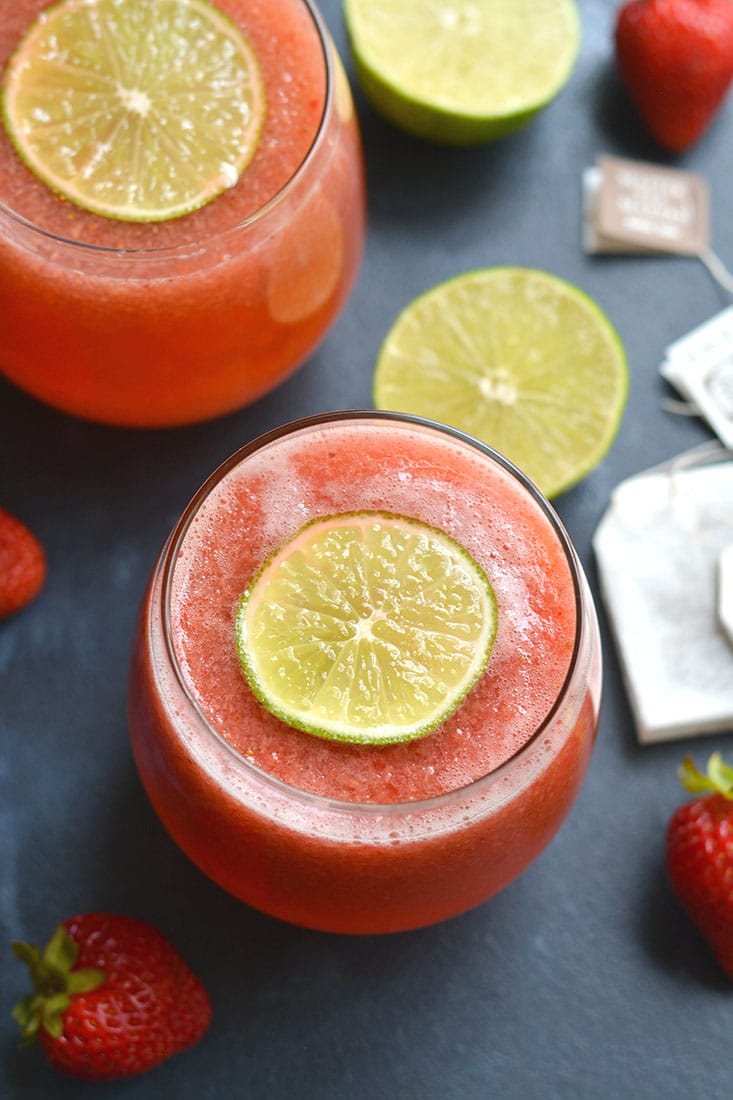 Almost too pretty to eat, this nutritious banana & dairy-free Kale Strawberry Pineapple Smoothie doesn't even taste healthy!
This Strawberry Greek Yogurt Smoothie is perfect for breakfast on the go. High protein with 3 ingredients and no added sugar. Rich in Vitamin C and antioxidants!

Mango Smoothie Chia Pudding! Smoothie marries pudding with this delicious recipe. A fun way to top boring chia pudding with a mango strawberry flavored smoothie. Perfect make-a-head for breakfasts or healthy snacks!